Aldi Candles AKA Huntington Home candles are Bath and Body Works quality candles without the price tag!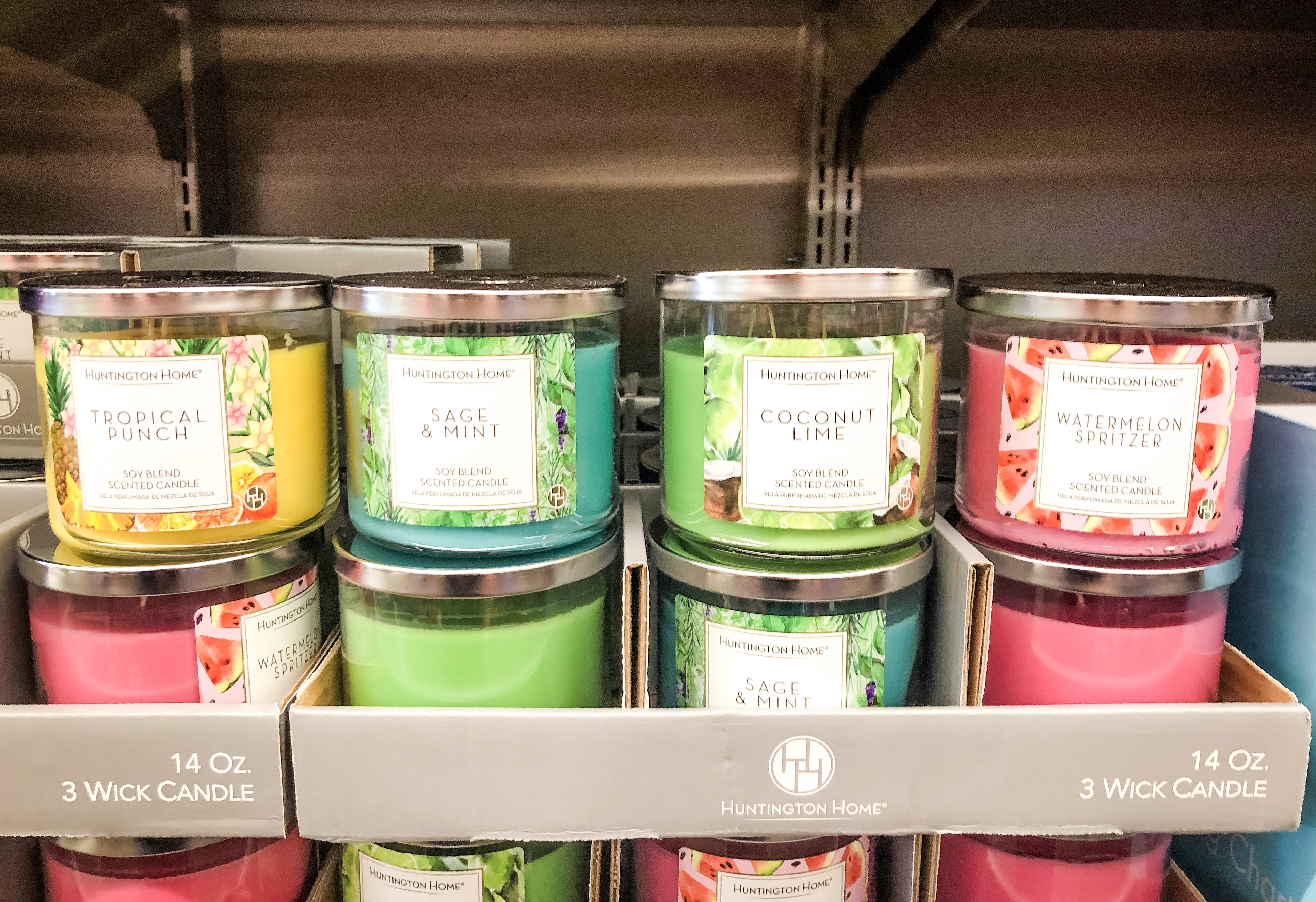 Huntington Home Candles
Aldi Huntington Home candles are priced at $4.29 each and compare in size and quality to Bath & Body Works 3 wick candles.
With Bath & Body Works candles retailing at $24.50, Aldi candles are quite the bargain!
We used to be a dedicated Bath & Body Works candle burners until we discovered Aldi Huntington Home soy blend 3-wick candles— We put both candle brands to the test and found scent throw and burn times to be nearly identical!
Plus, every once in a while, Aldi will have a Bath & Body Works scent dupe, so not only do the candles look and burn the same, the smell the same, too!
At a $4,29 price point, Huntington Home candles are the obvious choice, which is why new scents sell out quickly.
Tip: You can't order Aldi candles online with Aldi delivery, but you can try to put in a special request (you can do this for any of the Aldi brands) – there's no guarantee but it doesn't hurt to ask! 
Like Bath & Body Works, Aldi candles change with the season, with a set of four new scents of Huntington Home Candles released every couple of weeks as Aldi Finds. Here's the latest candle collection at Aldi:
Aldi Spring Candles 2022
March 30th- April 5th, 2022
Garden Rain
Spring Iris
Sweet Eucalyptus
Prickly Pear Cactus
February 9th – 15th, 2022
White Peach Cobbler
Sugar Palm
Sunset Citrus & Coconut
Wild Dunes
Aldi Winter Candles 2021
Available throughout the season
Winter Balsam
Holiday Cranberry
First Snow
Frosted Vanilla
Aldi Fall Candles 2021
August 25th – 31st, 2o21
Thankful Grateful Blessed
Pumpin Apple Fritter
Pear Chestnut & Teak
Fall Flannel Shirt
August 11th -17th, 2021 
Sunflower & Zest
Mahogany & Amber 
Lakeside Dreams
Almond Apple Torte
Aldi Summer Candles 2021
June 16th-22nd, 2021
Sparkler Cupcakes
Sweet Watermelon
Red, White & Blueberry
Seaside Boardwalk
Available throughout the season
Blood Orange Persimmon
Coco Cove
Rosewater Sangria
Black Currant & Elderflower
Aldi Spring Candles 2021
February 3rd-9th, 2021
Cedar Firewood
Elderflower
Mango Mimosa
January 27th – February 2nd, 2021
Grapefruit & Vanilla Bean
Sea Salt & Jasmine
Sage Leaf & Birch
Wild Fern & Lemongrass
Aldi Valentine's Day Candles 2021
January 13th-19th, 2021
Be Mine
XOXO
Pink Sugar Macaron
Roses are Red
Aldi Winter Candles 202o
Available throughout the season
Winter Balsam
Holiday Cranberry
First Snow
Frosted Vanilla
October 7th-13th, 2021
Hey Boo
October 31
Keep Out
Witches Brew
Aldi Fall Candles 2020
September 16th-22nd, 2020
Apple Cider Donuts
Pine Cones & Plaid
Fall Breeze, Crisp Leaves
Hayrides & Bonfires
September 2nd-8th, 2020
Coconut Pumpkin Macarons
Pumpkin Chai
#PumpkinEverything
Sweet Pumpkin Cake
Aldi Summer Candles 2020
August 19th-25th, 2020
Brisk Summer Nights
Lemongrass Bamboo
Chocolate Filled Belgium Waffles
Agave Citrus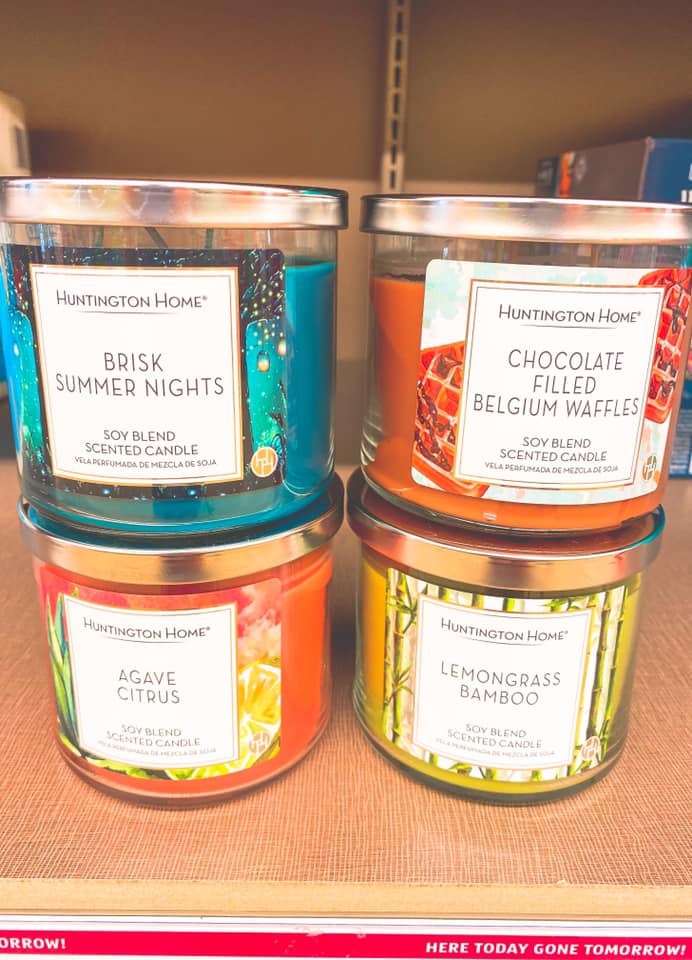 July 15th-21st, 2020
Sweet Peach
Summer Rain
Coconut, Vanilla Waffle Cone
Calypso Sands
June 17th-23rd, 2020
Hawaiian Luau
Under the Stars
Indigo Waters
Vista Bay Coconut Mango
April 22nd-28th, 2020
Elderflower
Happy Mother's Day
Lavender Mascarpone
Mango Mimosa
April 8th-14th
Strawberries & Whipped Cream
Paradise Lily
Coastal Spring
Citrus & Herbs
March 11th-17th, 2020
Easter Basket
Pineapple Upside Down Cake
Peach Mimosa
Lemon Thyme & Sage
February 19th – 25th, 2020
Cedar Firewood
Countryside Wildflowers
Fresh Rain
Sugared Petals
January 29th- February 4th, 2020
Fresh Laundry
Sunday Morning
Morning Blossoms
White Almond
Aldi Winter Candles 2019
November 6th-12th. 2019
Winter Balsam
Holiday Cranberry
First Snow
Frosted Vanilla
October 2nd-October 8th, 2019
Cozy Harvest
Crisp Weather
Maple Pumpkin
Pumpkin Spiced Whipped Cream
Summer 2019
August 21st-August 27th, 2019
Island Fiesta
Azul Waters
Beach Flores
Teakwood  
Our faves are Azul Waters and Teakwood (this one is a dupe for Mahogany Teakwood from Bath and Body Works!).
July 17th-July 23rd, 2019
Watermelon Spritzer
Coconut Lime
Tropical Punch
Sage & Mint
Our faves are Watermelon Spritzer and Tropical Punch.
June 2019
Warm Sands
Ocean Spray
Wethered Driftwood
Beach Lilies
Spring 2019
May 2019
Papaya Breeze
Peony
Sweet Honeysuckle
Magnolia
April 2019
Fresh Lemon
Nectarines
Tropical Fruit
Lilacs
March 2019
Citrus Sunsets
Island Nights
Water Hyacinth
Baja Surf
Blossom
Garden
Lavender
Kiwi
Jasmine
Indigo Flowers
Black Cherry
Vanilla & Salted Caramel
What are your favorite Huntington Home candles?