Did you love the white almond candles at Aldi last spring? They're back for 2021!
We admit it. We're a little Aldi candle crazy. We study the new candle releases like they are our favorite book.
And we've noticed something about the latest Aldi candle release: It's a repeat.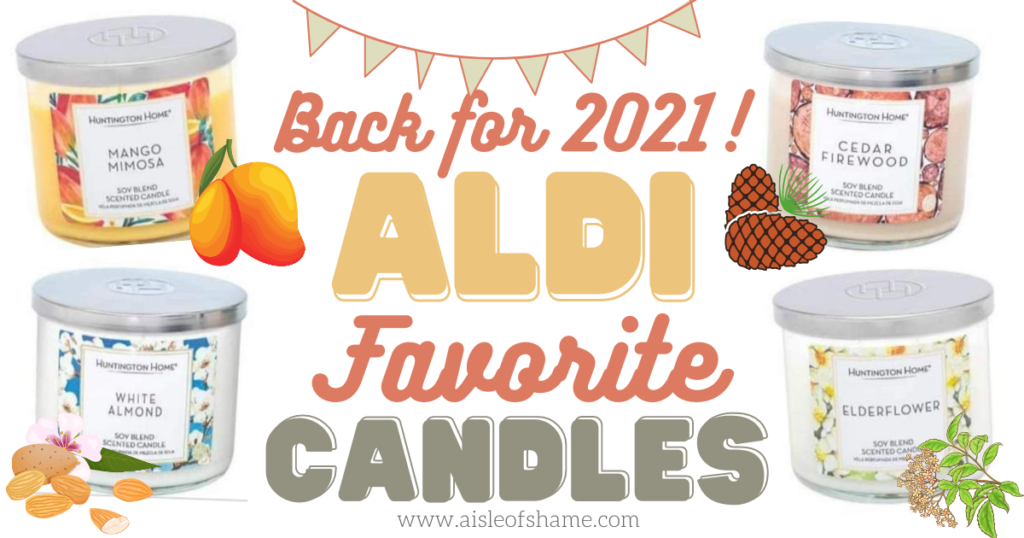 We intend no negativity by saying that! We are thrilled that some of our favorite candles from 2020 are returning to the Aldi Aisle of Shame this spring!
If you haven't tried the Huntington Home 3-wick Aldi Candles, we are believers. Sure, there is a "miss" on scent throw here and there, but all-in-all these candles are a decent dupe for the wildly popular Bath & Body Works candle, at a much lower price.
You will find these candles in your Aldi stores for the ad week of Feb. 3 (Jan. 31 in stores with a Sunday ad switchover). They are priced at just $3.99!
>> If you are unsure when your ad starts, read "What Is the Best Day to Shop at Aldi?" for some advice! <<
Let's take a look at these fave scents!
White Almond
These White Almond Candles seemed to be a true fan favorite in our Aldi Aisle of Shame Facebook Group when they were released in February 2020. Almond is a crowd-favorite scent, a little sweet, a little fresh … it can make your kitchen smell like a high-end bakery.
Elderflower
The fresh, grapey aroma of the elderflower is a popular flavor to be infused into teas, syrups and gin. It will certainly bring a burst of spring to your home, just as the mess of white elderflower blooms herald warm weather ahead. We first saw an Elderflower candle at Aldi in a collection released in April 2020.
Mango Mimosa
Flavored mimosa's are not just popular bottled drinks at Aldi — they also come in candle form! This sweetly scented candle was introduced in April 2020, and proved popular enough for a repeat release.
Cedar Firewood
If you don't have a fireplace in your home, you can still bring the cozy indoors with this Cedar Firewood scented candle. This 3-wick candle was released in February 2020, and one year later, it's back!
Were some of these your favorite candles in 2020? What will you be shopping for this time around?