It's May, and that's when we start seeing Patio Furniture at Aldi!
Aldi is bring us all sorts of goodies for the ad week beginning Wednesday, May 5 (May 2 in stores with a Sunday ad switchover).
In addition to outdoor decor, you will find gluten free foods, new candles, and some sweet treats.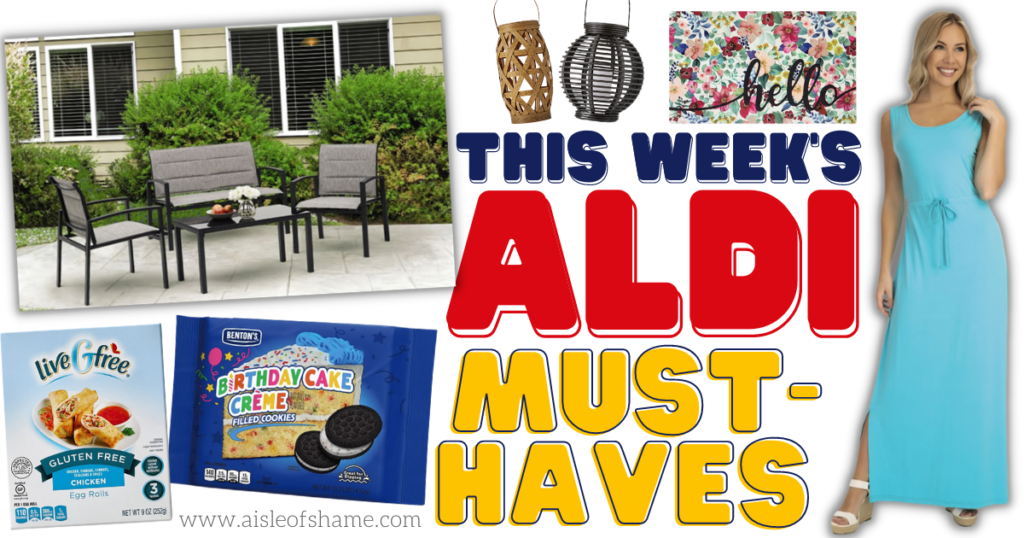 Here are your Aldi must-haves!
Belavi 4-Piece Conversation Set – $119.99
These sets are such an amazing price for 4 pieces of patio furniture! They make a great set-up in a small patio area or on a front porch.
Candles, Candles, and More Candles!
If you are an Aldi candle fan, this is your week! Aldi is bringing us THREE new candle collections. These Aldi May Candles range in price from $3.99 – $5.99. Perfect for Mother's Day!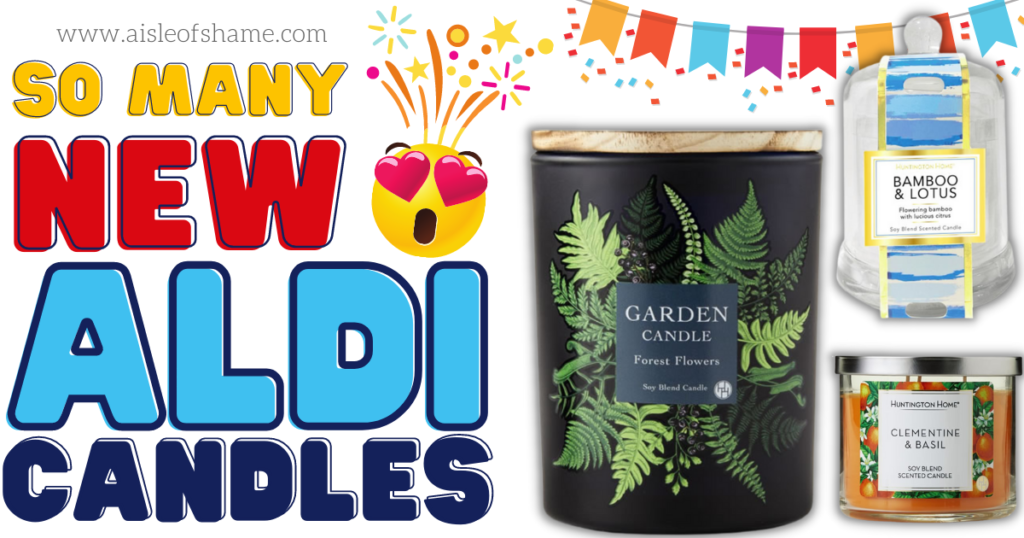 Specially Selected Creme Brulee – $4.99
If you love restaurant Creme Brulee, these are a great home alternative. They come in ceramic dishes, and this two-pack is less than you expect to pay for one in a restaurant.
Gardenline 18″x30″ Accent Mat – $9.99
This pretty little number will brighten up any doorway at your home! There are a couple of other summer-y designs, as well. These mats are made for outdoors, too!
Mama Cozzi's Cauliflower Crust Pizza – $4.99
This frozen pizza has cauliflower in its thin crust. Many of Aldi's cauliflower crust pizzas have received great reviews in our Aldi Aisle of Shame Facebook Group, so we will be picking this one up.
Belavi Canopy or Curtain Lights – $14.99
Light up your nights outdoors with these curtain lights. There are also lights made to go inside an umbrella canopy.
Step2 Crabbie Sand Table – $29.99
This sand table is going to provide hours of outdoor fun this summer for your little ones!
Benton's Birthday Cake Creme Cookies – $1.95
Aldi's "Oreo dupes" have been coming out in more and more flavors recently, and these Birthday Cake Cremes are the latest innovation.
Crofton Spring Bakeware – $3.99
It honestly seems like we always need a new cookie sheet, and this week is bringing us some in spring colors! There is pink, brown or tan to choose from, and in addition to this cookie sheet, there is a loaf pan and a square cake pan available.
Serra Ladies Maxi Dress – $12.99
Aldi continues to surprise us with clothing choices, and these maxi dresses may be the next must-have Aldi fashion item. There are three styles available in sizes S-XL.
Bake Shop 7 Layer Dessert Bars – $3.99
Aldi is bringing back childhood bake sale memories with these glorious dessert bars adorned with nuts, chocolate chips, and coconut.
Belavi Solar Outdoor Lantern – $9.99
These hanging lanterns will add style to your outdoor spaces, and they are solar powered, so you can hang them virtually anywhere!
Live Gfree Gluten Free Egg Rolls – $4.99
It is Celiac Disease Awareness Month, and Aldi is bringing us some new limited-time gluten free items to mark the occasion! These egg rolls are available in chicken or veggie.
Follow Aisle of Shame on Instagram for more Aldi Finds!