After we run for that teal cabinet, we're stocking up on the pumpkin spice popcorn!
Last week, we had a hint of fall at Aldi, but this week we're back with fall in full effect!
There's lots of fall decor, pumpkin spice popcorn, and cookies and coffee flavored with caramel and apple. If loving fall is wrong, we don't want to be right.
Our list of must-haves is packed full this week! These items are available for the ad week beginning Wednesday, Sept. 9 (or Sunday, Sept. 6 in stores with a Sunday ad switchover.)
SOHL Furniture Accent Cabinet – $69.99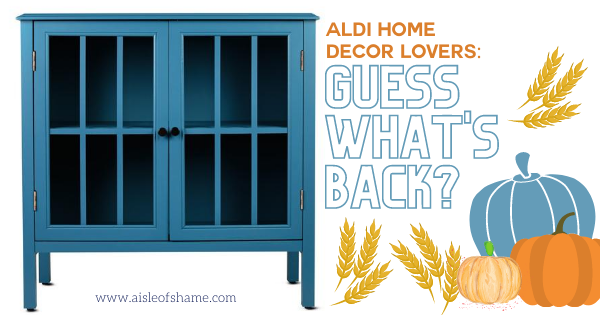 We'll get the biggie out of the way first. "THE" teal cabinet is back this week. It's pretty much guaranteed to be a sell-out, so if it's a must-have for you, be there early, and maybe scope it out the day before your ad week starts.
Crofton 12-Quart Porcelain Enamel Stockpot – $19.99
We're coming up on soup season, and this will be a great addition to the kitchen of anyone who loves making chili, soup or stew to feed a crowd.
Benton's Caramel Apple Cremes – $1.89
These buzzworthy sandwich cookies are definitely a must-try at less than $2 a package! There are plenty of other apple-flavored treats coming to Aldi this month, too!
Coffee Plant – See Price in Store
These coffee plants flew off the shelves when Trader Joe's carried them last month, and we expect them to be a sell-out at most Aldi stores this week, too.
Wicked Grove Pear Hard Cider – See Price in Store
While we love a cold beer most of the summer, hard cider is our preferred drink on bonfire evenings. We're glad to see this juicy pear flavor is back this year.
Mama Cozzi's Macaroni & Cheese Deli Pizza – $4.99
In the ever-rotating selection of pizzas at Aldi, this macaroni and cheese one is a fan favorite. Stock up when you see it this week if it's one of your faves!
Huntington Home Carved Area Rug – $49.99
We would expect to pay twice the price for the quality of these area rugs. These measure 5′ x 7′, and they are available in three designs. Here are the other two:
Barissimo Caramel Ground Coffee – $3.79
Fall flavors are popping up all over at Aldi right now, and we're excited that one of our favorite flavored coffees is back! There is also Apple Crisp flavored coffee available this week.
Huntington Home Wax Melts – $1.69
So, we were perusing these wax melt scents and we noticed something … two of the scents — Pumpkin Spiced Whipped Cream and Cozy Harvest — were popular 3-wick candle scents last fall. (Yes, we are such candle nerds that we keep a list of previously released 3-wick candle scents.)
Huntington Home 2-in-1 Electric Wax Melt Warmer – $8.99
We are SO curious about these warmers. They will melt a candle, or use the added tray to warm wax melts. We have been wanting a candle warmer for our 3-wick candles, but we're not sure if this one is going to work. Aldi says it is made for candles up to 10 ounces, and those candles are 14 ounces. We may have to get one for research purposes.
Huntington Home Fall Decor – Prices Vary by Item
There is SO much fall decor available this week – and all month! – that we couldn't fit it in this post. So we made a separate list for you. Check out all the Aldi Fall Decor coming in September.
Huntington Home Mercury Glass Pumpkin Candle – $4.99
There are so many fall candles coming to Aldi! These pretties are in store this week in three scents: Pumpkin Frosting, Pumpkin Toffee, or Sippin' Cider.
Specially Selected Pumpkin Cheesecake Drizzled Caramel Corn – $2.99
As you might imagine, there are tons of pumpkin spice flavored foods appearing on shelves this month at Aldi. The flavored popcorns are always a hit with us, though they are dangerous — we have a tendency to devour the whole bag in on sitting! We can't wait to get our hands on this pumpkin spice popcorn!
Serra Ladies 2-Pack Lace Bralettes – $9.99
The price on these bralettes is SO good! Just $9.99 for two. There is also a two-pack with white and grey bralettes. Check out all the fall fashion coming to Aldi this week!
Are you grabbing the teal cabinet this week, or is something else No. 1 on your list? Let us know in the Aldi Aisle of Shame Facebook Group!