The Valentine Coffee pods this week will pair perfectly with Aldi chocolate for your sweetheart.
Valentine's Day gifts are in full effect in the Aldi Aisle of Shame this week, with an added measure of "big game" party snacks and supplies!
Let's take a look at your Aldi must-haves for the ad week of Jan. 27 (Jan. 24 in stores with a Sunday ad switchover)!
>> Wondering when the best day to shop your local Aldi is? Read What's the Best Day to Shop at Aldi? for more info! <<
Mama Cozzi's Heart-Shaped Deli Cheese Pizza – $4.99
This take-and-bake pizza is heart-shaped for your Valentine's Day enjoyment. And, it is perfectly sized for two to share! If you're more into sports than sweethearts, there's also a football shaped pizza at Aldi this week!
Huntington Home 3-Wick Candles – $3.99
This crop of Aldi January candles are all inspired by botanical scents, and they all sound great to us! If you haven't tried the 3-wick Aldi candles yet, we believe they are a great dupe for Bath & Body Works candles!
Wernesgruner Mini Keg – See Price in Store
This authentic German mini keg is back in Aldi stores this week, presumably for football parties. We usually see this find during Aldi German Week. It contains 169 ounces of German pilsner, and is generally priced around $17.
Wahlburgers Gourmet Blend Angus Beef Burgers – $6.99
If you don't live near a Wahlburgers restaurant, you can still give their burgers a try. Patties with their "proprietary blend" of angus beef will be available in the meat case at Aldi this week! You will also find the Wahlburgers Sauce in stores.
Gardenline Premium Rose Bush – See Price in Store
This year for Valentine's Day, how about giving your sweetheart a rose bush rather than cut flowers? These Gardenline Premium Rose Bushes will be in some Aldi stores this week. though they won't be available all over the country just yet.
Emporium Selection Valentine's Day Cheese Box – $4.99
We absolutely love the idea behind this next Aldi Find! If your sweetheart loves cheese more than, say, chocolate, here's a perfect little present. These gift boxes are filled with either White English Cheddar or Aged Gouda. You can also get these adorable heart-shaped cheese truckles at Aldi this weeek!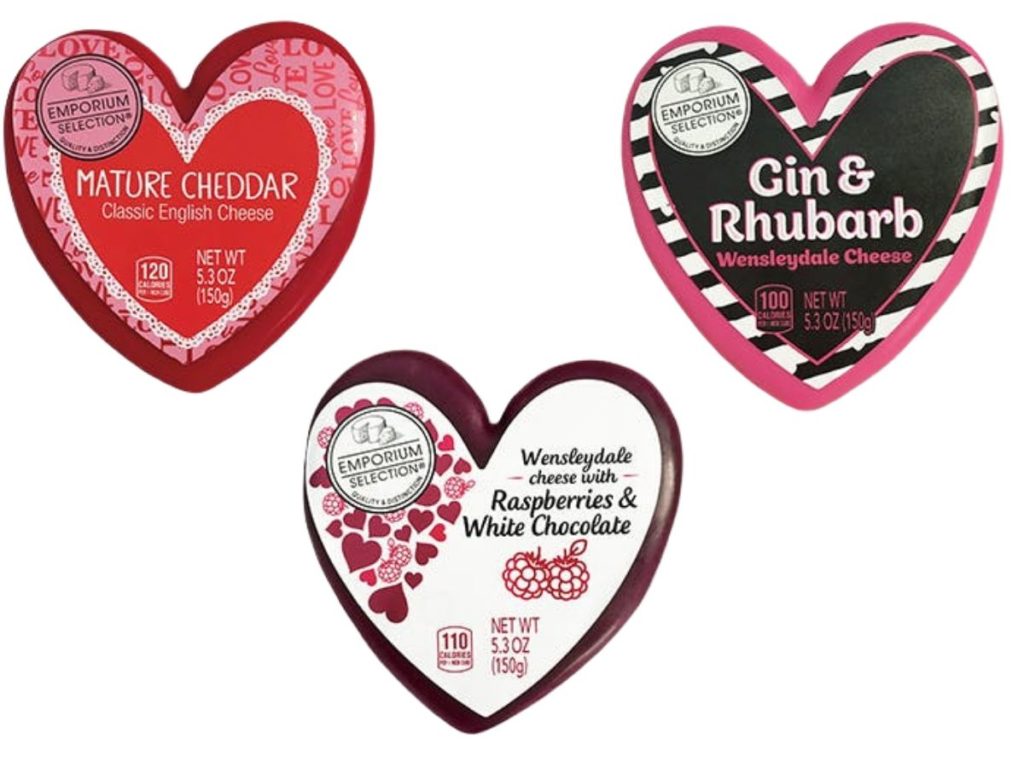 Barissimo Valentine Coffee Pods – $6.99
Another Valentine gift for the coffee love in your life is this gift set of Valentine Coffee pods. It includes 12 coffee pods in a variety of chocolate-themed flavors, all wrapped up in a Valentine's Day box.
Serra Ladies' Oversized Cardigan – $14.99
These cardigans from Aldi are already getting rave reviews. They look like they would be a perfect addition to just about anyone's wardrobe! These come in three colors, and like many Aldi Finds, they are not available in every color in every size. Here's a breakdown:
Black – S, L or XL
Blush Pink – M or L
Gray – M or L
Benton's Red Velvet Cremes – $1.95
These red velvet cookies are sure to be a hit with those in your family with a sweet tooth. And they will look great on a Valentine's Day-themed grazing board!
Crofton Divided Glass Food Storage – $9.99
Rounding our our Aldi must-haves list this week are these divided glass food storage containers. We know many of you are meal prepping these days, and these two-compartment containers are perfect for that! We love the snap-on lids. These are available in a set of two 32-ounce containers, or in a 2-pack that includes one 46-ounce container and one 19-ounce container.
This Aldi ad had so many goodies, it was hard to narrow our list down. Rest assured, you will find plenty more Valentine's Day gifts including plush and books for kids, as well as bamboo kitchen utensils, cutting boards and more in "the Aisle" at Aldi. Check out the full Aldi ad here!
And follow Aisle of Shame on Instagram for more Aldi Finds!