If pumpkin isn't your thing, check out this Apple Cider Donuts Candle!
Just last night, we brought you news of the first fall 3-wick candle collection dropping at Aldi this year.
Well, friends, sometimes Aldi surprises us, and they have this morning, for sure! We're back with news of a second fall 3-wick candle collection!
Those first candles were all about the pumpkin …
These come out Sept. 2.
There are sweet pumpkin scents — like Sweet Pumpkin Cake and Coconut Pumpkin Macarons. Spicy pumpkin candles — like Pumpkin Chai. And that mystery factor with the hashtag-included name — #Pumpkin Everything.
So today, we're bringing you news of that second collection. It is due in stores on Sept. 16! (The same day as that awesome teal cabinet that was a sell-out last year!)
Let's take a look at these scents, which bring less pumpkin and more fall to the party…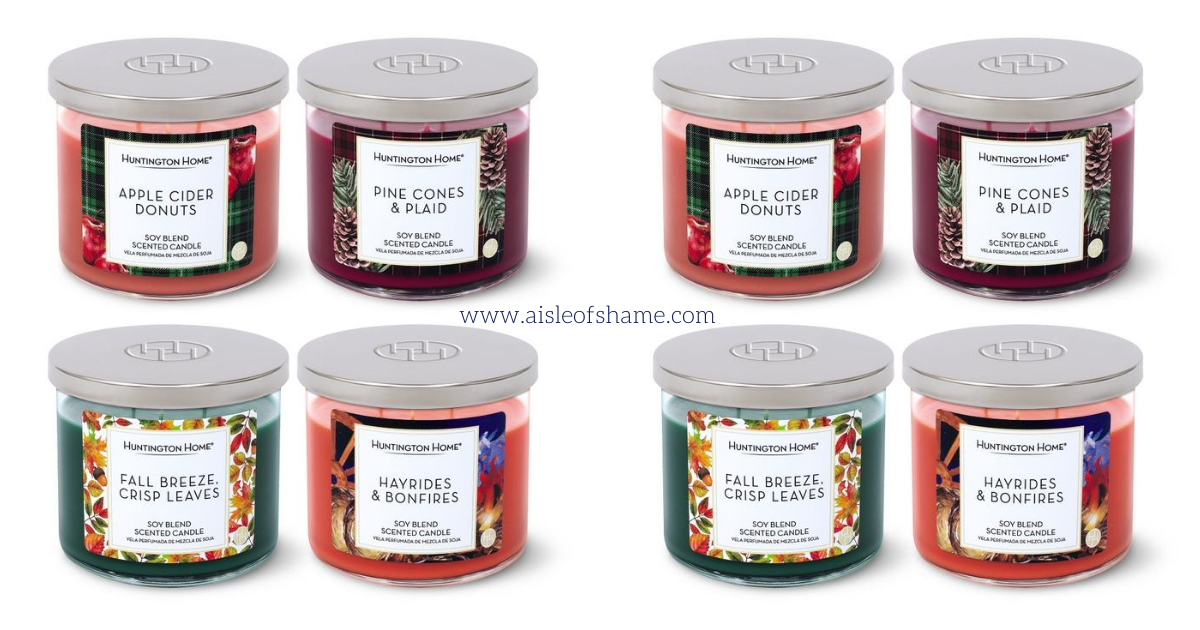 This group includes the outdoorsy — Fall Breeze, Crisp Leaves and Hayrides & Bonfires. It also veers a bit into what we think of as Christmas territory with Pine Cones & Plaid. (By the way, what does plaid smell like? Anyone? Anyone?)
And then there's the one we know will be going in our cart first … the Apple Cider Donuts Candle.
One of our favorite things to do in the fall is take a trip to a local orchard to buy apples. If we time it just right, they are selling freshly made apple cider donuts, piping hot and coated in cinnamon and sugar. It's truly epic! We're hoping this candle is, too.
If you haven't tried the Huntington Home 3-Wick Candles, what are you waiting for? They are dupes for the uber-popular Bath & Body Works candles, with a much lower price tag!
Are you following Aisle of Shame on Instagram? We'd love to see you there!