Aldi just keeps delivering with even more holiday goods. This week you'll find holiday tree candles, decorative throw pillows, great gift ideas for the DIYer in your life, and more!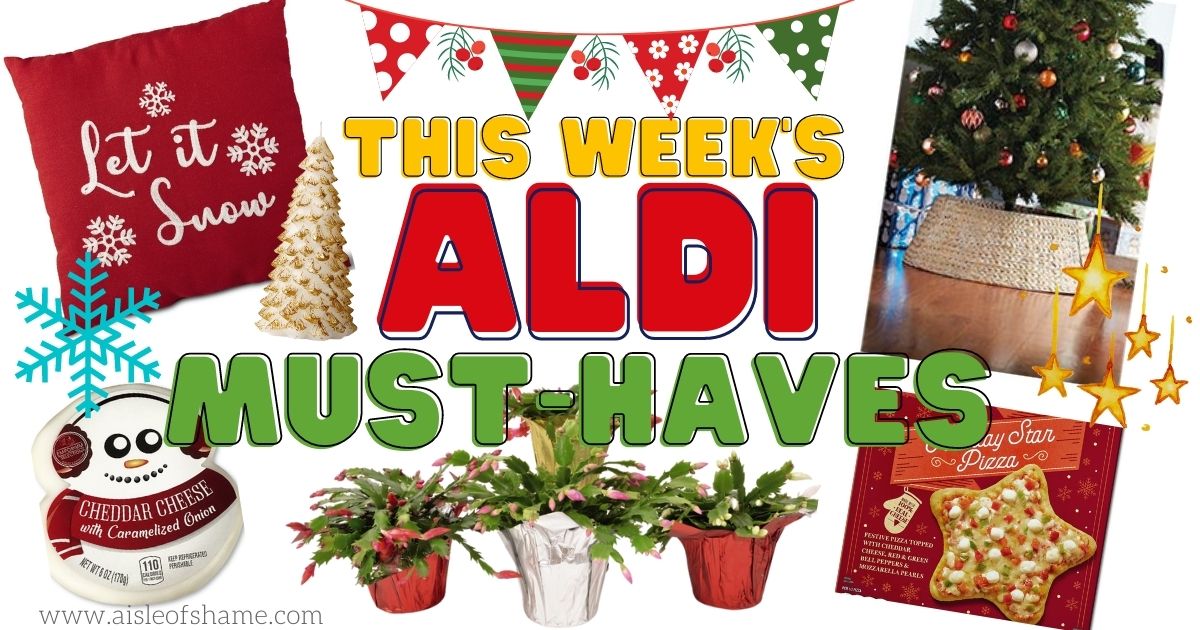 This week, the Aisle of Shame is loaded down with a ton of holiday cheer. Make your holiday shopping easy for family and friends by scooping up these great deals!
Here's your Aldi must-haves for the week of December 2nd (Nov. 29 in stores with a Sunday ad switchover):
Huntington Home Holiday Tree Candle – $4.99
At a full 9″ in height, these holiday tree candles come with either green or gold tips and would look awesome on a decorated mantle or holiday-themed table. The candle is unscented making them way too pretty to burn.

Merry Moments Holiday Decorative Pillow – $6.99
Make certain to grab all the different designs. These holiday pillows come in 5 options, including red Let it Snow, plaid Merry, plaid Joy, Merry Christmas with a red pickup truck, and a cheerful holiday snowman.
Need something unique and vintage to surround your tree? Check out the steal of these tree collars! They're literally half the price of other similar options that you'd find at different stores and are just as beautiful, too. Choose from Natural, White Wash or Natural with Ribbon.

Where has this giant holiday cookie cutter been all our life? Cut once and bake up to 21 cookies quickly and easily.
Choose between: Gingerbread House with multiple trees, stars, candy canes, large and small houses or
Snowman with multiple trees, stars, bells, candy canes, snowmen, and stockings.

Huntington Home Ultrasonic Sound Aroma Diffuser Gift Set – $24.99
This aroma diffuser gift set comes with literally everything required. There's even a remote control to play spa sounds, mist modes, and turn off and on easily as well.

Singer 32-Stitch Sewing Machine – $79.99
What a fun and unique find that Aldi has this week. This sewing machine is a great gift idea or a simple way to spark your own creativity as well. There will be a limited number of these in the store so arrive early to grab yours.
Bee Happy 12″ Holiday Squishmallow – $7.99
These are so squishy soft! Act quickly because these are going to go fast. And collect them all if you can. There are 7 styles: Gnome, Fawn, Santa, Unicorn, Koala, Corgi, or Triceratops.
Visage Hot/Cold Slippers – $9.99
Treat your feet with these hot/cold slippers (aka microwavable slippers). It's as easy as warming them in the microwave or chilling them in the freezer. Plus, they're scented with relaxing lavender as well. At less than $10, these versatile slippers make a great gift.

5″ Christmas Cactus Assorted colors – see price in store
If you don't have a Christmas cactus, you need one. What better way to add a little bit of green to your home with a plant that requires minimal effort to take care of it?


This is the perfect adult countdown to get out and over with the year 2020! This calendar includes 7 mini bottles of sparkling wine that include:
Francois Fouché Brut, France, 11%
Heretat el Padruell Cava, Spain, 11.5%
Belletti Moscato D'Asti, Italy, 5.5%
Belletti Moscato Rosé, Italy, 7%
Belletti Prosecco, Italy, 11%
Belletti Sparkling Rosé Extra Dry, Italy, 11%
Gourmandises Demi-Sec Sparkling Chardonnay ICE, France, 11.5%
Mama Cozzi's Pizza Kitchen Holiday Themed Pizzas – $3.99
Getting festive for the holidays means adding these holiday-themed pizzas to your dinner menu. Not only are they affordable with a price tag of less than $5 but they come in either a Christmas Tree shape or a fun Holiday Star. Toppings vary per pizza so make certain to read the ingredients listed on each one.
We couldn't love this anymore. Holiday cheese from Aldi is some of the best cheese assortment there is. Choose from cheddar cheese with port wine, cheddar cheese with caramelized onion, or regular cheddar cheese and have fun with their cute packaging options as well.
These Kringles are the best. They literally only come around once per year and trust me on this one…you don't want to miss out on these flavors and tastes. You'll have to choose between the almond or raspberry, or choose them both!
Be sure to follow Aisle of Shame on Instagram for more Aldi Finds!