Opa! It's Aldi Greek Week!
If you've shopped Aldi for a while, you probably know that there are certain weeks of the year when Aldi brings out special buy food items from different regions of the world. German Week is probably the most talked about, followed closely by Asian Week Mexican Week and Italian Week.
But did you know Aldi does Greek Week?
This week (ad week starting Wednesday, July 29, or July 26 in stores with a Sunday switchover), Aldi is stocking the shelves with food items with a Mediterranean flair.
Here's a look at all the offerings.
Journey into Greece Rosemary & Feta Kettle Chips – $1.89
Aldi usually brings out a flavored chip with each special week, and Greek Week is no exception. This rosemary and feta combo sounds delish!
Park Street Deli Giant Green Olive Pouch – $2.99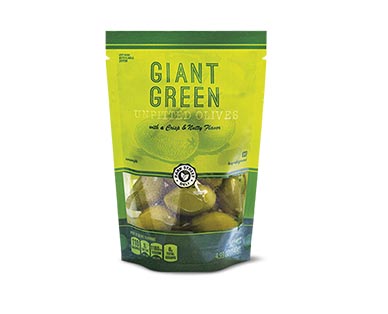 Olives are the staple of a Mediterranean diet — can't have a Greek Week without them.
Bremer Gyros Kit – $7.49
These kits are a tried-and-true, quick-meal favorite with Aldi fans. Look for them in the chest freezers at your Aldi store!
Park Street Deli Assorted Hummus – $1.95
These 8-ounce containers of hummus come in three special buy varieties — lemon dill, sundried tomato, and Mediterranean style.
Journey to Greece Mediterranean Dressing – $1.99
Three varieties of these salad dressings are available — Greek Feta, Black Garlic & Fig Balsamic, and Tzatziki. We're definitely grabbing all three!
Emporium Selection Imported Greek Feta Cheese – $3.49
What would Greek Week be without some really great Feta? This cheese is imported from Greece, and authentic as it gets.
Pizza topped with white sauce, feta, banana peppers and pulled pork? We're in!
Emporium Selection Halloumi Grilling Cheese – $3.49
You won't find this European grilling cheese at a lower price anywhere!
Fresh Atlantic Salmon with Greek Herbs – $8.99/lb.
Hours will never look that pretty, but we'll do our best.
Journey to Greece Spanakopita – $3.95
Pretty sure this spanakopita are the highlight of any Greek meal – we can't wait to try the Aldi version.