Would you buy more of these Aldi Faves if you could?
Shopping at Aldi can be so delightful and yet so maddening! Just when you find an item you love, it disappears because it was only a limited-time find. But sometimes, an item proves so popular that Aldi makes it part of its regular stock.
We surveyed members of the Aldi Aisle of Shame Facebook Group to ask what Aldi Finds they wish were available year-round, and dozens of you replied!
Here are our Top 10 Aldi Faves we wish Aldi would start carrying year-round in 2020:
Huntington Home 3-Wick Candles
These Bath and Body Works dupes are always the topic of conversation when they come out as Aldi Finds! The Huntington Home 3-Wick Candles come out several times a year in different seasonal scents, but Aldi fans say they want more.
We have been told that a couple of scents — Vanilla and Gardenia — are going to be available more frequently in stores in 2020. We'll see if that holds true. For now, we can't wait for the spring Aldi candles to arrive!
Bremer Bistro French Onion Soup
People rave about these frozen bowls of soup, and we agree! These boxes come with two servings of soup, which includes the swiss cheese and croutons. They can be microwaved, or baked in the over for a more authentic French Onion Soup crust on top. These come around more than once a year, but we wish this Bremer Bistro French Onion Soup would make its way into Aldi's regular stock.
Mama Cozzi's Biscuit Crust Breakfast Pizza
We can't get enough of this frozen breakfast pizza that Aldi sells as an Aldi Find multiple times of the year. It sells out quickly in our stores, and we're guessing it does in yours, too. The biscuit crust on this makes for one of the best tasting frozen pizza crusts we've ever had. Please Aldi, let us buy this on a weekly basis!
Park Street Deli Atomic Spicy Pickles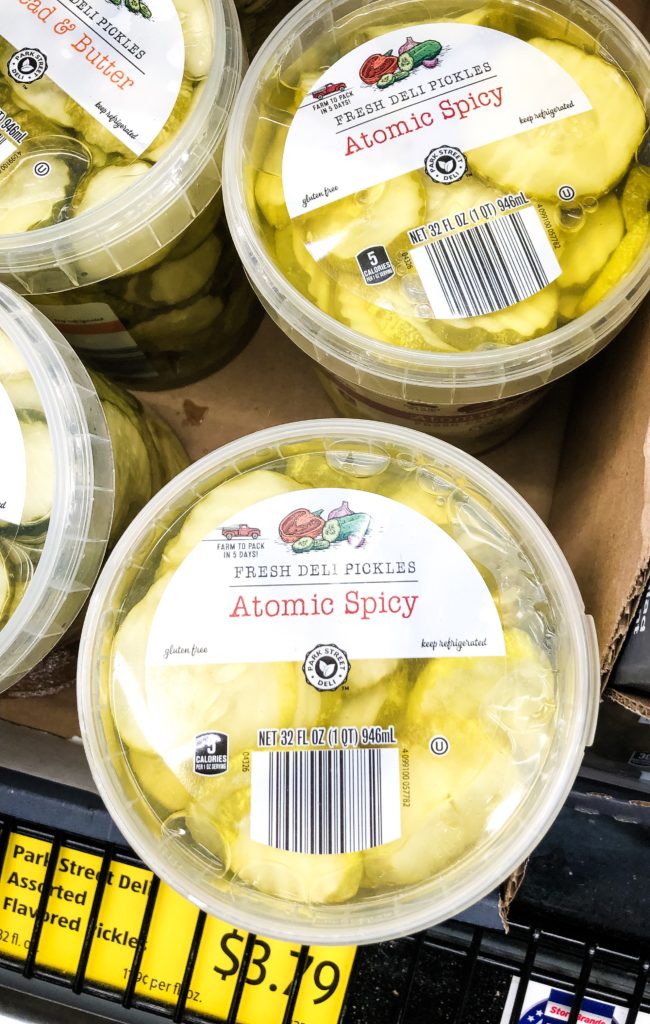 If you like spicy foods, these Atomic Spicy pickles are hard to beat. But we can't find them in our refrigerated section at Aldi year-round. Wish we could!
Emporium Selection Cranberry White Cheddar Cheese
These wheels of cranberry-infused white cheddar cheese are available as a seasonal favorite near the holidays, and judging by the reaction in our Facebook community, they are one of the most popular cheese Aldi sells. We wish we could buy they for our grazing boards all year long!
L'Oven Fresh Zero Net Carbs Bread
This Keto-diet friendly bread caused a mad rush at many Aldi stores when it was introduced in October. People were buying up several loaves at a time and freezing them, and many of our community members say they would love to see it on shelves all year.
We're told that, at least in some Aldi regions, this bread will be introduced into regular stock sometime during the first quarter of 2020. Yay!
BIG NEWS! It looks like Aldi Keto Bread is back!!
Southern Grove Dill Pickle Cashews
These boxes with 7 individual packages of cashews are great for sticking in lunch boxes or snacking on the go. The Dill Pickle and Salt and Pepper varieties have been an Aldi Find several times this year. Here's hoping we'll see them more in 2020!
Specially Selected French Macarons
These popular French cookies usually come with a high price tag, but not at Aldi. This box of 12 frozen French Macarons sells for $4.99. But so far, it's only been available for a limited time.
Clancy's Pub Style Seasoned Pretzels
These Clancy's Pub Style Seasoned Pretzels caused a snacking craze when they were introduced as an Aldi Find this fall. We bought multiple bags, and still have one precious unopened bag squirreled away in the back of the pantry for Super Bowl snacking. We're convinced these would sell great if we could buy them at Aldi every day!
Mama Cozzi's Pub Pretzels
We'll round out our Top 10 Aldi faves list with another pretzel — the Mama Cozzi's Pub Pretzels. These frozen pretzels can be baked in your oven, but we recommend trying them in an air fryer
. So good!
Last year, Aldi released a list of 23 Aldi Fan Favorites – We're crossing our fingers that some of these picks become permanent and make the list this year!
Did your Aldi faves make the list?