Aldi Atomic Pickles are refrigerated deli pickle chips with a kick of spiciness, adding heat and flavor to burgers, wraps and sandwiches.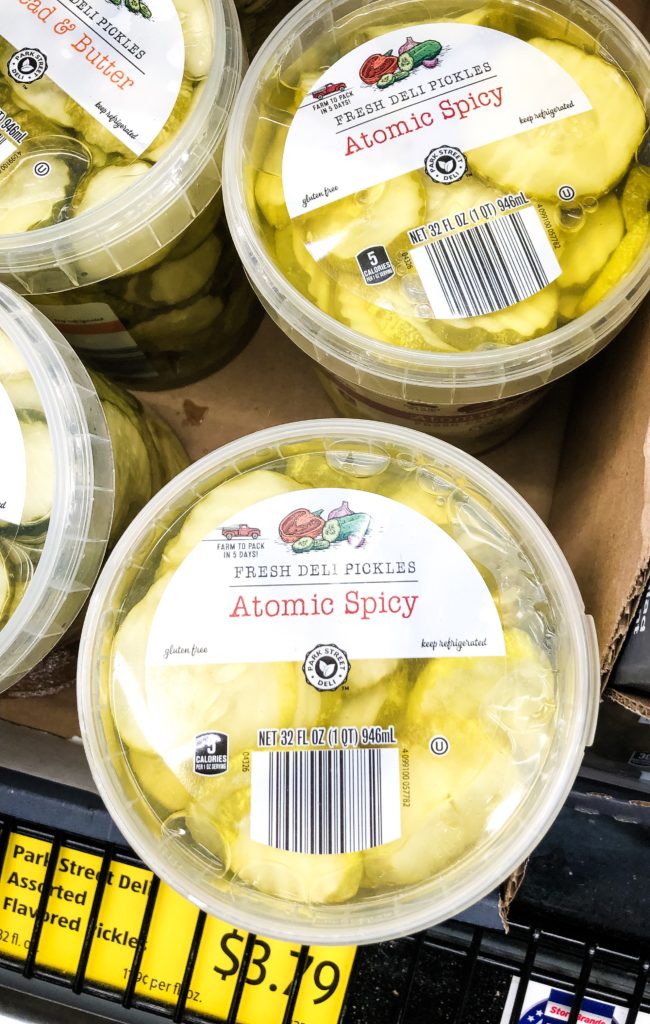 Fresh Deli Pickles Atomic Spicy are sold at Aldi in a clear, 32oz container under the Park Street Deli Aldi private label for $3.79. Price may vary by store.
These deliciously spicy pickles are pickle chips, not whole pickles or pickle spears.
Where do you find Atomic Spicy Pickles?
We found Atomic Pickles in the refrigerated section near the cheese and deli meats.
Currently, Atomic Spicy Fresh Deli Pickles is an Aldi Seasonal Favorite, which means they are stocked seasonally and can come and go at any time.
Our Aldi has managed to keep this spicy pickle flavor in store throughout the summer and fall (and we're hoping for a lot longer!).
Are Atomic Spicy Pickles Good?
Yes, Yes, Yes — Aldi Atomic pickles are fantastic!
We picked them up because of the word "Atomic" — we love spicy foods!
While we didn't find these pickle chips to be atomically spicy, they pack a good amount of heat when added to a burger or sandwich. There are whole red chilis in the pickle brine to keep them spicy.
They're also great for snacking on their own — the spiciness really picks up after a couple of pickle chips.
We enjoy Aldi Fresh Deli Pickles because they are fresh tasting and crisp. Plus, the 32oz container holds a good amount of pickles for the price.
How to Use Atomic Pickles
The obvious use for Atomic Spicy pickle chips are on burgers and sandwiches, but one of our favorite ways to eat these pickles is on the Copycat Aldi Chick-fil-a Sandwich! TALK ABOUT DELICIOUS!
You can really get creative with spicy pickles and use them as toppings on a variety of foods for an extra kick of flavor.
Have you tried Atomic Spicy Pickles?