These Kirkwood Chicken Breast Fillets make a restaurant-quality sandwich, and they're way cheaper than a drive-thru!
Everyone loves a hot, juicy chicken sandwich, right? Unfortunately, there are a lot of dry, flavorless, tough chicken sandwiches out there. That's why we were so interested in all the talk surrounding these frozen chicken fillets available at Aldi. People are comparing them to popular chicken sandwiches from Chick-fil-A and Popeye's!
Aldi's Kirkwood Breaded Chicken Breast Fillets, also known as the Red Bag Chicken(RBC), are a fan favorite and one of the most coveted Aldi shopping finds.
RBC has become quite popular that it even has its own Facebook group with more than 22,000 members. You have to fill in a questionnaire on your RBC knowledge to join! Members share daily recipes, sauce suggestions, and other information on the breaded chicken.
Intro to Aldi's Red Bag Chicken
You will find this product in the freezer case at Aldi, in a distinctive red bag. These breaded chicken fillets are sold in a 24-ounce package. Because they are sold by the weight and not the piece, the amount of chicken fillets inside the bag does vary. Most bags contain five or six pieces of chicken.
These frozen chicken fillets are a regular buy at Aldi, which means you should be able to find them in your store year-round. Our recent purchase cost $5.99, and we received six pieces in the bag.
Are These Chicken Fillets Good?
In short, yes. Wait, YES! That's better. Its resemblance in taste to Chick-Fil-A chicken is one of the many reasons why its become so popular and has a cult-like following, with many people singing its praises. Therefore, it doesn't last on the shelves once restocked.
We found these to be high quality. These are not a chopped and formed chicken patty, they are a whole, thinly sliced chicken breast. The breading is thin and well-seasoned. The meat stays moist and tender after preparation.
The chicken has no added hormones or steroids, making it a healthy and organic option.
Who Makes Aldi Red Bag Chicken?
Aldi sells the Red Bag Chicken under the Kirkwood brand name, which stems from the Tyson Chicken Company.
The Tyson Chicken Company sources and processes the breaded chicken, then it is packaged under Aldi's private label, Kirkwood.
Aldi Red Bag Chicken Ingredients
The Kirkwood's Breaded Chicken Breast Fillets have the following ingredients:
Chicken Breast With Rib Meat
Water Seasoning that consists of chicken broth, sugar, salt, onion powder, rice starch, garlic powder, yeast extract, natural flavors, spices, paprika, and soybean oil
Sodium Phosphates
It is breaded with;
Malted Barley Flour
Wheat Flour
Spices
Salt
Wheat Gluten
Paprika
The breading is then set in vegetable oil.
Aldi Red Bag Chicken Nutrition Facts
Aldi RBC is hormone and steroid-free.
However, its breading takes a beating when it comes to its nutritional properties. Each fillet serving is approximately 280 calories, and the fillets are 6 Weight Watcher (WW) points.
Below is a table highlighting the nutritional constituents of Aldi's RBC.
| | | |
| --- | --- | --- |
| Nutrients | Calories Amount Per Serving | % of Daily Value |
| Total Fat  | 10g | 13% |
| Saturated Fat | 2g | 10% |
| Trans Fat | 0g | – |
| Polyunsaturated Fat | 4.5g | – |
| Monounsaturated Fat | 2.5g | – |
| Cholesterol | 85mg | 28% |
| Sodium | 1010mg | 44% |
| Total Carbohydrate | 17g | 6% |
| Dietary Fiber | 2g | 7% |
| Total Sugars | 4g | – |
| Added Sugars | 3g | 6% |
| Protein | 32g | 64% |
| Vitamin D | 0mcg | 0% |
| Calcium | 0mg | 0% |
| Iron | 1mg | 6% |
| Potassium | 386mg | 8% |
4 Best Ways to Cook Aldi Red Bag Chicken
There are several methods to cook your Aldi Red Bag Chicken. The most common one is air-frying. However, the back of the RBC bag recommends using a conventional oven.
1) Air Fry
You will find this method pinned on the Facebook RBC group. Die-hard fans swear by it, hence the more reason to try it! However, ensure that you have long tongs, as getting chicken off the deep bowls of air fryers can be a hassle.
Set the air-fryer to 400 degrees Fahrenheit and let it cook for 10 minutes on each side.
If you want the breading to be crispier, you can do 15 minutes on each side.
2) Conventional oven
The RBC bag recommends oven baking.
Here, preheat your oven to 400 degrees Fahrenheit. Next, put your chicken on a baking sheet and let it bake for 20 minutes on each side.
3) Pan-Frying
This method is not recommended, but it will still work.
It is more of a trial and error, as you will have to use your instincts to tell if it is ready or not.
4) Microwave
This isn't the best method as the breading will not be as crispy as you like.
However, it will still be efficient if you are in a hurry.
Set the microwave on high for a few minutes and add 30-second increments if it needs more time.
Is There an Aldi Red Bag Chicken Shortage?
Aldi Red Bag Chicken is stocked all year round. 
However, since it is very popular, it gets out of stock quickly, making some shoppers think there is a shortage.
Aldi shoppers love RBC, and it is advisable to get it as soon as you find it on the aisle, as you might miss it next time.
Aldi Red Bag Chicken Chick-Fil-A Style
We prepared our Kirkwood Chicken Breast Fillets in the oven, according to package directions. Preparation takes about 25 minutes, and we found the fillets were heated through well and not at all soggy. Alternatively, you could prepare these in an air fryer for a crispier finish.
Combined with Aldi's Brioche Buns, these truly make a restaurant-quality sandwich. The first time we tried these, we followed this Copycat Aldi Chick-fil-A Sandwich. For a separate meal, we added Swiss cheese and Deutsche Kuche sweet mustard to the sandwich. Both chicken sandwich versions were a hit with the whole family!
We figured our cost per sandwich at less than $2, including the toppings — a big savings over a drive-thru meal.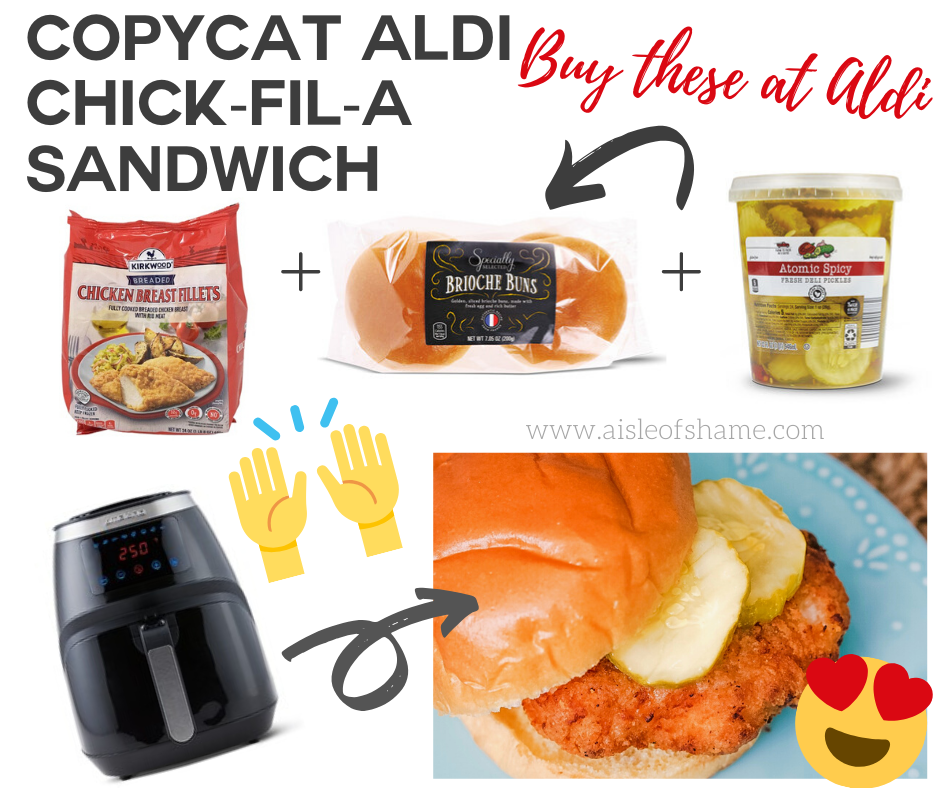 Have you tried these chicken breast fillets from Aldi? What do you put on your chicken sandwich?
Best Alternatives to Red Bag Chicken
Since there are times that you might get the RBC sold out, you may wonder what the alternatives are. Below are some of the alternative options to Red Bag Chicken that are just as good.
The first one is the Aldi Blue Bag Chicken, Kirkwood Crispy Chicken Strips.
You can also go for the Green Bag, Kirkwood Parmesan Herb Encrusted Chicken Tenders, or the Yellow Bag Chicken, Kirkwood Honey Battered Chicken Tenders.
The blue, yellow, and green bag chicken are great alternatives and have similar prices to RBC. They can also be air-fried, which is highly convenient.
Apart from Aldi, you can also try Walmart's Tyson's Air Fried Perfectly Crispy Chicken Breast Fillets that go for $6.68. It is a healthier option as it has fewer calories and less fat.
Sam's Club also has fantastic chicken products. For example, the Member's Mark Southern Style Chicken Sandwich and Chicken Bites are perfect alternatives and easy to cook.
Conclusion
The Aldi Red Bag Chicken has taken the market by storm. Some people would even prefer that its deliciousness were a secret to prevent it from going out of stock often. With the above guide, it is evident that if you love Chick-Fil-A and want a cheaper but just as tasty version, then the Aldi Red Bag Chicken is the way to go.
Next time you go shopping, visit the freezer section for this product and enjoy your homemade Chick-Fil-A dupes. Remember to always stock up in case they run out.