Some links in this post may be affiliate links. This means if you click on a link and purchase an item, we may receive a commission at no extra cost to you.
---
These Kirkwood Chicken Breast Fillets make a restaurant-quality sandwich, and they're way cheaper than a drive-thru!
Everyone loves a hot, juicy chicken sandwich, right? Unfortunately, there are a lot of dry, flavorless, tough chicken sandwiches out there. That's why we were so interested in all the talk surrounding these frozen chicken fillets available at Aldi. People are comparing them to popular chicken sandwiches from Chick-fil-A and Popeye's!
Kirkwood Chicken Breast Fillets
You will find this product in the freezer case at Aldi, in a distinctive red bag. These breaded chicken fillets are sold in a 24-ounce package. Because they are sold by the weight and not the piece, the amount of chicken fillets inside the bag does vary. Most bags contain five or six pieces of chicken.
These frozen chicken fillets are a regular buy at Aldi, which means you should be able to find them in your store year-round. Our recent purchase cost $5.99, and we received six pieces in the bag.
Are these chicken fillets good?
In short, yes. Wait, YES! That's better.
We found these Aldi breaded chicken fillets to be high quality. These are not a chopped and formed chicken patty, they are a whole, thinly sliced chicken breast. The breading is thin and well-seasoned. The meat stays moist and tender after preparation.
How do you use these Aldi breaded chicken fillets?
We prepared our Kirkwood Chicken Breast Fillets in the oven, according to package directions. Preparation takes about 25 minutes, and we found the fillets were heated through well and not at all soggy. Alternatively, you could prepare these in an air fryer for a crispier finish.
Combined with Aldi's Brioche Buns, these truly make a restaurant-quality sandwich. The first time we tried these, we followed this Copycat Aldi Chick-fil-A Sandwich. For a separate meal, we added Swiss cheese and Deutsche Kuche sweet mustard to the sandwich. Both chicken sandwich versions were a hit with the whole family!
We figured our cost per sandwich at less than $2, including the toppings — a big savings over a drive-thru meal.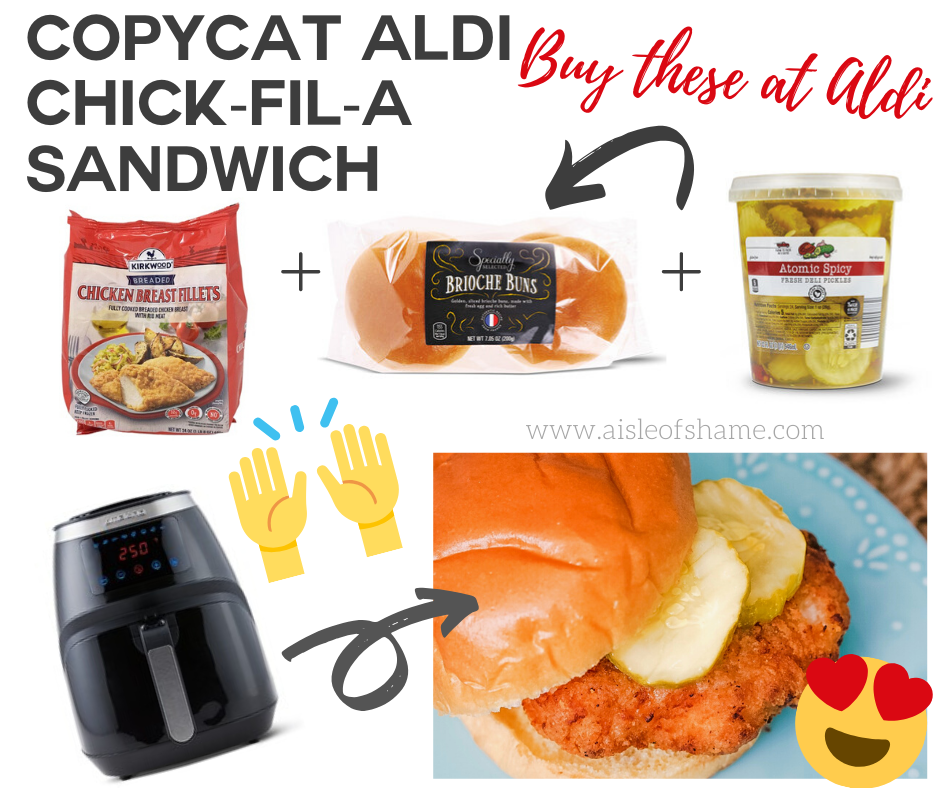 Have you tried these chicken breast fillets from Aldi? What do you put on your chicken sandwich?