Grab these Aldi Summer Seasonal Items while they are still on shelves!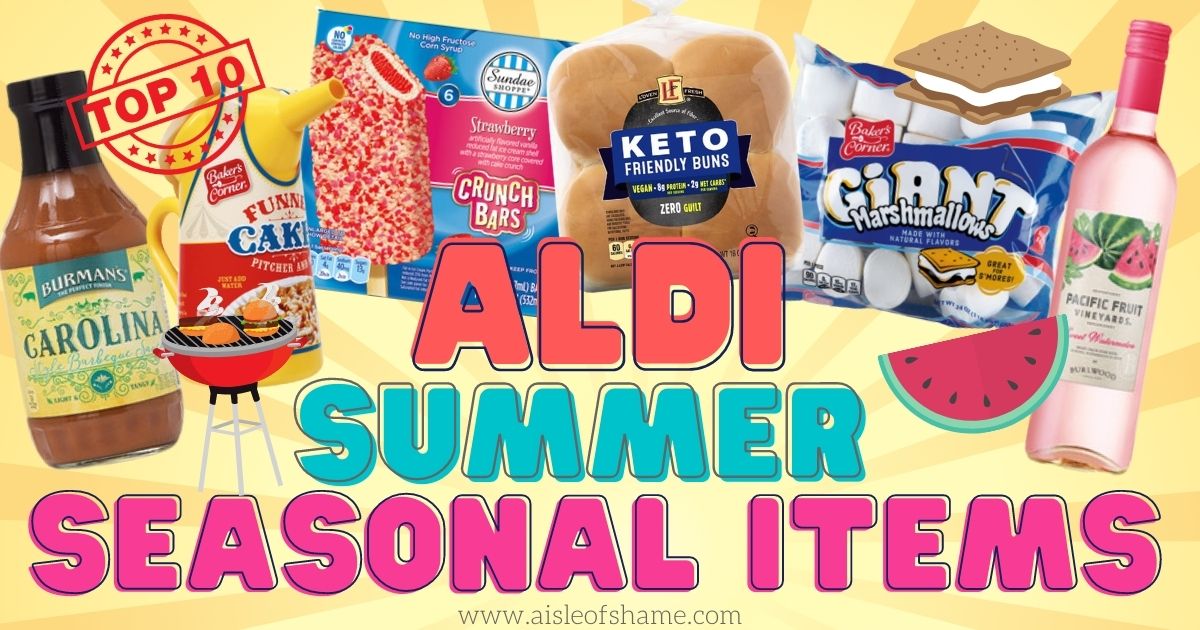 It's officially summer, and time we pay homage to some of our favorite summer food and drink available right now at U.S. Aldi stores.
If you have shopped at Aldi before, you probably know that each week brings new Aldi Finds to the Aisle of Shame. These are items that the stores typically get one shipment of, and once they're gone, they're gone.
But Aldi also offers seasonal favorites that are often hidden among the regularly stocked items. These seasonal items are exactly as described — there for the season.
Here's a look at our Top 10 Aldi Summer Seasonal Items:
Burman's Regional Style BBQ Sauces

You can find a basic bottle of barbecue sauce year-round at Aldi, but you'll only find the specialty sauces in the summer. There are Memphis BBQ, Texas BBQ, and Kansas City BBQ in addition to Carolina BBQ, which is a staple in our Copycat Chick-fil-A Sandwich.
Party Pack Bratwurst
Speaking of barbecues, you'll only find this party pack of Bratwurst in the Aldi meat case during the summer months.
L'oven Fresh Keto Friendly Buns
While we know Aldi Brioche buns are a fan favorite, they're far from low carb and ultimately can't be enjoyed by Aldi shoppers living a keto-friendly lifestyle. Enter L'oven Fresh Keto Friendly Buns.
With 8g protein and 2 net carbs, these buns are a guilt-free way to enjoy summertime favorites like grilled burgers and pulled pork sandwiches.

Stonemill Grill Seasonings
You're going to need to season that meat you're grilling this summer, and Aldi comes through for us in that category, too. These Stonemill Grill Seasonings come in four varieties — Brew Pub Chicken, Amazing Burger, Roasted Garlic & Herb and Kicked-Up Chicken Grill Seasoning. These staples are used year-round in our kitchen, so we are sure to stock up on an extra bottle or two when we see them appear on shelves each summer.
Baker's Corner Giant Marshmallows
We're not sure there's any food that says "summer" more than s'mores. While Aldi carries mini marshmallows in the baking aisle all the time, you will only find these giant roasting-stick-sized sweets in stores in the summertime.
Baker's Corner Funnel Cake Mix
Many of our favorite festivals have been canceled because of the pandemic, but Aldi is bringing us a way to get the carnival food experience at home. These funnel cake mixes even come with their own plastic pouring pitcher.
Sundae Shoppe Strawberry Crunch Bars
While we're on the subject of sweets, Aldi is bringing us an ice cream truck favorite from our childhood: Strawberry Crunch Bars.
These strawberry bars have a vanilla-flavored ice cream shell with a strawberry core covered with cake crunch— they're a close dupe for Good Humor Strawberry Shortcake Bars.
Sundae Shoppe Mini Ice Cream Cookie Sandwiches
Another ice cream favorite for sale at Aldi during the summer months is Vanilla Minis Ice Cream Cookie Sandwiches, which are just perfect for little hands (and adult-sized hands, too).
Simply Nature Organic Lemonade
Summer is definitely lemonade drinking season, and we love this organic version that's part of Aldi's Simply Nature Line. It is available in original or strawberry flavors.
Burlwood Cellars Pacific Fruit Vineyards Wines
No Aldi faves list is complete without an Aldi summer wine mention. The Pacific Fruit Vineyards wine is an easy-drinking favorite that's priced in the $3 range at most Aldi stores. It's available in three varieties this summer – Sweet Mango, Sweet Blueberry, and Sweet Watermelon.
What are your favorite Aldi Summer Seasonal Items? Let us know in our Aldi Aisle of Shame Community on Facebook!