These Aldi Summer Wines will make for some sweet summer sipping!
You probably know Aldi as a great store to buy grocery staples for less. You may even know it as that store with all of the household stuff in the middle aisle — you know the one where you can find holiday decorations, towels, tools, car seat covers, tents, and all manner of items you may need at different times of the year.
But you may not know that Aldi carries a lot of options for wine and beer in its U.S. stores.
Now, not every Aldi store carries alcohol. I know, bummer.
What Aldi Stores Carry Alcohol?
The best way to determine if a particular store carries alcohol is to check the Aldi store locator.
There, you can search for the nearest stores to your location, and even check boxes to have the search engine find stores that carry wine, beer or both.
If the stores near you don't carry wine and/or beer, it's probably due to state laws or local ordinances in your area. Some states do not allow the sale of alcoholic beverages in grocery stores. Some states leave it up to city or county governments to make that decision. For example, where this writer lives, the nearest Aldi cannot sell alcohol because the city it is located in does not allow. However, there are Aldi stores in the county to the East and the county to the West that carry wine and beer.
In some cases, whether or not your Aldi sells alcohol is a matter of available liquor licenses. Stores must have a liquor license to sell alcohol, and sometimes their availability is limited.
Fun fact: While the U.S. Aldi stores do not carry hard liquor, that isn't the case in other parts of the world. For example, Aldi stores in the U.K. are known for an award-winning line of gins.
Aldi Summer Wines
While Aldi carries some wine year-round, like its very inexpensive Winking Owl line, many items in the wine aisle are seasonal.
Unlike Aldi Finds — items that stores receive just one shipment of, and when they're gone, they're gone — seasonal items at Aldi are available for several months. Stores often get multiple shipments of these items.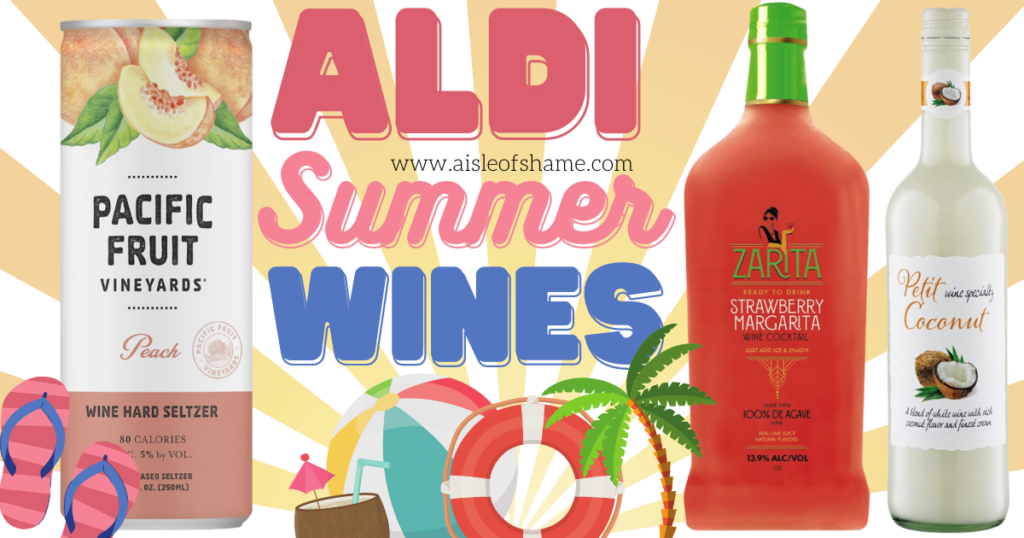 For 2021, Aldi is bringing us a dozen seasonal items for the wine aisle!
Many of these wines are on the sweeter side, but even a dry wine drinker enjoys a margarita with fish tacos or a Riesling at a barbecue every now and then, right?
When Will Aldi Summer Wines Be Available?
Aldi says these wines will be in stock at stores that sell wine on April 9. Some shoppers have found them in stores earlier than that date.
Based on our experience last year, these wines should continue shipping to stores until mid-Summer. After that, they will disappear from shelves to be replaced by fall seasonal items.
Let's take a look at all the Aldi summer wines!
(One quick note here about the prices: These prices are approximate, but they may vary some by store based on the difference in local and state taxes on alcohol sales.)
Sangriana Red Sangria – $5.99
We're telling you, this stuff is the real deal. It's imported from Spain, and we can't believe you get 1.5 liters of this for just six bucks. How is that even possible? You'll want to serve this summer sipper over ice and some fruit – maybe Aldi's frozen berries?
Sangriana White Sangria – $5.99
And of course in the Spanish Sangria category, Aldi is also bringing us this white wine version. These sangrias weigh in at 7% alcohol. You know that frozen fruit mix with the mango, pineapple and strawberries that Aldi carries? Chill this, pour it into a glass with some frozen fruit, thank us later.
Mimosa – $8.99
Let's all agree that summer Sunday mornings are the best time for brunch. And what's a requirement at summer brunch? Mimosas, of course. Take out the step of having to open TWO bottles and mix the champagne and orange juice, with this one-step concoction.
Pacific Fruit Vineyards Sweet Watermelon Wine – $3.99
This watermelon-flavored wine is one of the Aldi summer fruit wines that have become very popular over the past couple of years. These wines are made with grapes and contain other fruit flavors.
Pacific Fruit Vineyards Sweet Mango Wine – $3.99
The Sweet Mango wine flavor is new for Aldi in 2021! These wines are made by E&J Gallo. As the name indicates, these wines are very sweet. They are also slightly carbonated — a great, light drink for an outdoor cookout.
Pacific Fruit Vineyards Sweet Blueberry Wine – $3.99
Another new flavor for 2021, this Aldi Sweet Blueberry Wine is already getting rave reviews in our Aldi Aisle of Shame Community! There are a few other Pacific Fruit Vineyards typically carried at Aldi — Sweet Pineapple and Sweet Peach wines are available frequently throughout the year, and Sweet Apple is often carried later in the summer.
Pacific Fruit Vineyards Peach Wine Hard Seltzer – $5.49
We are on the lookout for these cans of "wine hard seltzer." This is the first flavor we have seen in this branch-out from the Pacific Fruit Vineyards wines, and a departure from Aldi's private label Vista Bay seltzers. Have you tried it yet?
Zarita Lime Margarita Wine Specialty – $13.99
These bottled margarita cocktails flew off the shelves last year! This is not a margarita mix — it's a ready-to-drink cocktail that contains wine instead of tequila. These are 13.9% alcohol.
Zarita Strawberry Margarita Wine Specialty – $13.99
Same idea as the lime, in a new flavor – strawberry! Try this blended with frozen strawberries for a fresh, frozen margarita drink.
Espritza Sparkling Rose – $4.99
We fell in love with these 4-packs of cans of Rose last summer. They are portable, great for a single serving, and very tasty. You'll definitely want to chill this wine — which is not nearly as sweet as the other wines in this summer list.
Wicked Grove Pearsecco – $6.99
Wicked Grove is Aldi's line of private label hard ciders, and we have enjoyed many of the varieties released throughout the year. This sparkly pear cider is crisper and drier than many of the apple versions. And, again, in the can it's easier to tote to the pool, beach, or a neighbor's back yard.
Petit Coconut Wine Specialty – $7.49
These creamy wine specialty cocktails come out in many flavors during the year, from vanilla bean to chocolate. We love this tropical coconut flavor for summer! Pro tip: Chill, then use in place of milk in a homemade vanilla milkshake. You can thank us later.
Well, friends and fellow wine drinkers, there's your guide to the Aldi summer wines of 2021. What are you shopping for first?
Follow Aisle of Shame on Instagram for more Aldi Finds!