An Ambiano Air Fryer promises to be one of the most popular Aisle of Shame items this week at Aldi!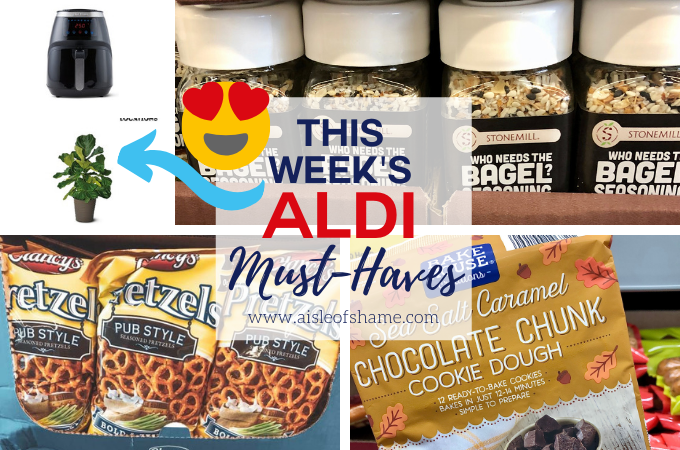 Here are 12 things you definitely want to look for on your Aldi shopping trip this week:
Ambiano Air Fryer
(Available in stores by Oct. 23) If you don't already own an air fryer, this option from Aldi may be the one you want to invest in. The Ambiano Air Fryer has a 2.6-liter frying basket and a 60-minute digital timer. It is priced at $49.99. We've seen air fryers for less, but they often have a much smaller capacity. This one seems to hit the sweet spot of having a larger basket and also not taking up your entire kitchen counter. Air Fryers are amazing for cooking all kinds of foods, and we especially love them for cooking Aldi frozen favorites such as taquitos, franks in a blanket, crab cakes, schnitzel and more.
Fall Creamers
The time is winding down for being able to find Aldi's fall-flavored creamers in store. So if you're addicted to all things pumpkin spice, we suggest stocking up now, in case they don't last through Thanksgiving. You may already be seeing popular Christmas holiday flavors replacing the fall boxes in your Aldi dairy case.
Clancy's Seasoned Pretzels
Don't miss these Clancy's Seasoned Pretzels that people everywhere are raving about! A 12-ounce bag is priced at $1.69. These pretzels were an Aldi Find for Oct. 16, so if they are still in your store, stock up now. They'll be gone soon.
Leather Wristlets
Honestly, we don't know why more people aren't talking about these leather wristlets. They showed up in store as an Aldi Find for Oct. 16, and we are so impressed with the quality of them! They are available in fall-perfect colors including black, gray and burgundy, and they are priced at just $9.99. Keep an eye out for them on your Aldi Aisle of Shame.
Scented Wax Melts
(Available in stores by Oct. 23) A new batch of Huntington Home Scented Wax Melts will hit stores this week. If you use scented wax warmers in your home, these are a high-quality steal at just $1.69 per package. The scents available this time around will be Apple Cider, Bonfires & Hayrides, Cozy Blanket, and Woodland Pine. There will also be some new mini Aldi wax warmers available this week (including a Scentsy dupe).
Everything Bagel Seasoning
A new batch of Stonemill Who Needs the Bagel? Seasoning showed up in many Aldi stores a couple of weeks ago. If you see it and haven't stocked up yet, now's the time. Right now, this seasoning is not carried as a regularly stocked item. Don't expect to see this everything bagel seasoning in the regular seasoning section of your store. Many shoppers are reporting finding it with other Aldi Find food items, or even up front near the cash registers. Here are 16 things we're sprinkling Aldi Everything Seasoning on.
Celebrity Goat Cheese Medallions
Another Aldi Find from a couple of weeks ago, you don't want to miss out on trying these if they are still in the refrigerated case in your store. You might notice that this pic appears to be taken in a car in the Aldi parking lot. That's because we couldn't wait to give these a try! We loved the Cranberry Cinnamon and Garlic & Herb flavors in this bag.
Halloween Cheeses
Aldi has released several themed cheese collections this year, with this Halloween collection being the latest. An Aldi Find for Oct. 16, the Bat Knit Crazy Cheddar in this line seems to be the hands-down favorite. If you haven't tried these Aldi Halloween Cheese yet, you may want to pick them up. They would make a great hostess gift for the Halloween party you're invited to this weekend.
Sea Salt Caramel & Chocolate Chunk Cookie Dough
This Aldi refrigerated cookie dough truly tastes like homemade. If it's still available in your store, we recommend snatching it up. This package makes 12 big cookies.
Fiddle-Leaf Fig
View this post on Instagram

(Available in stores by Oct. 23) We don't even know what to say about this jaw-dropping deal. A Fiddle-Leaf Fig Houseplant for $12.99? These uber popular houseplants often run for $40 and up. We have not spotted them at our store yet, but we're on the lookout. From the photos we've been spotting, they look to be 2-3 feet in height — this is not a tiny starter plant by any means.
Moon Willow Riesling
(Available in stores by Oct. 23) If your Aldi store sells wine, this Riesling in the ad this week would be a good one to buy and save for the white wine drinkers on Thanksgiving. It has a high acidity level that will pair well with the rich foods we all eat that day.
Pumpkin Spice or Maple Peanut Butter
These fall-flavored peanut butters are a fun treat on toast or apple slices. These were an Aldi Find from last week, so if you still see them, get them now. They won't stick around for long.
What is on your Aldi shopping list this week?