Shrimp Power Bites are among the healthy food choices coming to Aldi this week!
If your New Year's Resolutions have got you like, "less cheese, more superfoods and exercise" then Aldi has you covered. The first week of January brings loads of healthier options to replace all the chocolate and toys we've been finding in the Aisle of Shame lately.
Here's a look at this week's Aldi Must-Haves:
Christmas Clearance
'Tis the season for holiday markdowns. Aldi shoppers have been finding marked down food and Christmas decorations since stores re-opened on Dec. 26. The markdown schedule varies from store-to-store, and there may still be treasures to be had in your Aisle of Shame, so keep your eyes peeled!
Shrimp Power Bites
These Fremont Fish Market Shrimp Power Bites contain superfoods including edamame, spinach, broccoli and chia seeds, in addition to the shrimp, of course. There's a salmon version, as well. You'll find these in the freezer section.
Simply Nature Root Vegetable Fries
These frozen fries are made of parsnips, carrots and red beets, rather than potatoes. These are going to be great in that new air fryer you got for Christmas.
Specially Selected Pear & Gorgonzola Ravioli
As long as we're hanging around the Aldi freezer section, we've seen rave reviews for this Specially Selected Pear & Gorgonzola Ravioli. There's a mushroom truffle oil version, too.
Simply Nature Goat Cheese Macaroni & Cheese
Members of the Aldi Aisle of Shame Facebook Group have been talking for days about this Simply Nature Goat Cheese Macaroni & Cheese, which is making its return to Aldi shelves this week. There are two flavors available: Original and Alfredo Basil.
Crane Kettle Bell Set
As you might expect, the Aisle of Shame will be stocked with fitness items this week. This Crane Kettle Bell Set is priced at $19.99. It includes 15-pound, 10-pound, and 5-pound weights, as well as an instructional DVD. You will also find exercise bands, a mini stepper, and even a folding exercise bike at Aldi this week.
Crofton 20-Piece Meal Prep Containers
As many of us resolve to embrace healthier eating, these meal prep container sets will definitely come in handy. They are available in packs of 10 containers and lids, either with a single compartment or divided into two compartments. These sets are priced at $4.99.
Crofton Collapsible Portion Control Containers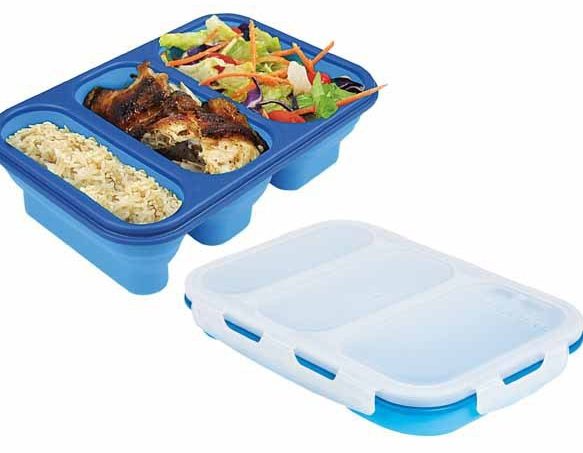 I have been waiting for these Crofton Collapsible Portion Control Containers to come back to the Aisle of Shame. These containers are made of sturdy silicone that collapses down when not in use. They have the snap-on-type lids. These containers sell for $4.99 each. I cannot say enough about the quality of them. I have owned two of these for two years, and my teen daughter takes her lunch to school in them daily. They have been washed in my dishwasher hundreds of times and are still in great shape — I just want more!
Crofton To-Go Assortment
As long as we're talking about packed lunches, this Crofton To-Go Assortment has us excited. You can get a cutlery set, snack set or 3-pack of condiment containers for $1.99. The condiment containers are definitely on our list.
Avocado Dip & Spread
Avocado toast lovers can simplify their morning routine with this Avocado Dip & Spread. It's available in the refrigerator section in Jalapeno Lime and Garlic Herb flavors.
Ambiano Electric Spiralizer
We'll round out this week's finds with this Ambiano Electric Spiralizer. We love our Aisle of Shame kitchen gadgets, and this one just might contribute to healthier eating. These are priced at $24.99. Just like the aforementioned Christmas clearance, you might also keep an eye out for small appliance markdowns on many of the items stocked for holiday gifts, such as electric pressure cookers and sous vide immersion cookers.
Shrimp or Salmon Power Bites? Root Vegetable Fries? What are you after this week at Aldi?