Check it out– We have new Aldi quarter keepers, fiddle leaf figs, Southwestern eggrolls (Chili's dupe), and mango mimosas this week at Aldi! 

Read on for your Aldi must-haves for the week of August 18th, 2021!
Keychain Coin Holder – $1.49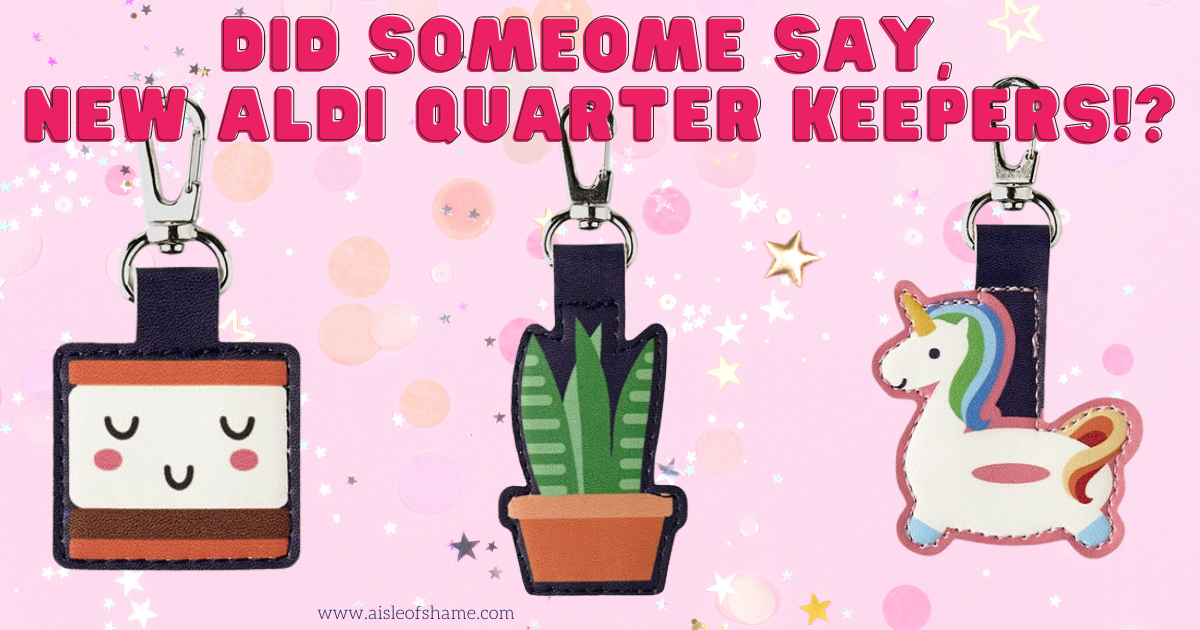 New Aldi quarter keepers are finally here! It's been a minute since the last batch of keychain coin holders debuted in stores, but the wait it over– choose between a Bumble Bee, Summer Drink, Sloth, S'more, Succulent or Unicorn Float…or grab them all for only $1.49 each!
Each quarter keeper features a slot to hold your quarter for grocery cart retrieval at ALDI stores. Includes hook attachment for easy carrying.
Huntington Home 20″ x 39″ Comfort Mat – $7.99
These 100% ergonomic PVC foam mates are great for the laundry room as they're stain-resistant and easy to wipe clean. Available in Floral, Laundry Room or Geo designs.
Belavi Patio Dining Table – $169.99
While the Belavi dining table is being called a patio table, members of the Aisle of Shame Facebook community are already talking about using it indoors, as an actual dining room table. The tabletop is made of Acacia wood and measures 70.9 x 25.4 x 29.5 inches. There is a hole in the center for an umbrella that could be covered with a centerpiece. Chairs not included.
10″ Foliage Assorted Varieties – $12.99

Fiddle Leaf Figs, Snake plants, and other foliage varieties will be available in sizable 10-inch pots at Aldi this week. These very popular house plants can cost a pretty penny at this size, making them a great value. Note: If you have cats or other pets, be sure to look up which plants can be toxic before introducing them to your home.
Appetitos Southwestern or Green Chile Rolls – $5.99

If you're a fan of Chili's Southwestern eggrolls, the Appetitios version is almost an exact dupe – just pop in the air fryer for restaurant flavor at home! Green Chile Rolls are also available this week and we'd expect they'd have just a tad more heat.
Casa Mamita Mexican Street Corn or Chorizo Hatch Chile Ravioli – $6.49
If you're a fan of Mexican street corn, then you'll love this new Aldi Mexican Street Corn Ravioli! This Mexican-inspired ravioli has the same flavors as the popular Mexican dish.
Chorizo Hatch Chile Ravioli with a sofrito sauce can also be found in the frozen section for an easy weeknight meal.
Elevation Nacho Cheese or Jalapeno Cheddar Protein Puffs – $2.69

Add the flavor of cheese puffs into your keto lifestyle with Elevation Nacho Cheese Protein Puffs.
These tasty keto-friendly protein puffs will elevate your high-fat, low-carb journey and satisfy your snack cravings at the same time— 4g carbs and 42g protein per bag! Also available in Jalapeno Cheddar.
Mango Mimosa – see price in store
ALWAYS A FAVORITE! Aldi Mango Mimos combines fresh mango juice with premium, dry white wine for the ultimate brunch beverage. Also pairs well with white cheddar, Gruyere and pesto grilled cheese on sourdough and pesto pastas.