Get those soup spoons ready – Aldi Grilled Cheese Tomato Soup is HERE!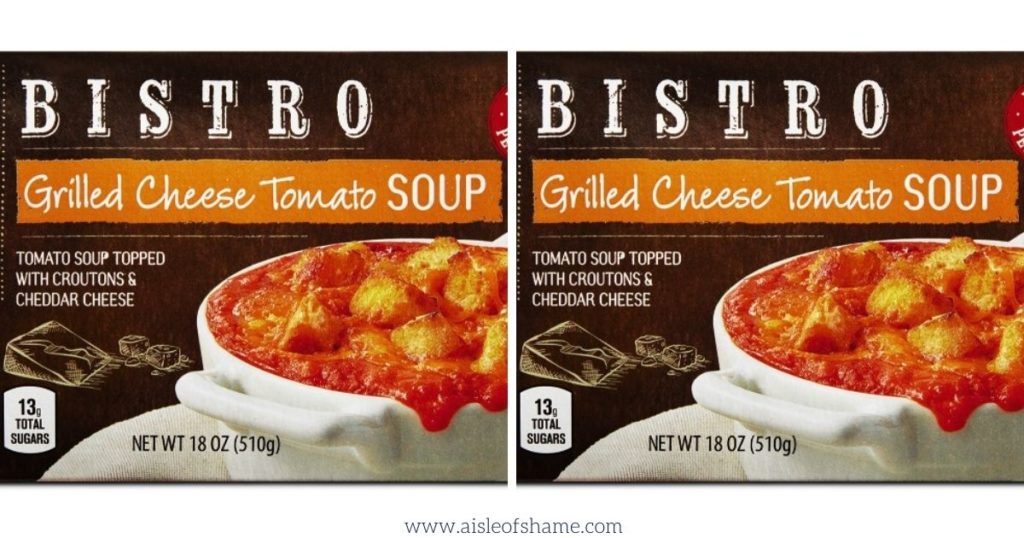 Aldi is selling Grilled Cheese Tomato Soup and our soup bowls are jumping for joy!
If there was ever a soup that transported you right back to your childhood, this grilled cheese tomato soup is it. And since it's officially fall, y'all, it's time to get our passion and love for hearty soups on the forefront of our minds.
Not only does this Aldi soup combine the perfect flavor combination of grilled cheese and tomato, but it makes it in soup form so we can slurp it from a bowl or sip it from a mug. Our dinner plans for the next week are set.
And if you're a fan of potato soup, you're going to want to check out Bremer Bistro Loaded Potato Soup— It's like a tasty baked potato with all the fixings in a bowl!
Check out these delicious Aldi soups!
The new Bremer Bistro soups come in two delicious flavors: Grilled Cheese Tomato Soup and Loaded Potato Soup.
Like the Bremer French Onion soup, which is seasonally available, these soups are found in the freezer section and are certain to sell out quickly. With two soups included in each box for $3.99, you can have one for lunch and dinner, or share them for a quick weeknight meal.
Can you tell that we're pumped and ready for soup season?!
If you're wondering how the frozen soup is going to taste, just wait. Each soup is created with quality ingredients and topped with delicious cheese. Literally the best way to have soup from the store, in our opinion. Treat yourself with this gourmet soup and leave those canned soups on the shelf.
We'll be stocking up on both of these soup flavors when they hit the freezer aisle during the week of September 23rd! Which of these soups do you have on your radar?