As November ushers in the season of giving thanks and pre-holiday excitement, ALDI prepares to surprise and delight shoppers with a trove of exclusive finds.
Each week, the store shelves will brim with the latest ALDI Finds, presenting a collection of limited-time, specialty items that extend well beyond the pantry.
From the comfort of indulgent seasonal foods to the charm of unique home goods, each item is handpicked to enhance the festive spirit.
Winternacht Almond Spekulatius – $2.99 – 11/2

Winternacht Marzipan Stollen – $6.75 – 11/2
Moser Roth Mini Chocolades – $2.99 – 11/2
Winternacht Panettone – $5.99 – 11/2
Winternacht Milk or Dark Chocolate Peanut Clusters – $3.49 – 11/2
Winternacht Pfeffernusse – $2.79 – 11/2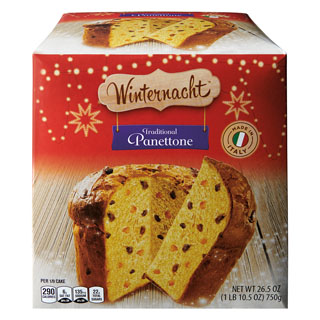 Winternacht Soft Gingerbread – $2.99 – 11/2



Moser Roth Grand Chocolades – $3.49 – 11/2


Bentons Sugar Cookie Music Tin – $5.99 – 11/2

Winternacht Assorted Mini Elisen Gingerbread – $4.99 – 11/2

Winternacht Gingerbread Hearts – $3.99 – 11/2

Winternacht Chocolate Domino Cubes – $3.49 – 11/2
Winternacht Cinnamon Star Cookies – $4.49 – 11/2
Choceur Hot Cocoa Bombs – $5.99 – 11/2
Winternacht Butter Spekulatius – $2.99 – 11/2
Choceur Hot Cocoa Melting Chocolate Snowman – $2.49 – 11/2
Specially Selected Continental Cookie Assorted – $5.99 – 11/2
Winternacht Gingerbread Assortment – $5.49 – 11/2

Winternacht Stollen Cherry – $6.75 – 11/2
Winternacht Wafer Assortment – $3.49 – 11/2
Specially Selected Caramel Stroopwafels – $3.49 – 11/2
Benton's Fudge Coated Peppermint Cremes – $3.49 – 11/2
Choceur Chocolate Covered Marshmallows – $3.19 – 11/2

Choceur Dark Chocolate or White Chocolate Peppermint Bark – $4.99 – 11/2
Winternacht Stollen Bites – $4.99 – 11/2

Choceur Pecan Caramel Cluster Gift Set – $5.79 – 11/2
Parmigiano Reggiano Assortment – $5.49 – 11/2


Specially Selected Winter Gourmet Peaches – $3.49 – 11/2


Clancy's Peppermint Pretzel Stars – $2.99 – 11/2
Dark or Peppermint Drizzled Kettle Corn – $2.29 – 11/2

Choceur Pralines – $4.79 – 11/2
Benton's Holiday Cream Wafer Rolls – $6.99 – 11/2
Benton's Candy Cane Sandwich Cremes – $2.69 – 11/2
Choceur Winter Clusters – $3.95 – 11/2

Huntington Home Holiday 3 Wick Candle – $4.49 – 11/2


Huntington Home Holiday Candle – $5.99 – 11/2

Shamrock Farms Vanilla Spice Eggnog – $3.99 – 10/13
Pacific Fruit Vineyards Sweet Cranberry Wine – $3.99 – 10/13
Belletti Moscato D'Asti – $5.99 – 10/13
State of Brewing Chocolate Lava Cake Stout – $8.99 – 10/13
State of Brewing Hard Seltzer Holiday Party Pack – $12.99 – 10/13
Winterliebe Apple or Cherry Mulled Wine – $5.99 – 10/13
Winterliebe Gluhwein – $5.99 – 10/13
Holly Hill Farm Eggnog Wine Specialty – $7.99 – 10/13
Petit Peppermint Bark Wine Specialty – $7.99 – 10/13

Specially Selected Milk or Dark Chocolate Sea Salt Cashews – $3.99 – 10/13

Quarter Cut Bourbon Barrel Zinfandel – $9.99 – 9/8
State of Brewing Pumpkin Cider – $7.99 – 9/8
Pacific Fruit Vineyards Sweet Apple Wine – $3.99 – 9/8

Emporium Selection Double Gloucester or Stilton Assorted Varieties – $3.49 – 9/8
Emporium Selection Artisan Flavored Cheese Assorted Varieties – $3.49 – 9/8
Emporium Selection Smoked or Spicy Cheese Assorted Varieties – $3.89 – 9/8


Emporium Selection Cranberry White Cheddar Cheese – $2.99 – 9/8
Specially Selected Award Winning Cheese Assorted Varieties – $4.49 – 9/8


PurAqua Belle Vie – $3.49 – 9/8


Winternacht Spekulatius Spiced Cookies – $3.49 – 9/8
Bake Shop Pumpkin Sliced Loaf Cake – $3.45 – 9/8
Bake Shop Pumpkin Cake Roll – $4.95 – 9/8
Specially Selected Infused Extra Virgin Olive Oil – $4.99 – 9/8
Acacia Honey with Honeycomb – $7.49 – 9/8
Specially Selected Cheese Crisps – $3.49 – 9/8
Specially Selected Artisan Crackers – $3.49 – 9/8