This Blueberry Crumble Coffee is new at Aldi this week!
This week, you will find kid's rain boots, hot pepper cheese, sweet chili hummus and lots more in the Aldi Finds aisles at your U.S. Aldi store!
Here are your must-haves for the ad week of April 14 (April 11 in stores with a Sunday ad switchover!):
Cheesecake Factory Creme Brulee Dessert – $1.69
These individually sized pudding cups are a huge hit anytime they appear in Aldi stores, so if you haven't seen them before, here's your sign to pick one up. The Creme Brulee flavor is topped with caramel crunch that you mix in. There's also a Cafe Mocha flavor with dark chocolate cookie crunch.
Stonemill Seasoning Blends – $1.95
We are so excited to find these Stonemill Seasoning Blends in Aldi stores. The Umami Seasoning and Elote Seasoning are dupes for seasoning blends priced at $1 more in Trader Joe's Stores.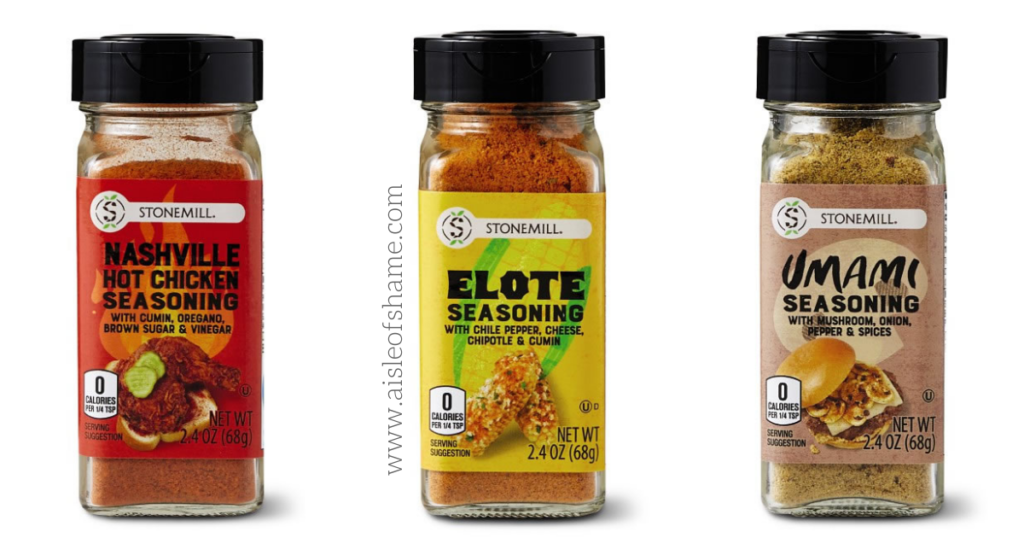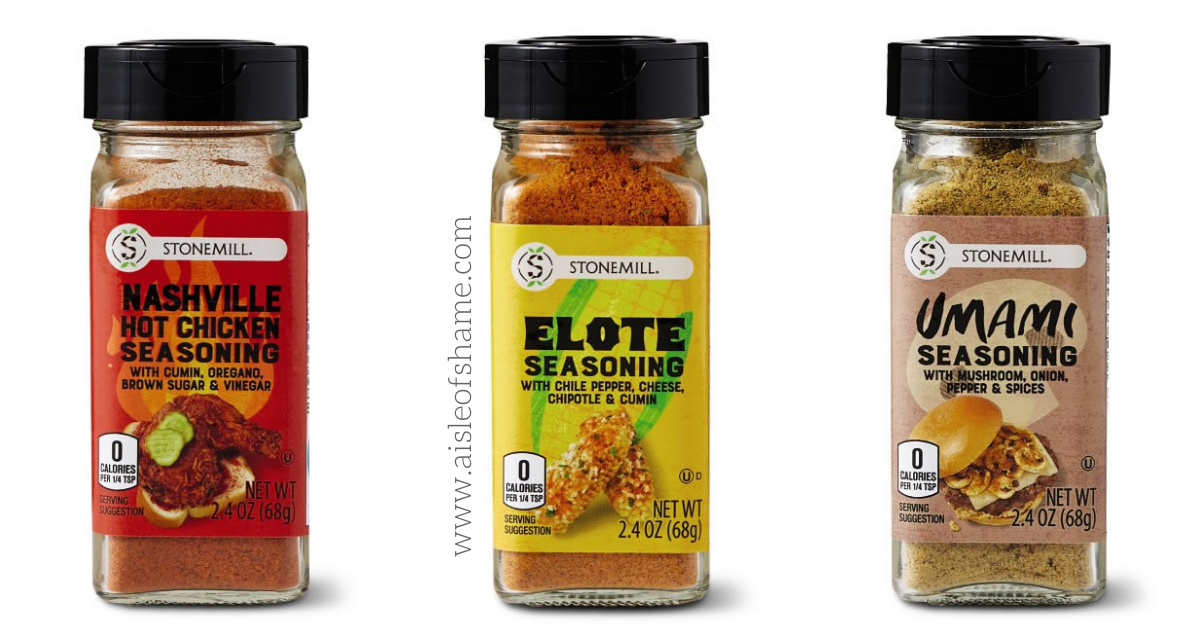 Barissimo Wild Blueberry Crumble Coffee – $3.69
This Wild Blueberry Crumble ground coffee is already getting great reviews from keen-eyed shoppers who have found it on shelves early! We admit that we're not huge flavored coffee fans, but this one does sound like a good coffee.
Barissimo Honey Lavender Ground Coffee – $3.69
The reviews on this Honey Lavender Ground Coffee have been mixed so far, but we're eager to try it! We love floral flavors in the springtime.
Mama Cozzi's Wood Fired Pesto Pizza – $4.99
We are especially excited about this frozen pizza coming to Aldi stores! It is topped with Italian Sausage, roasted mushrooms, caramelized onions, tomatoes and a basil pesto sauce.
Emporium Selection Scorpion Pepper Gouda Cheese – $3.49
We love the ever-changing cheese selection at Aldi, and we will be on the hunt for this cheese to spice up a grazing board. Scorpion Pepper Gouda has definitely captured our imagination.
Specially Selected Gourmet Flavored Peaches – $2.49
These gourmet jarred peaches are going to be delicious in a cobbler, spooned over ice cream, or whirred up in a blender to add to mixed drinks. They come in three varieties: Passion Fruit Juice, Ginger or Pineapple Juice with Coconut.
Park Street Deli Green Curry or Sweet Chili Hummus – $1.95
Like frozen pizza and cheese, you can count on Aldi to continually bring us new flavors of hummus. This week, you'll find green curry and sweet chili versions in stores.
Serra Ladies Memory Foam Sneakers – $5.99
Mark our words: These shoes are going to go very quickly. These slip-on, canvas, camo print sneakers are just $5.99! There are two other canvas sneakers available – a stripe, and a neutral distressed version.
Lily & Dan Kids' Rain Boots – $9.99
Rain boots for kids are back at Aldi, at a price lower than what you will find anywhere else! You will find several prints, and matching rain jackets, too!
Gardenline Tumbling Composter – $39.99
No hand mixing is needed with this 15.9-gallon tumbling composter. This one is made to be outside in all seasons, and it has a 2-year warranty.
Aloe Vera Plant – $4.99
We love our Aldi plant babies! Who could resist this cute and easy-to-care for aloe vera plant?
Huntington Home Natural Geometrics Candles – $4.99
Aldi is back with yet another spring candle collection, after dropping Aldi travel candles and vintage glass candles just last week! The four candles in this collection are a hefty 14.8-ounces with two wicks, in glass jars with colorful geometric patterns. And peep the matching reed diffusers, which are also in stores for $4.99! There are four scents available:
Juicy Berry
Melon Spritzer
Sea Spray
Morning Dew
SOHL Furniture Kids' Saucer Chair – $19.99
These saucer chairs will be the perfect addition to any kid's room or play space! They measure 20.8″ x 23.6″ x 22″, and they fold up for storage. If you bought the kid's comforters that were out last month, these are made to coordinate! They are available in four patterns:
Glow-in-the-Dark Stars
Mermaid
Unicorn
Rocket Ship
Follow Aisle of Shame on Instagram for more Aldi Finds!