Aldi Everything Bagel Seasoning hits stores again on Oct. 9! Update: Everything Bagel Seasoning is back full-time at Aldi!
Aldi's version of the popular bagel seasoning blend is back as an Aldi Find.
Called Stonemill Who Needs the Bagel? Seasoning, the 2.3-ounce bottle is priced at $1.95 at Aldi.
What is in this "everything" seasoning?
It includes a blend of poppy seeds, sesame seeds, black sesame seeds, sea salt, minced garlic and minced onion. It's very similar to Trader Joe's wildly popular Everything But the Bagel seasoning, and it is priced similarly, too!
So, since they're calling it Who Needs the Bagel? We decided to have a little Aisle of Shame brainstorming sesh to see what else we might sprinkle this delicious flavor dust on.
Here are 16 things we came up with:
Roasted Cauliflower
Toss in olive oil and this seasoning, spread on a baking sheet and roast at 400 degrees for 15 minutes or until the veggies start to brown.
Green Beans
Sprinkle it on after sauteeing your green beans. Bonus points (and flavor) if you add the seasoning halfway through your cooking time to let the sesame seeds toast a bit.
Goat Cheese
Roll a log of plain goat cheese in everything seasoning to add some serious pop to your next cheese plate. (Have you seen these fall flavored spreads at Aldi? We can't recommend using the everything spread with them, exactly, but if you try it, let us know how it turns out.)
Popcorn
This is one of my personal favorite ideas – popcorn! Cut back on the butter and sprinkle on some extra flavor the next time you make a bowl.
Pumpkin Seeds
Save those seeds from your pumpkin carving party! Rinse them of all the pumpkin guts and boil for 15 minutes in salted water. Drain and toss on a baking sheet with some vegetable oil and Aldi Everything Seasoning. Roast in a single layer in a 400-degree oven for 40-50 minutes for an amazing fall snack.
Oyster Crackers
Have you ever had those addictingly good seasoned oyster crackers? Make an Everything Bagel version! Toss half a stick of butter (melted) with half a jar of Who Needs the Bagel? Seasoning and a bag of oyster crackers. Spread on a baking sheet and bake in a 300-degree oven until brown. Allow to cool before storing to avoid a soggy snack.
Chicken Tenders
Kick your homemade chicken tenders up a notch by sprinkling this seasoning in with your breading for chicken tenders or fried chicken.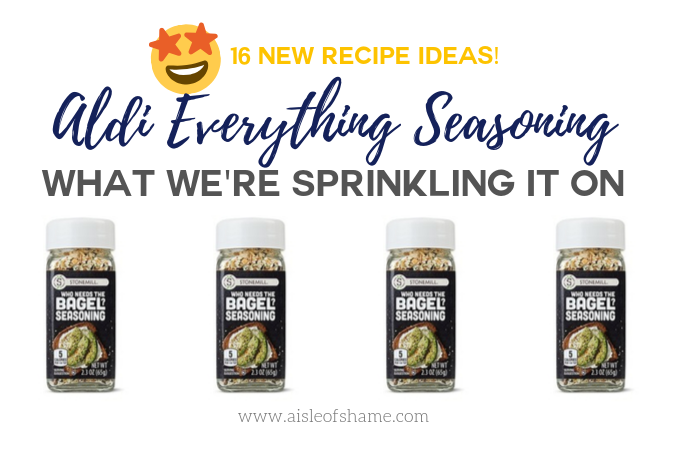 Cheese Ball
The next time you make your favorite cheese ball recipe, roll it in Aldi Everything Bagel Seasoning for a new take! (Don't have a favorite? Try this bacon ranch cheese ball recipe!)
Hash Browns
Who puts seasoning, outside of a little salt and pepper, on hash browns? You do, now. Breakfast: elevated.
Eggs
While we're talking breakfast, this stuff is amazing on eggs, either sprinkled on top or added while you cook them.
Roast Salmon
Press Aldi Everything Bagel Seasoning on salmon filets before baking. Add extra flavor if you prefer by brushing on a combo of dijon honey and mustard to help the seasoning stick.
Avocado Toast
The favorite breakfast of millennials everywhere gets some new personality with the addition of this seasoning blend on top.
Bloody Mary Glass Rim
Seasoned salt or Old Bay are traditional for the rim of a Bloody Mary glass, but everything seasoning would be a great change, and would look pretty, too!
Coleslaw
Replace the celery salt with this everything seasoning to give your slaw some new crunch.
French Fries
Why go with boring, old salt? Give French fries some zip with everything seasoning.
Pizza Crust
Pizza with everything takes on a whole new meaning with you brush the edges of the crust with olive oil and add this seasoning blend.
What will you use your Stonemill Who Needs the Bagel? Seasoning On?
Btw, Have you tried any of the fall flavored spreads on shelves at Aldi right now?