Fall Flavored Spreads are showing up in Aldi stores now!
Fall flavor trends have long been owned by pumpkin spice and variations on the apple theme (cinnamon apple, caramel apple …), and for the past few years, there's been a new kid on the block: salted caramel.
To be honest, we have no idea why salted caramel is associated with fall, but we're not mad about it.
Aldi is once again coming through with all our favorite fall flavors as Aldi Finds and Seasonal Favorites, now appearing in stores.
Here are 11 Fall Flavored Spreads you can buy now
Berryhill Apple Butter
Aldi's version of this fall classic is surprisingly good! We all know it's great slathered on toast or biscuits. Try brushing it on grilled or roasted chicken or ribs, or mix with dijon mustard for a tangy-sweet sandwich spread.
Happy Farms Pumpkin Spice or Salted Caramel Cream Cheese Spread
Of course you're going to want to schmear these silky sweet spreads on your favorite bagel, but try spreading them on sliced apples, too. Or melt this down in a saucepan with some powdered sugar for a decadent cinnamon roll glaze.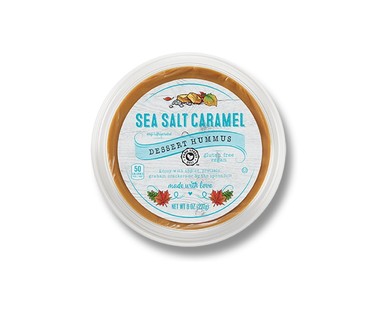 Park Street Deli Pumpkin Spice or Sea Salt Caramel Dessert Hummus
If you haven't yet jumped on the "dessert hummus" train, these fall flavored spreads could be just the ticket. These dairy-free dessert alternatives are great with graham crackers, vanilla wafers and fruit. Or try stirring a spoonful into your morning oatmeal.
Emporium Selection Goat Cheese in Apple Cinnamon, Pumpkin Spice or Salted Caramel
Any of these goat cheese logs would be amazing on a dessert cheese platter with some fig jam, dried fruit and smoked nuts. We're also thinking of subbing the salted caramel variety for some of the cream cheese in our favorite cheesecake recipe. And, call us crazy, but a naan pizza with pumpkin spice goat cheese and caramelized onions just might work.
Berryhill Caramel Dip
We love stocking up on this dip for year-round apple slice-dipping! It can also be heated and thinned with milk to make a wonderful drizzle over ice cream, fruit, or, my personal favorite – pancakes.
Alouette Caramel Apple or Pumpkin Spice Soft Spreadable Cheese
We're thinking this would be an amazing snack on pita chips or Clancy's Pretzel Thins. But these flavors could also really elevate an appetizer platter — pumpkin spice cheese on biscotti with a honey drizzle, anyone?
Tell us how you would use these fall flavored spreads! Have you tried the rest of the Aldi pumpkin products?