Pumpkin Spice Peanut Butter is coming to Aldi stores on Oct. 16!
Pumpkin spice seems to have addictive properties, doesn't it? We know lots of people who just cannot get enough of it!
The obsession with pumpkin spice means they are now putting that delicious stuff in everything — from coffee, to bread, to pretzels, to breakfast cereal … and the list goes on!
So if you are pumpkin spice lovers like we are, we have some extremely important news for you! Pumpkin spice peanut butter exists.
Pumpkin. Spice. Peanut Butter.
While it may sound strange to you at first, let's think about this a little, shall we? The warm spices of pumpkin spice — cinnamon, nutmeg, ginger, cloves — really pair perfectly with the smooth, creamy flavor of peanut butter.
We're thinking it would be an amazing breakfast on a piece of toast.
But let's go beyond the basics. How great would it be to spread this on a waffle? Or dip those fall apple slices in it for a healthy treat!
Where can I get this peanut butter?
This specially flavored peanut butter is an Aldi Find, and it's scheduled to be available in Aldi stores starting Oct. 16!
This peanut butter spread is being sold in 12-ounce jars, under the Aldi brand Peanut Delight.
And we just can't believe the price! This peanut butter spread is priced at just $1.99!
To put that into perspective, you should know that a smaller, 8-ounce jar of pumpkin spice peanut butter goes for $12.95 at Williams Sonoma.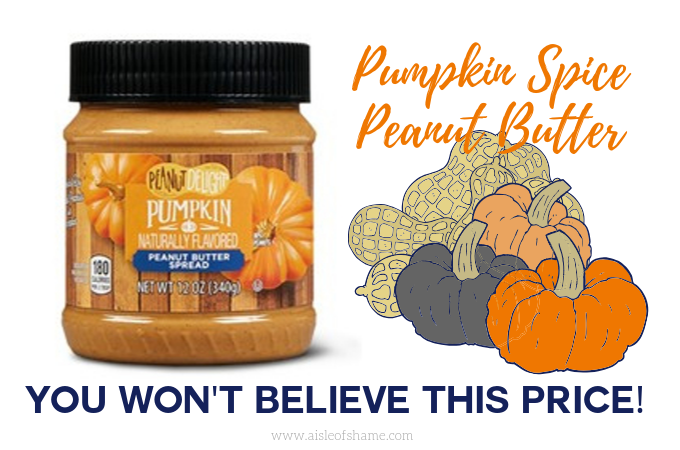 What if I don't love pumpkin spice?
Never fear. Aldi is bringing us a second fall-flavored peanut butter spread!
Aldi Peanut Delight Maple Peanut Butter Spread will also be available!
This fall-flavored peanut butter is just one of the many pumpkin products available at Aldi this season. How many have you tried?