Some of your new year resolutions may include incorporating work out into your daily routine or achieving new fitness goals. A foldable exercise bike allows you to work out in your own space and would be a great acquisition to help you keep fit at home.
There's one brand that's up to the task – Aldi.
The Aldi Crane Foldable Exercise Bike is a must-have in your home gym. It provides intense spinning exercises you can follow easily. The bike saves you money; it costs a modest amount, and when you have it at home, you're saved from the unnecessary gym fees.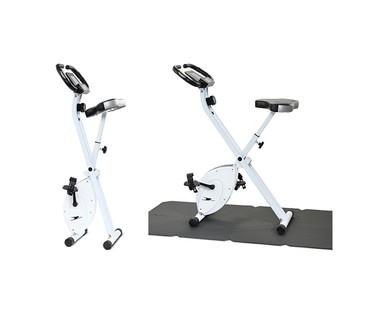 The Crane Foldable Exercise Bike is among the Special Buys at Aldi stores. These items are usually in stock for a given time – often limited – and then they're no more. So, if you want to get your hands on this invaluable bike, you must keep a close eye on the stores to avoid missing out.
ALDI Crane Product Description
Integrated LCD screen that displays time, speed, distance, calories and pulse
Heart rate monitor feature
Eight resistance levels
Height-adjustable comfortable seat with backrest and additional side grips
Integrated hand pulse sensors
Nonslip pedals
Convenient bottle holder
Extra large tray area with tablet holder
Burns fat and strengthens legs
Wheels allow the bike to be moved easily
Magnetic braking system
Easily foldable for space saving storage
Maximum user weight: 330.7 lb.
Dimensions when unfolded: 27.7″ x 20.4″ x 47″
Three-year warranty
Aldi Exercise Bike Price
At the time of writing this piece, the Crane Foldable Exercise Bike from Aldi costs around $99.99. This figure is lower compared to what other foldable exercise bikes cost. However, you should note that this price may change (most likely increase).
Features Of Aldi's Crane Foldable Exercise Bike
Thanks to its unique features, the Aldi Crane Foldable Exercise Bike gives users the best riding experience during workouts. Let's cut to the chase and find out what the bike offers.
1) An Adaptable Padded Seat
You can adjust the seat as you like to maximize comfort and stability, enabling you to get the most out of your workout.
2) LED Screen
Everyone likes to monitor their progress during workouts. This bike comes with an LED screen that displays distance, speed, time, pulse, and calories. What a relief! You don't have to keep count of everything.
3) Tension Knob
Would you like to make your workout more or less challenging? The tension knob allows you to adjust your bike's pedal tension.
4) Heart Rate Monitor
It's essential to measure your heart rate as you exercise, and this bike comes with a monitor that does just that. Therefore you'll hit your targets safely, without exceeding your maximum heart rate.
5) A Device Holder
The Aldi Crane Foldable Exercise bike has a device shelf that helps keep your essentials, such as your smartphone, safe during workouts.
6) Adjustable Straps
The bike comes with adjustable straps, usually on the pedals, for holding your feet while exercising.
Other notable features of the Aldi Foldable Bike include the ability to fold away for ease of storage and a 150-kg weight limit.
How to Assemble Aldi's Crane Foldable Exercise Bike?
Assembling the bike isn't difficult, and you can do it on your own. It would probably take 45 to 60 minutes – sometimes more – to put the whole thing together.
The good thing is the package comes with all the tools you need to set up your bike. You'll find a hex key, wrench, screws, bolts, and washers, in the box. But, why don't you confirm you have everything?
Here's a step-by-step guide on how to set up your bike:
1) Place the safety pin in the right hole after unfolding the bike.
2) Fasten the stands using 2 curved washers, 2 carriage bolts, and 2 M8 hex nut cups. Start with the front stand, which has transportation wheels attached to the front main frame. Next, move to the rear stand, and fasten it to the rear main frame.
3) Mount the pedals to the right cranks. The pedals are marked with "L" and "R", which stands for left and right, respectively.
4) Fasten the seat to the seat pillar. Use 3 hex head screws and 3 washers to ensure it's firm. Insert the seat to the front main frame, and fasten it to the pillar using the club knob.
5) Connect the upper sensor wire and the center console. Then buckle the handlebar to the rear main frame using 4 spring washers, 4 hex screws, 2 curved washers, and 2 washers.
And your bike is now fully assembled!
Make sure you set up the bike correctly to avoid injury during use. Consult your user manual during the assembling procedure.
Using Aldi Crane Foldable Exercise Bike
The bike is easy to use, even for first-time users. First, you need to unfold the bike by removing a pin. Don't forget to put the pin back in position after the bike is unfolded.
Second, use the club knob to set the correct seat height. Sit on the seat, and make sure you can move a full pedal stroke without strain. Adjust the foot straps to hold your feet.
Set up the LCD screen by placing the two AAA batteries in their compartment. The screen displays the following data while the bike is in use:
Time – Displays the elapsed workout time in both minutes and seconds.
Distance – Shows the distance you've covered, up to a maximum of 999.9 miles.
Speed – Displays your workout speed in kilometers per mile.
Pulse – It displays your pulse rate in beats per minute.
Odometer – This shows the total accumulated distance by your bike.
Calories – It shows an estimate of the calories burned within a given time during your workout.
Lastly, set the difficulty level; there are 8 different levels. For a lower resistance, turn the adjustment knob anticlockwise, and for higher resistance, turn it clockwise.
After using the bike, you'll probably need to fold it – just remove the pin you put back after unfolding the bike, and that's all.
Does Aldi Carry Crane Foldable Exercise Bike Parts?
Yes. If you need parts for your foldable bike, perhaps during repairs, you can find them at Aldi stores. Ensure you pick the correct parts for your bike; otherwise they'll either not fit your bike or the bike won't work well.
Aldi Exercise Bike Aftersale Services
You can submit a warranty card to make a warranty claim in case of a faulty bike. Aldi gives a 3-year warranty for their foldable exercise bike from the time of purchase, and the warranty offers free repairs, a refund, or exchange.
Aldi advises customers to contact their after-sales support before sending in the damaged item.
Is the Aldi Exercise Bike Any Good?
The Crane Foldable Exercise Bike from Aldi is the go-to solution for anyone who wants an exercise bike and doesn't have huge space at home. Besides saving you space, the bike saves you cash since it's cheaper than other brands. Lastly, its superb features enhance the effectiveness of your workouts. What else would you want from an exercise bike?
After using the Aldi Crane Foldable Exercise Bike, let's see what various customers had to say.
Here are some reviews from satisfied customers:
Alternative Exercise Bikes You Can Check Out
If you're not a fan of Aldi's foldable exercise bike, there are other options for you to explore:
Note that some of these bikes are expensive, and you'll have to spend more on them.
FAQ
How Much Does the Aldi Folding Bike Weigh?
The Aldi foldable bike weighs approximately 34.8 lb, that's 15.8kg. It has a maximum total load limit of 286.6 lb (130kg).
Where Can I Find the Aldi Exercise Bike Manual?
The manual accompanies the bike and comes in the same package. After unsealing the box, you should find the manual inside.
You will also get a copy online on Aldi's website.
Does Aldi Carry Bike Parts?
Some bike accessories, for example, the helmet, seat cover, foot pump, toolset, and phone holder, are available at Aldi. Other parts aren't sold at Aldi, but you can quickly source them from other retailers like Amazon.
Wrapping It Up
The Aldi exercise bike would be great to add to your exercise arsenal. It's easy to set up and use, and its discounted price makes it stand out from the rest! Why don't you try it and share your experiences with us?