Aldi is bringing full-on summer must-haves to the Aisle of Shame this week with animal ride-on pool floats, tummy-toning swimwear, festive beach towels, pet cooling mats, and more!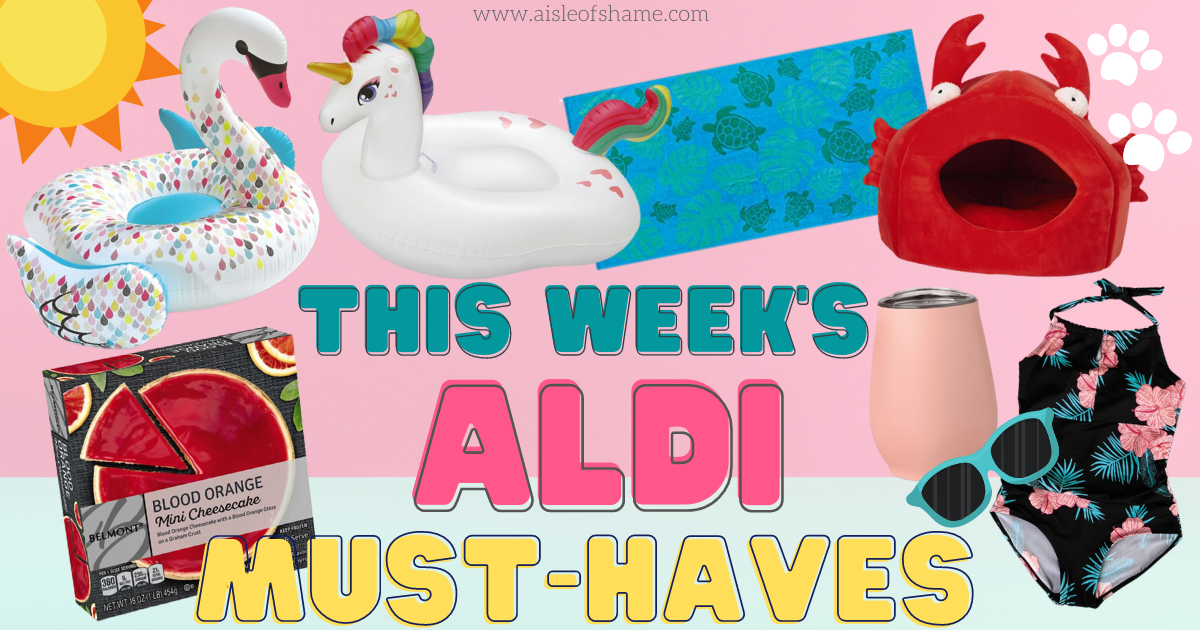 Read on for your Aldi must-haves this week!
Summer Waves Animal Ride-On Float – $9.99
Great for riding, playing, or lounging, these unicorn, flamingo, and swan animal ride-on floats are just what you need to stay cool in the pool. Each flat is just $9.99 (!!!) and has a heavy-duty handle and two air chambers for added safety. Includes a repair patch.
Unicorn: 61″ x 33″ x 32″
Flamingo: 55″ x 54.5″ x 38.5″
Swan: 52″ x 43.5″ x 38″
Crane Ladies' Tummy-Toning Swimsuit – $9.99
We've heard some amazing things in the Aisle of Shame Facebook group about this week's tummy-toning swimsuit that's under $10!
There are four swimsuits available in the following patterns and sizes: Floral High Neck in Sizes M–XXL, Black High Neck in Sizes L and XL, Navy/Peach Floral Tankini in Sizes M and L and Peach Monokini in Sizes L and XL.
The Crane Ladies' Tummy-Toning Swimsuit has Spandex shape retention and support,  a built-in bra cup for bust support, and mesh lining for tummy toning.
Huntington Home 30″ x 60″ Beach Towel – $4.99
The deals just keep coming at Aldi this week – in addition to swimwear and pool floats for under $10, the Aisle of Shame is delivering 30″x 60″ 100% cotton beach towels for only $4.99 each!
These towels are super soft and extra absorbent and come in assorted styles, including fish, turtles, cactus, and more summer designs. Perfect for a day at the beach or pool.
Crofton Double-Wall Low Ball or Wine Glass -$5.99
Summer sippin' just got cooler with these double-wall, insulated 11.1-oz. capacity wine glasses and 9.3-oz. capacity low ball glasses with lids.
Wine Glass available in White, Teal, or Peach, and Low Ball Glass available in Blue or Black. These insulated glasses are solid dupes for Yeti Rambler and Brumate at a quarter of the price.
Heart to Tail Pet Cooling Mats – $9.99
If you have a fur-baby that spends any time outside in the summer months, the Aldi pet cooling mats are a game-changer...it really keeps your pet cool!
Measuring in at 24″ x 30″, the mat stays 5–10 degrees cooler than room temperature with no electricity or refrigeration needed. The self-cooling gel is non-toxic and safe for indoor or outdoor use. Available in Gray, Blue, Yellow or Teal
Heart to Tail Pet Character Bed – $16.99

The cutest Aldi Find this week has to be the Heart to Tail pet character bed in choice of Apple, Cupcake, Crab, Shark or Pineapple.
Each bed is 17.32″ x 16.54″ x 15.75″ and an absolute must-have if you have kitties or small pups.
Mama Cozzi's Pizza Kitchen Cuban Style or Gyro Pizza – $4.19
Two of our favorite Mama Cozzi's frozen pizzas are back this week and if you can't decide between the Cuban or Gyro pizza, take our advice and pick up both. These unique pizza flavors are always a hit when they're back in stock at Aldi.
Belmont Summer Cheesecakes Assorted Varieties -$4.99
Perhaps the food item we're most looking forward to in July from Aldi is the mini Cherry Blossom Cheesecake— we cannot wait to get our hands on one!
If Cherry Blossom isn't your thing, Blood Orange and Peanut Butter Cup mini cheesecakes can also be found in the freezer case.
Coco Bay Coconut Specialty Wine
If you like Pina Coladas… Enjoy the refreshing taste of the tropics with aromas and flavors of coconut with a smooth finish. Enjoy Coco Bay Coconut Specialty Wine over ice, mixed with your favorite soda or juice or on its own.
We're personally fond of this Pina Colada flavored wine blended with ice and pineapple chunks. SO MUCH YUM!