Guess what!? July Aldi Food Finds JUST DROPPED…and as always, the Aisle of Shame has a SNEAK PEEK!
JULY ALDI FOOD FINDS
Aldi is bringing us a variety of foods this month, including some all-time faves (we're looking at you coconut rolls and Cuban pizza!), as well as some delicious new summer treats. It also looks like we're getting Mediterranean and Vegan food weeks in July. What are your must-haves?
Millville Birthday Crispy Rice Treats
Available 7/7 – $2.19
Birthday cake cripsy rice treats? Yes, please! You don't need a July birthday to celebrate with these cake-flavored rice treats topped with sprinkles.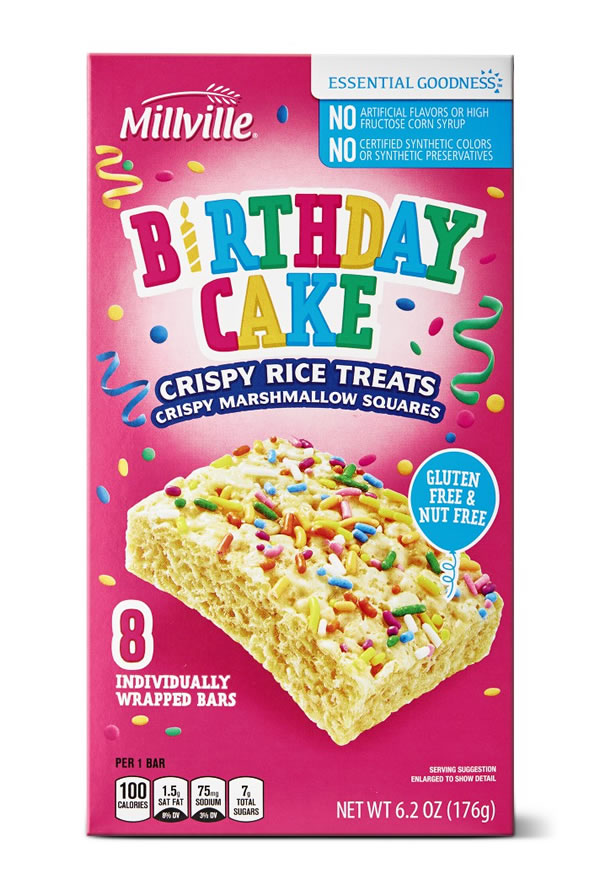 Belmont Summer Cheesecakes
Available 7/7 – $4.99
If there is one sweet treat we're looking forward to in July from Aldi it's Cherry Blossom mini cheesecake. Cherry blossom flavor tends to be lightly sweet and floral and paired with New York Cheesecake, it seems like a winning combination.
Blood Orange and Peanut Butter Cup mini cheesecakes will also be available, and all can be found in the freezer section.
Mama Cozzi's Pizza Kitchen Cuban Style or Gyro Pizza
Available 7/7 – $4.19
Two fan-favorite Mama Cozzi's frozen pizzas are back in July, and you can't go wrong with either. Cuban style and Gyro pizza are always a hit when they're available because they offer entirely new flavors for pizza night.
Aldi Cuban pizza has a creme fraiche sauce with mustard, mozzarella, and Emmental cheeses along with Canadian bacon, cooked bacon strips, pieces of fried bacon, and slices of marinated green banana peppers.
Aldi Gyro pizza has a creme fraiche sauce with pulled pork, feta cheese, sauteed white onions, black olives and marinated banana peppers.


Benton's Coconut Rolls
Available 7/7 – $2.99
If you love coconut, do not pass on Benton's Crispy Coconut Rolls. These coconut rolls with roasted black sesame seeds pop up at Aldi a few times a year and they often sell quickly because they are SO GOOD!
The flavor of the coconut rolls is slightly sweet with a creamy coconut flavor (not artificial tasting as there are no artificial colors or flavors). The crispiness of the rolls is light, making them easy to snack on…and seriously addicting.

General Mills Dunkaroos
Available 7/7 – $1.79
Look who's back, back again! Dunkaroos have returned to Aldi in time for nostalgic summer snacking.
Fun fact: Dunkaroos were first introduced to the market in 1992 by the slam-dunk mascot Sydney the Kangaroo.

Simply Nature Almond Butter Filled Pretzels
Available 7/14 – $4.99
Aldi is elevating one of our favorite pretzel snacks in July with almond butter and we're totally here for it. Simply Nature Almond Butter filled Pretzels are the perfect balance of crunchy, salty, and sweet.

Earth Grown Non Dairy Ice Cream Bars
Vegan or following a plant-based diet? Aldi has ice cream bars made with a yummy coconut base with no artificial flavors in July!
Caramel, Peanut butter and Forest Fruit round out the flavors of Aldi Earth Grown Non-Dairy Ice Cream Bars.
Earth Grown Falafels
Available 7/14 -$3.49

Simply Nature Purple Carrot Cracker
The wild card Aldi food find in July is Simply Nature Purple Carrot Crackers in Sea Salt or Ranch.
We have no idea what purple carrot crackers taste like, or if there's even a noticeable difference, but we're willing to give them a try!
Mama Cozzi's Pizza Kitchen Cheesy Garlic Deli Flatbread
Available 7/28 – $3.99
Aldi never fails on its never-ending rotation of Mama Cozzi's pizza. Cheese Garlic Deli Flatbread is making an appearance at the end of the month with a made-from-scratch crust and sauce using fresh ingredients.

Cattlemen's Ranch Hatch Chili or Sriracha Seasoned Beef Patties
Available 7/28 – $7.49
Grilling season is still underway and Aldi is making things easy and delicious with two new Cattlemen's Ranch frozen burger patties. Choose between Hatch Chile & Provolone or Sriracha Style Seasoned & Cheddar. These burgers would be fantastic on the grill but can also be made on the stovetop, in the oven, or air fryer.