We predict a rush on the holiday rugs this week at Aldi!
This is the week of Aldi Holiday Gnomes, and while we expect a run on these cuties, don't sleep on the other holiday decor you will find in the Aisle of Shame this week!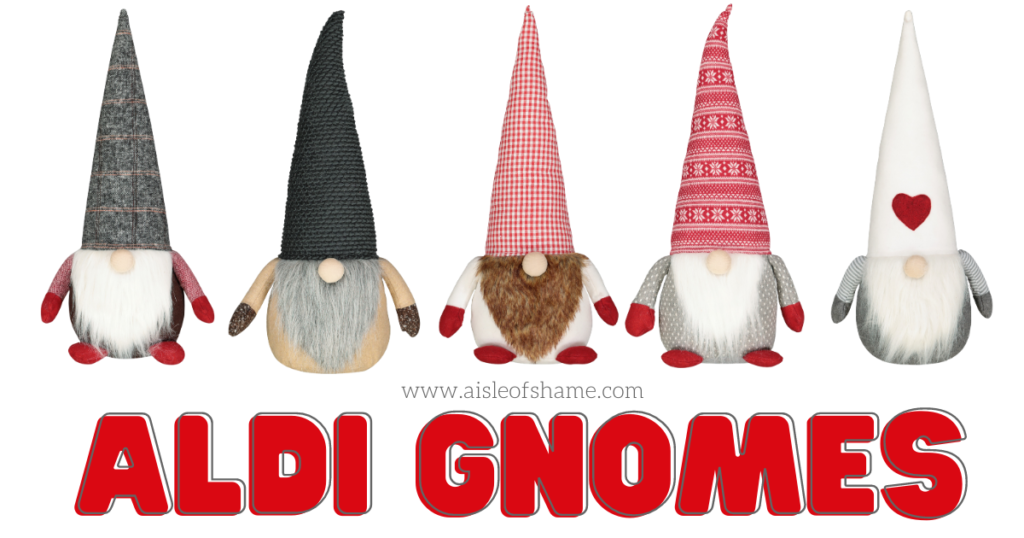 You will also find vintage truck and trailer decor, Thanksgiving table setting accessories, holiday baking supplies and much more. And those holiday rugs will go fast — they are always popular with the members of our Aldi Aisle of Shame Facebook Community.
Here are your Aldi must-haves for the week of Nov. 11 (Nov. 8 in stores with a Sunday ad switchover):
Holiday Rugs – $6.99
These Merry Moments Soho Holiday Doormats are such a great price over what's available at the big box stores! These measure 18″ x 30″, and they have a rubber backing. They're intended for indoor or outdoor use. There are several designs available, including a red truck!
Belmont Cheesecake Winter Sampler – $9.99
You will find another seasonal cheesecake sampler in the freezers at Aldi this week. This one contains four flavors: white chocolate raspberry, New York style, chocolate marble, and amaretto.
Huntington Home Woven Throw – $9.99
There's more buffalo plaid in the Aisle of Shame this week! This woven throw has modern style with a tight weave and short fringe. There are also two chevron patterns available, in cream and gray or cream and taupe.
Crofton Electric Salt and Pepper Mills – $12.99
These are an amazing hostess gift idea at a great price! These salt and pepper mills are available in two finishes – black or stainless steel.
Serra Ladies 2-Pack Chunky Knit Socks – $9.99
Secret Santa gift alert! These socks are super soft and super cute – the kind of thing anyone would love! They are available in 2-packs in several varieties, including dog, fox, bear, reindeer fair isle, owl fair isle, or snowflake fair isle.
5″ Christmas Cactus – See Price in Store
These popular houseplants will bloom year after year — bringing color to your home in the winter. They are just one of the Aldi Plant Babies coming to stores in November!
Merry Moments Vintage Truck Decor – $9.99
If you are a vintage red truck decor fan, you'll need to be back at Aldi this week to pick up this piece for your collection, as well as that holiday rug! The trucks are cute, but also take a look at this vintage camper in the same collection!
Auto XS Rearview Mirror Dash Cam – $24.99
If you've been wanting a dash cam, Aldi has a deal for you! This dash cam system records to an included 32GB SD card and mounts easily on the rearview mirror. All for under $25!
Southern Grove 32-ounce Pecan Halves – $14.99
If you're prepping for holiday baking, Aldi is bringing in some popular ingredients in bulk this week. These pecan halves will be great for pies and candies. You'll also find a 32-ounce package of shelled walnuts in store.
Crofton Brunch Accessories – $3.99
Here are some cute stocking stuffers for your favorite cook! These egg-themed accessories include plates, a pancake turner, and this egg turner.
Barissimo Caramel Macchiato or Creme Brulee Ground Coffee – $3.79
Speaking of brunch, we love that Aldi brings us a continual variety of flavored coffees. These sweet flavors are great for the season!
Merry Moments Flocked Potted Trees – $29.99
These trees are so stylish and available at such a great price! You can get two 3-foot trees together, or one 5-foot tree for less than $30. Aldi says these trees can be used indoors or outdoors under cover.
Serra Ladies Boots – $17.99
The Aldi boot game continues to be on point with these fall and winter lovelies. The gray sweater boots shown are available in sizes 8-10. There are also brown lace-ups (Sizes 7-10), and black with a buckle (Sizes 8-10).
Crofton Mini Ceramic Baking Dishes – $2.99
And we may have saved the best for last! These mini ceramic baking dishes are so festive and fun. They will be great for holiday desserts! There are mini casseroles, mini pie dishes, and ramekins in this collection. They come in red or white.
Follow Aisle of Shame on Instagram for the latest Aldi Finds!