We will be running to the Aisle of Shame for these Aldi Gnomes!
Are you staying Gnome for the Holidays? Maybe inviting over a few of your Gnomies?
OK, OK, we couldn't resist a few good puns!
Gnomes are hot in holiday decorating, and once again, Aldi is showing us they can be on trend with seasonal decor!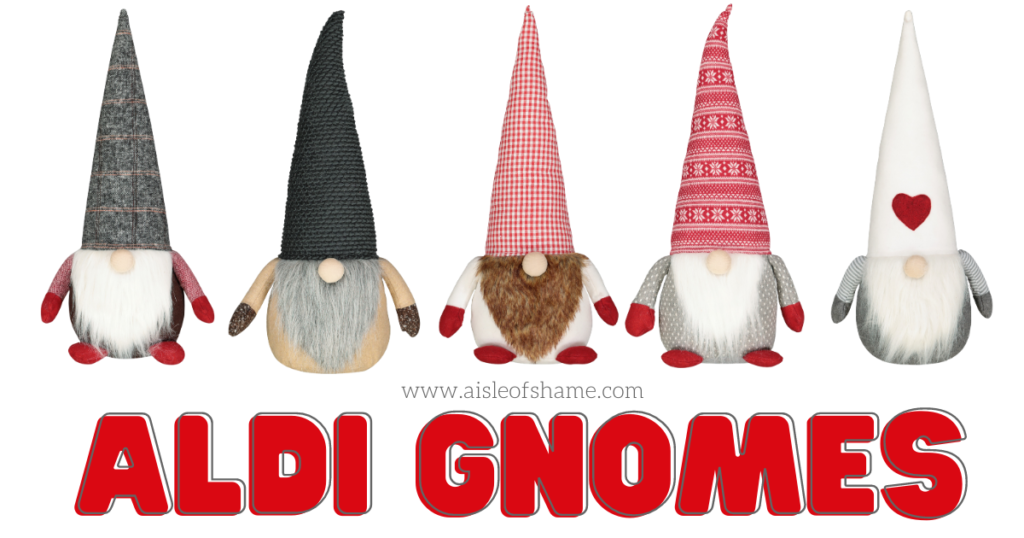 These adorable gnomes are due in U.S. Aldi stores for the ad week of Nov. 11 (Nov. 8 in stores with a Sunday ad switchover)!
They are 20 inches tall.
The price on these Aldi gnomes is just $7.99! We can't believe the price for the size on these cutie pies. We just saw smaller ones at a big box store for $15.
We love that the look of these gnomes is fairly neutral. You should be able to find one or two of these to work with your holiday decor, regardless of the color scheme you're using.
In fact, these gnomes could work as home decor throughout the winter season. The one with the red heart on the hat would also be so cute for Valentine's Day!
Like the ceramic Christmas trees and light-up red trucks, we expect these holiday gnomes to fly off the shelves at Aldi stores!
Follow Aisle of Shame on Instagram for more Aldi Finds!