We are so curious about these turkey and stuffing chips at Aldi! 
Every family has their own particular Thanksgiving meal traditions — some people like sweet potatoes, some like mashed potatoes, some do both. Some love cranberry sauce, or they must have macaroni and cheese, or a special salad.
But turkey and stuffing are usually mainstays on most American Thanksgiving tables.
Now Aldi is bringing us a wavy potato chip with the flavors of Thanksgiving Day dinner!
These Clancy's Turkey and Stuffing Wavy Potato Chips are due in Aldi stores on Nov. 4 (Nov. 1 in stores with a Sunday ad switchover). These chips are an Aldi Find, which means that stores usually just get one shipment of these special buys, and when they are gone, they're gone.
So, if you want to try them, pick them up on your next trip!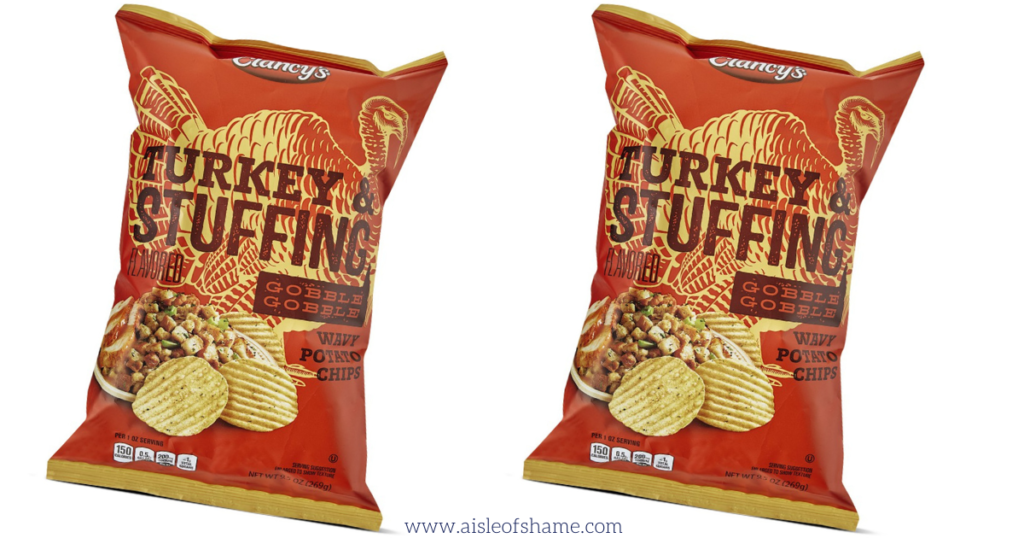 A 9.5-ounce bag of these flavored potato chips is priced at $1.69!
We honestly can't decide if these sound good, or if they sound, well, not so good, but at that price, we think they're worth a try!
One of the reasons we love shopping at Aldi is because they continually surprise us with new flavors of chips and other snacks to try. Last month, Aldi brought us Moscow Mule and Bloody Mary chips, and we loved them!
Will you try these Thanksgiving-themed potato chips? Let us know in the Aldi Aisle of Shame Facebook Group!