This Aldi Owl Wax Warmer is due in stores on Oct. 23!
Scented wax warmers have been a popular gift for the past decade. Fans say they are safer than candles because they use a light bulb to heat the wax rather than an open flame. And some say that they are more effective at scenting a home over long periods because the melted wax is held at a lower temperature.
If you're a fan of scented wax, then you are probably familiar with Scentsy, the company that is responsible for much of the scented wax craze. Scentsy releases new wax scents and wax warmers every season, and they even have seasonal warmers introduced each month.
Over the 15 years of Scentsy's existence, there have been many popular warmers, but one of the most popular ever is this guy right here …
Meet Whoot.
Whoot looks like he is opaque white when he is turned off and glows when he's turned on. Whoot is priced at $40 in the larger size, and $20 in the mini size.
What's that? $20 for a wax warmer would bust your budget?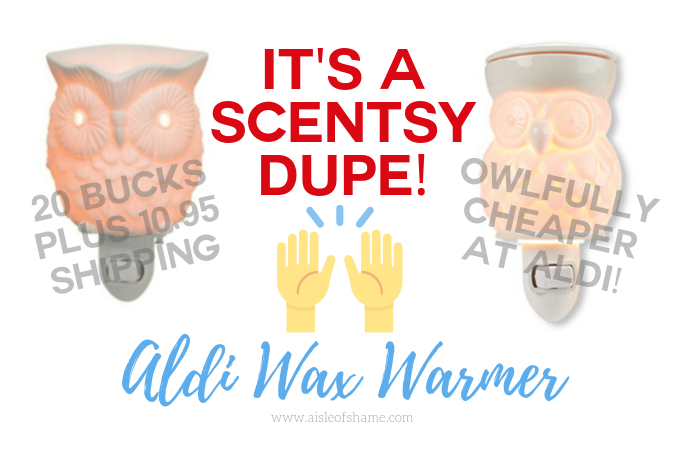 Aldi to the rescue.
A new Aldi Wax Warmer is an owlfully close dupe to the super popular Scentsy Whoot mini warmer!
Aldi Wax Warmer
This owl wax warmer is part of the Huntington Home Accent Fragrance Warmer collection hitting the Aisle of Shame on Oct. 23. And this guy is priced at just $4.99!
It has a plug that rotates 90 degrees to fit any outlet, and it comes with an incandescent bulb.
If adorable owls aren't your thing, this collection includes two more Aldi wax warmers — a pineapple with gold accents and a farmhouse-style ceramic urn.
Aldi Wax Melts
Also coming to Aldi on Oct. 23 will be a new, seasonal collection of Huntington Home Scented Wax Melts to go in your new Aldi Wax Warmer! These are 2.5 ounces and will be priced at $1.69.
They are available in four scents: Apple Cider, Bonfires & Hayrides, Cozy Blanket, and Woodland Pine. We can't wait to try them all!
Will you buy this Scentsy dupe owl wax warmer, or are you wishing for one of the other styles?
Btw, have you seen these Aldi fall candles?