Are you ready for the 4th of July?
Aldi is bringing summer home with new inflatable swimming pools, shady fruit tumblers, outdoor accessories and more ton the Aisle of Shame. Plus lemon-themed items and treats are here for the next two weeks to help support Alex's Lemonade Stand. Here's a look at your must-haves for the week: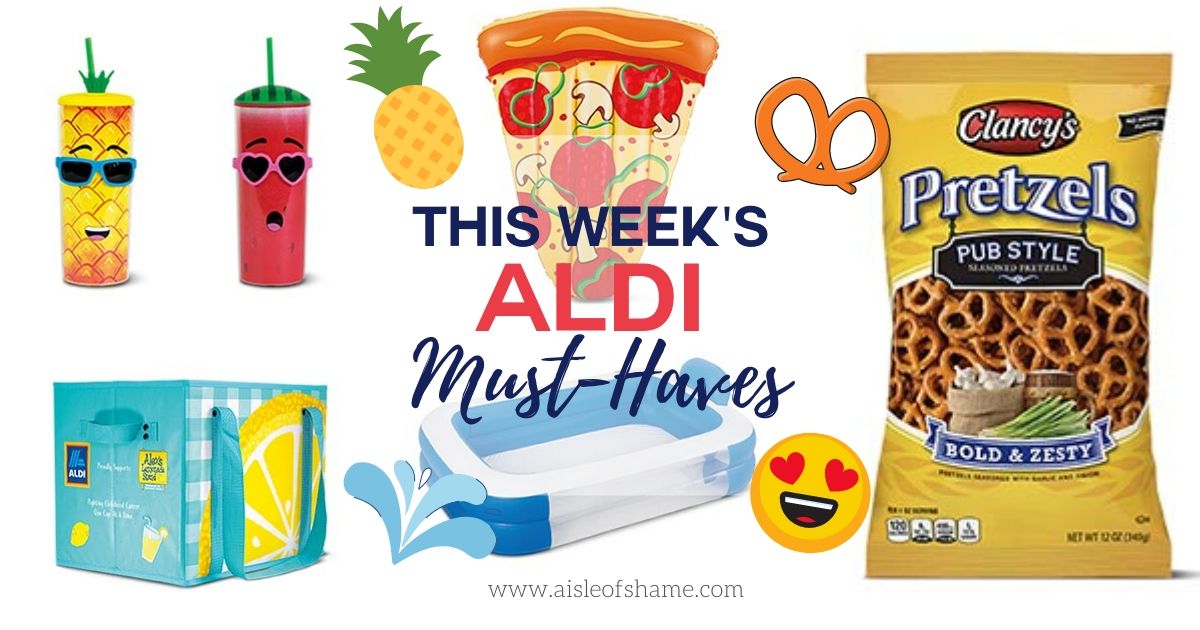 Crane Rectangle or Hexagon Pool
Inflatable swimming pools have been flying off the shelves at Aldi, so if you want either the Crane Rectangle or Hexagon pool, get to the Aisle of Shame early because supplies are limited. At only $16.99 each, Aldi blow-up pools are a fantastic buy to keep you cool during the summer.
Crofton Shady Fruit Tumbler
These 20oz BPA-free Crofton Shady Fruit Tumblers are a steal at only $3.99 each. Choose between the shady pineapple, watermelon, lemon or orange— or pick up the entire set for pool-side summer sipping. We won't judge if you fill your tumbler with Aldi fruit wine or boxed Sangria.
Aldi Pool Floats
Aldi has 4 new individual-sized floats for the pool, beach, lake or use as a party prop. Choose between a popsicle, donut, pizza slice or gummy bear for $5.99 each.
Pepperoni Pizza Float: 40.5 in x 33 in, 6 in
Frosted Donuts Tube: 35″ x 33″ x 9″
Rainbow Popsicle Float: 56.5″ x 25″, 6.5″
Gummy Bear Float: 42″ x 33″ x 15.5″

Adventuridge Pineapple Backpack Cooler
A not-so-surprising hot Aldi Find this week is the Adventuridge backpack cooler. This insulated cooler comes in 4 patterns, but it's the pineapple cooler backpack that's flying off shelves. Priced at just $9.99, it's a useful and fun way to keep food and drinks chilled while on-the-go.


Heart to Tail Collapsible Pet Pool
Want to keep your small fur-baby cool this summer? The Heart to Tail collapsible pet pool is designed for playing and bathing small pets outdoors. The portable pool folds down and is sized at 31.5″ x 7.9″ when open. This should accommodate a dog up to 40lbs.

Aldi Collapsible Box Bag
The Aldi box bag is one of our favorite way to get our groceries from the cart to the car! For $5.99 (and a percentage of each sale going to Alex's Lemonade Stand), the summer lemon themed box bag is a must-have for shopping at Aldi. Grab a few to keep all your Aisle of Shame purchases organized.
Season's Choice Elote Style Corn
Love the flavor of street corn? Aldi is releasing their own version of Elote style corn this week, made with fire-roasted, sweet corn, cotija cheese, Monterey jack cheese and chili spice. The steamed corn is priced at $1.99 for an easy weeknight summer side dish.
View this post on Instagram
Clancy's Pub Style Seasoned Pretzels
One of our favorite seasonal snacks is back…and it's time to stock up! Clancy's pub pretzels have a bold and zesty flavor similar to ranch seasoning and are practically an exact dupe of pricey Dot's Homestyle Pretzels (minus the shape).
If you haven't had Aldi pub pretzels, just trust us, this snack is addicting— you may want to buy multiple bags because they're only in stores a few times a year.