This Aldi Box Sangria is the perfect boozy beverage for a summer party or get-together!
Devoted Aldi shoppers know that the wine deals at our favorite store can't be beat year-round, but prices are especially amazing in the summer months when Aldi's fruit wines are in store as a seasonal item.
Many people add fruit to Aldi wine, but if you want to go all out with fruity and boozy flavors, sangria is the way to go!
And once again, Aldi is giving us sangria in big quantities.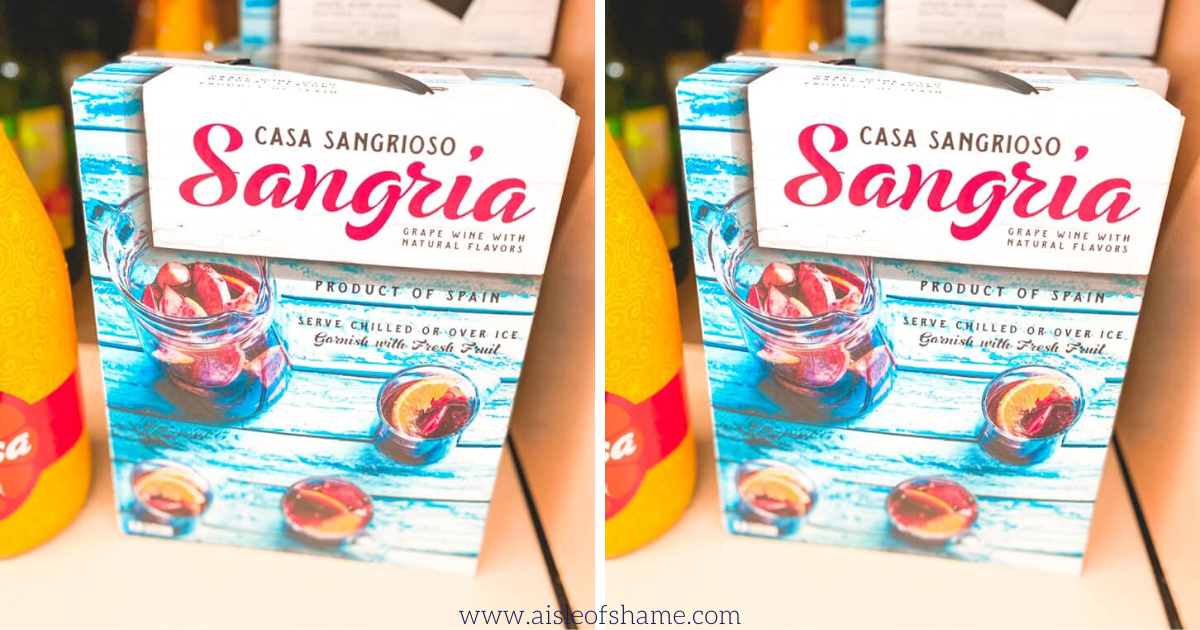 That's right, Aldi box sangria is back!!
Casa Sangrioso Sangria can be enjoyed chilled, with ice, or blended by adding a variety of fruits or a touch of brandy. This dark ruby red sangria offers fruit aromas that lead to refreshingly sweet orange, lemon, and black currant flavors. Perfect with grilled meats, spicy dishes, and barbecues.
These wine boxes contain three liters of sangria — That means this box is equivalent to four bottles of wine!
So, how much is it?
Well, while wine prices at Aldi vary around the country because of taxes imposed on alcohol in different places, you can expect to find this box of sangria for about $10. Yep, $10. For the whole box. (Our Aldi has the boxed sangria for $10.99). 
Now, it's important to note that not all Aldi stores sell wine. It depends on local and state laws, and the availability of liquor licenses in your area.
What are your favorite Aldi wines? Let us know in the Aldi Aisle of Shame Facebook Community!