The February Aldi Food Finds include lobster tails for Valentine's Day dinners, keto-friendly pizzas, and much more!
Aldi is giving our New Year's resolutions a nod during the month of February, but also bringing us some treats for Valentine's Day indulgences.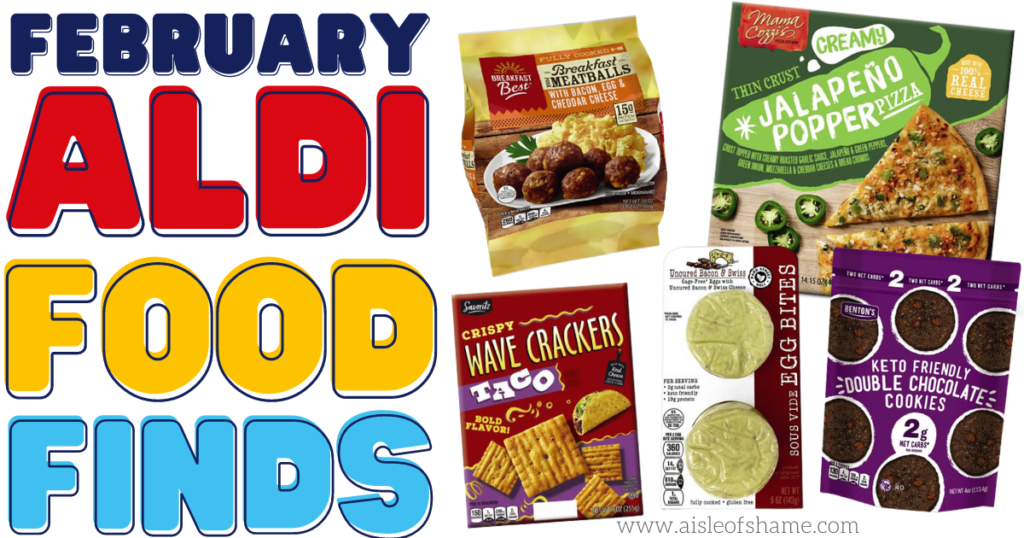 You will find lots of limited-buy Asian flavors in the food aisles, as well as some Italian food at the end of the month.
Let's take a look at 13 of the most interesting February Aldi Food Finds!
>> Are you new to Aldi shopping and wondering what day to find the good stuff at your store? More info here: What's the Best Day to Shop at Aldi? <<
Park Street Deli Sous Vide Egg Bites – $2.79
These egg bites are keto friendly, with 19 grams of protein and 3 grams of carbs. They are dupes for the popular (and pricey!) menu item at Starbucks. These February Aldi Food Finds are available in two flavors: Bacon Swiss or Spinach Feta. Available Feb. 10.
L'oven Fresh Hawaiian Bagels – $1.99
If you love Hawaiian sweet bread, Aldi is bringing us a breakfast version. We love the ever-changing selection of bagels at Aldi, and these are no exception. Available 2/3.
Breakfast Best Meatballs – $4.99
As long as we're talking breakfast, have you ever had a breakfast meatball? Aldi is bringing us two flavors of these interesting items: Bacon, Egg and Cheese, or French Toast and Maple Syrup. We're intrigued! Available 2/10.
Southern Grove Chickpea Snacks – $2.99
Crunchy roasted chickpeas have gained popularity recently as a healthy snack. We love them as a salad topping! These chickpea snacks are available in two flavors: Sea Salt or BBQ. Available 2/17.
Specially Selected Croissant Buns – $3.49
Last month, Aldi brought us croissant bread, and now our favorite store is back with croissant buns. These will be perfect for some indulgent sandwiches — like the beloved Aldi cranberry chicken salad, maybe? Or perhaps hot ham and havarti? We could come up with endless combos for these! Available 2/10.
Mama Cozzi's Jalapeno Popper Pizza – $3.99
Seriously, Aldi? This pizza is the stuff of our dreams! Garlic sauce, topped with jalapeno and green peppers, cheese and bread crumbs? Yes, please! Available 2/24.
Specially Selected North Atlantic Lobster Tails – $12.99
If you're staying in this year for Valentine's Day, these February Aldi Food Finds will make your dinner special. Available 2/3.
Benton's Keto Cookies – Available 2/17
These crunchy keto-friendly cookies have just 2 grams of net carbs per serving! They are available in two flavors: Double Chocolate or Chocolate Chip. Available 2/17.
Barissimo Caramel Creme or Cinnamon Spice Ground Coffee – $3.79
Aldi is bringing us a couple of warm flavors of coffee this February. These ground coffee bags come in two flavors: Cinnamon Spice or Caramel Creme. Available 2/10.
Mama Cozzi's Keto Friendly Roasted Veggie Deli Pizza – $6.99
The take and bake pizzas are a great deal, and during February, Aldi is bringing us a Keto-friendly version! It is topped with roasted and grlled veggies, and we're thinking this is a must try! Available 2/17.
Specially Selected Brioche Everything Bagels – $3.29
We are convinced that anything brioche we buy at Aldi is going to be great. Top it off with Aldi's Everything Bagel seasoning, and we believe these bagels will be over-the-top good! Available 2/10.
Savoritz Taco Waves Crackers – $1.99
These crunchy cheese crackers promise bold flavor, and we're up for trying anything taco-flavored! These crackers also come in white cheddar. Available 2/24. 
Fuel by Nature Chocolate Dipped Mango – $4.99
You could dip anything in dark chocolate, and we would probably give it a try. We're excited for the tropical flavor of this mango and dark chocolate combo. What a great snack! Available 2/24. 
Follow Aisle of Shame on Instagram for more Aldi Finds!