Welcome to Aldi Rewind! This is where we take a look back at some of the best Aldi Finds from the same week last year!
Remember the teal cabinet? Wine PJs? Velvet comforter? Red truck sheets? Did these popular finds live up to the hype? Each week we'll look at the most popular finds from the same time last year and discuss which were MUST-HAVES or HOT-MISSES.
Last year, the week of November 18th, 2020, Aldi had a massive ad filled with holiday finds! This is one of those rewinds that we wish we had a repeat of.
Holiday wreaths, reversible porch signs, Anthropologie dupe candles, holiday outdoor inflatables, pet sweaters, and matching holiday PJs were just a few of the popular Aldi finds in the Aisle of Shame.
Aldi holiday porch signs from 2020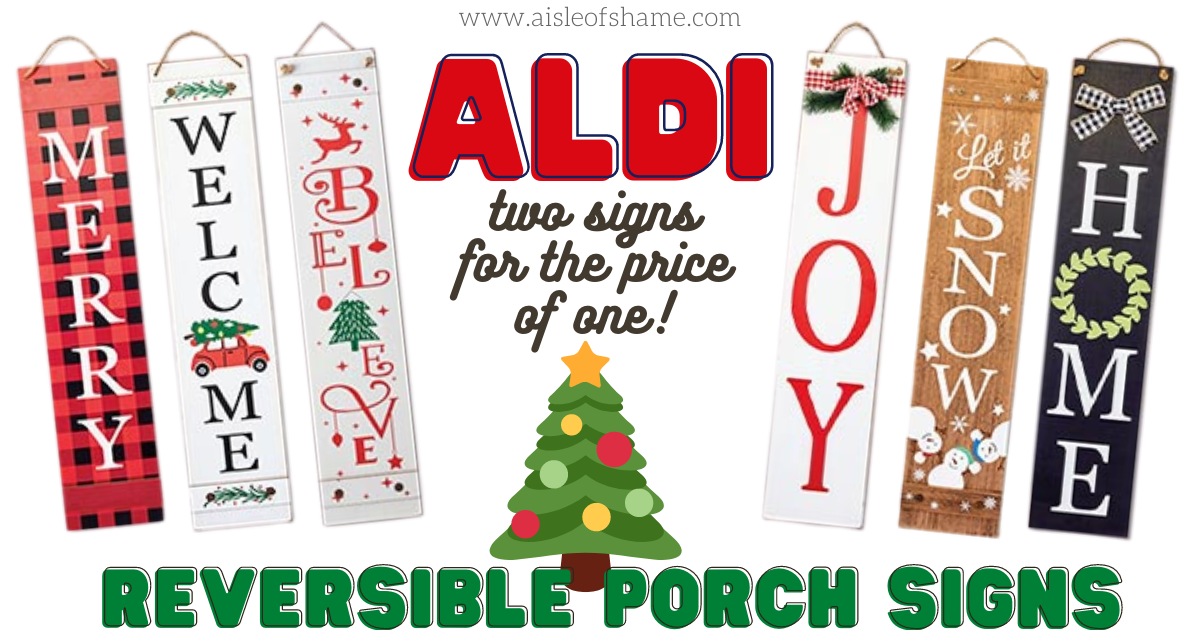 Full Aldi Ad from 11/18/20 – Note this is LAST YEAR'S ad from November 2020!
One of the surprise hot buys last year, that we totally indulged in, were the Winking Owl and Vista Bay Christmas ornaments for $3.99 — we bought one of each and will be hanging them on the tree again this year!
What were your Aldi hits and missed from this time last year? Anything you'd like to see return?
Our Aldi ad this week is much shorter, BUT we have seen photos of new holiday reversible porch signs in the Facebook Aisle of Shame group this week even though they didn't make it to the ad. Our guess is that they were ordered and are making it to stores after the printed ad was published. They also might only be available in select markets.
---
Previous Aldi Rewinds!
Last year, the week of November 11th, 2020, Aldi released Holiday Gnomes! These little guys were MUST-HAVES for us and still remain one of our favorite Aldi Finds….sparking the trend for year-round gnomes that we can't get enough of!
While Aldi hasn't get released holiday gnomes for 2021 (we just got the fall and Halloween gnomes, after all), we are getting gnome rugs and other themed decor this year…more gnome front doormats are on the way! SNEAK PEEK!
A few items that have returned this year during the same week in November are Christmas Cactus and holiday porch mats.
Vintage truck decor has taken a backseat this season. But, if you're a fan of the red truck/Christmas tree look, large doormats are hitting shelves next week.
Here's a look at the Aldi ad from a year ago — which finds where must-haves or misses for you?