Aldi Christmas Inflatables and more outdoor decorations are coming to the Aisle of Shame!
If you're ready for outdoor Christmas decorating, you will definitely want to visit Aldi in November!
There are plenty of outdoor decorations coming to Aldi the week of Wednesday, Nov. 18 (Sunday, Nov. 15 in stores with a Sunday ad switchover).
The Aldi Christmas Inflatables are a great bargain, as are the porch signs and porch trees.
Here's a look at all the Aldi Christmas Decor on the way!
Reversible Porch Signs – $12.99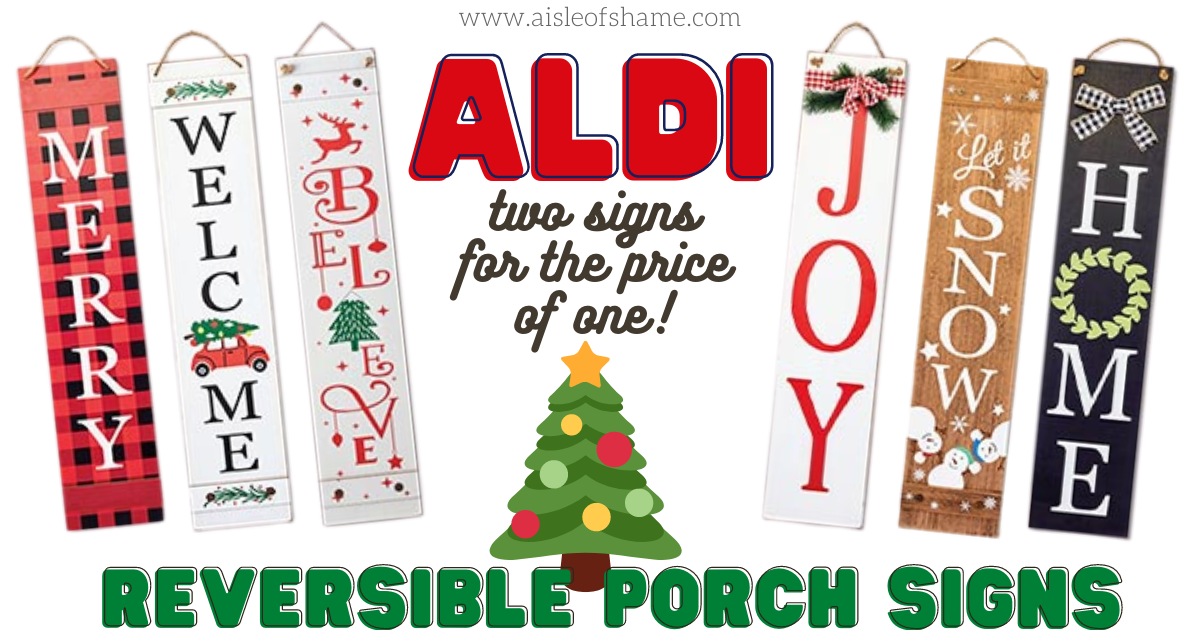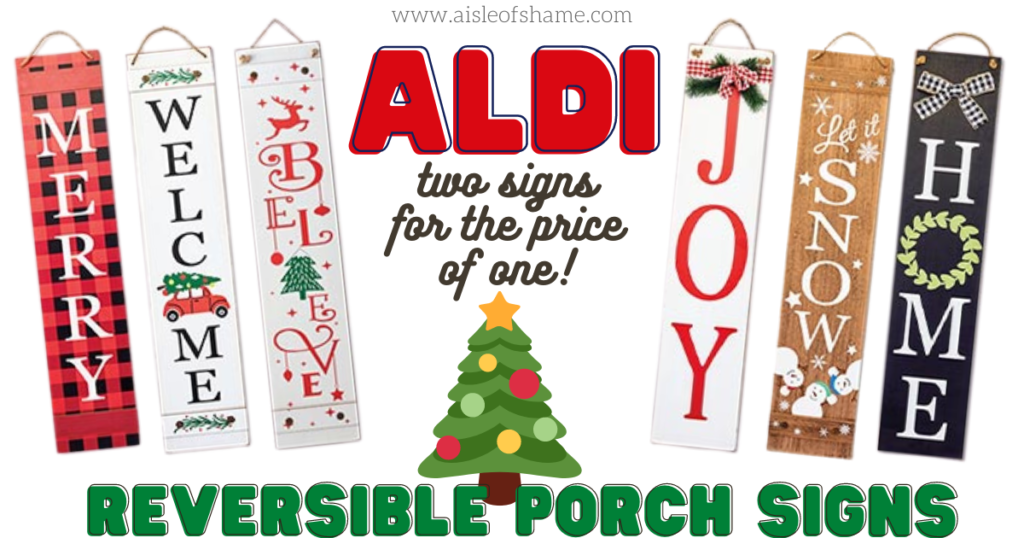 These holiday porch signs are so cute, and they have different designs on each side. Be careful with these if you use them outside — they are made of MDF and will warp if they get wet. Aldi suggests them for only covered outdoor areas.
Merry Moments Inflatables – $12.99
These Aldi Christmas Inflatables are 4 feet tall. They are made for outdoor use and come with tethering ropes and stakes. These inflatables have LED lights. There are six designs available.
Merry Moments Penguin Inflatable
Merry Moments Santa Inflatable
Merry Moments Snowman Inflatable
Merry Moments Reindeer Inflatable
Merry Moments Tree Inflatable
Merry Moments Stop Sign Inflatable
Merry Moments Holiday Porch Tree – $19.99
These battery-operated trees include a black pot. They are 3.5-feet tall and have 35 LED lights. These Aldi porch trees are decorated with berries and pine cones. These trees are designed for covered outdoor use only.
Merry Moments Outdoor Lighted Birch Trees – $12.99
These lighted birch trees come in a set of three for outdoor use. They have warm white LED lights.
Merry Moments Light-Up Spiral Tree Set – $19.99
These spiral trees have a lighted star at the top and LED lights. They come in a set with one 3-foot tree and one 4-foot tree. These are available in white or multicolor.
Will you be on the hunt for these Aldi Christmas Decor pieces? Show us your yard in the Aldi Aisle of Shame Facebook Group!