We're betting this Ambiano Countertop Ice Maker will be at the top of many Aldi shopping lists!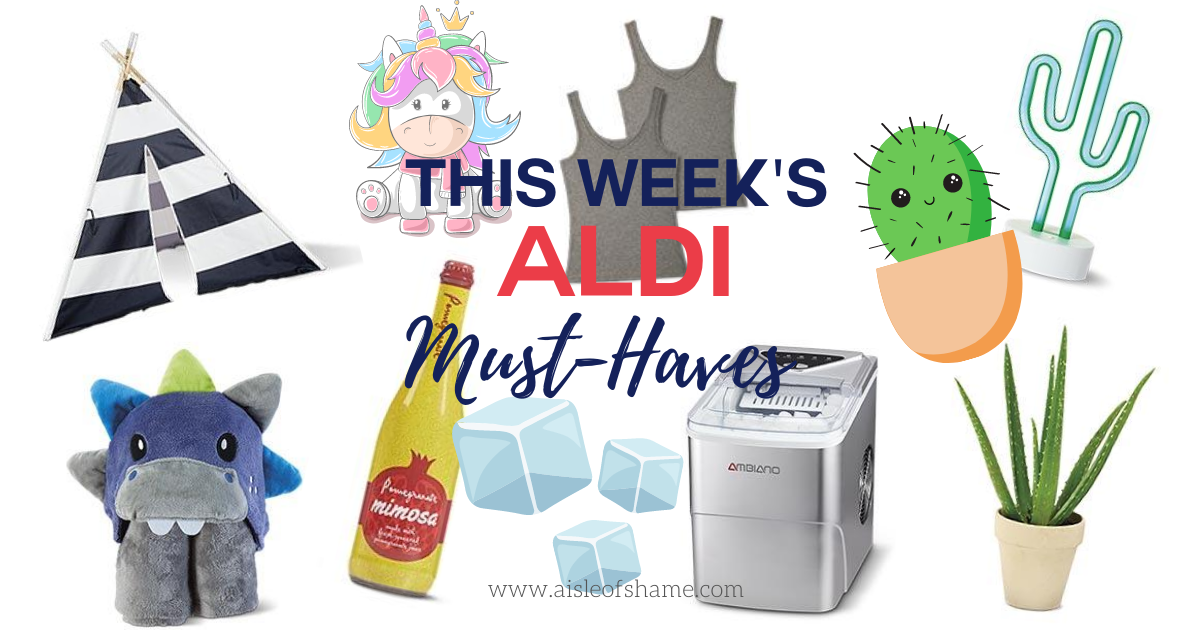 Back-to-school time is approaching, and that means Aldi is bringing us seasonal items for packing lunches, as well as sheets and decor for kids' rooms.
Here's a look at some of the must-have items this week at Aldi! These items were advertised for the week starting Wednesday, July 29 (Sunday, July 26, in Aldi stores with a Sunday ad switchover).
Ambiano Countertop Ice Maker – $89.99
This countertop ice maker can produce up to 21.5 pounds of ice in 24 hours, and can make ice in 10 minutes.
SOHL Furniture Kid's Indoor Tent – $39.99
These play tents are made for indoor use, and they fold into a carrying case for easy storage. These are available in this black-and-white rugby stripe, as well as gray clouds or triangle prints.
Aloe Vera Plant
You know we love our Aldi plant babies, and this week, we'll be on the lookout for these aloe vera plants!
Park Street Deli Olive Pouch – $2.99
These refrigerated pouches contain 4.9 ounces of unpitted olives in two varieties — Sweet Sicilian or Giant Green.
Huntington Home Reversible Comforter – $14.99
These comforters come in two sizes — twin/twin XL or full/queen. They are available in four patterns that reverse to coordinating solid colors — dinosaurs, camo, unicorns and rainbow.
Huntington Home Hooded Plush Throw – $8.99
Aldi is stocking plenty of fun accessories to coordinate with the comforters, including sheet sets and matching bed canopies. We're excited about these matching plush throws that come with a hood for the ultimate in coziness. They are available in the dinosaur shown here, as well as unicorn and puppy.
Emporium Selection Halloumi Grilling Cheese – $3.49
If you haven't had halloumi before, you'll want to give this a try! This semi-firm cheese has a high melting point, making it great for grilling or frying. Also look for imported Greek feta this week.
Huntington Home 4′ x 6′ Rug – $19.99
Aldi rugs are always a great value, and these 4′ x 6′ rugs are good for dorm rooms and other smaller spaces. There are six different patterns available in shades of blue and gray.
Serra Ladies 2-Pack Reversible Tank Tops – $8.99
Two tank tops for less than $10? We're in. These tank tops can be worn as a scoop neck or a v neck. There are available in sizes S-XL and in three color combos — black/white, black/gray, or white/blue.
Mama Cozzi's Pizza Kitchen Gyro Pizza – $3.99
These Aldi gyro pizza comes with creme fraiche sauce, pulled pork, feta cheese, olives and banana peppers — sounds like pizza night to us!
Huntington Home LED Novelty Lamp – $6.99
These adorable, battery-operated lamps are available in three designs — cactus, unicorn or pineapple. At this price, we're seriously considering buying all three.
Pomegranate Mimosa
We'll end this list the same way we like to end an evening — with a bottle of Aldi wine. This Pomegranate Mimosa is due in stores this week and is sure to be a popular choice!
Share your AOS haul in our Aldi Aisle of Shame Facebook Group!