This week at Aldi, you're certain to find awesome gift ideas for everyone on your list. From luxury candles to weighted blankets, get ready to load your shopping cart full of all these great gifts. At price points this low, you'll stay way under your holiday budget and give some of the best gifts as well.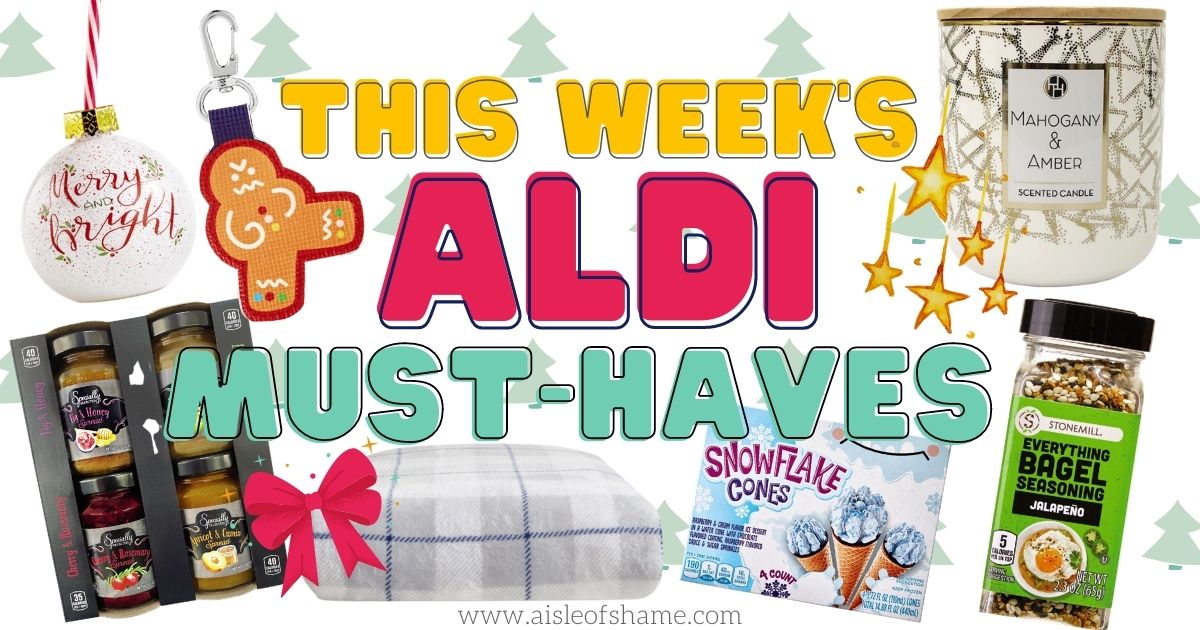 Here's your Aldi must-haves for the week of December 16th (Dec. 13 in stores with a Sunday ad switchover):
Huntington Home Luxury Candle with Gift Box – $5.99
Luxury candles are all the craze. Giving this 14-ounce gift of this soy candle with a gift box is one simple gift that will keep on giving. With the scent of Cranberry Sparkle, Clementine, and Pomegranate, or Balsam and Birch, the home will smell like the holidays in no time at all.  The gift box also has a magnetic closure lid, too.
Huntington Home Gold Electroplated Candle – $6.99
These candles are lovely to look out for and great for fireplaces and tables. With the scent choices of Vanilla & Myrrh, Oak & Red Currant, Mahogany & Amber or Brown Sugar & Chestnut, there's no doubt that the home will be smelling wonderful in no time at all.
Like the boxed luxury candles above, these gold electroplated candles have a high-end look and feel
Crofton Ornament Glasses – $3.99
These are the perfect last-minute gift and can also be a super cute and unique addition to your Christmas party as well. They have the capability to hold up to 13.-5 ounces of liquid and come with a fun and festive red/white plastic straw.
Even though they're designed to look like ornaments, they have a flat bottom that makes them easy to sit directly on the tables as well. With three different decal options, you have plenty of fun choices.

Aldi fans get excited! They've just released their holiday quarter keepers and we can all rest easy now knowing that we'll never lose our Aldi shopping cart quarters ever again!
They have a hook attachment and you can choose from a Cupcake, Flamingo, Gingerbread Ninja, Llama, Christmas Tree, or Vista Bay….collect them all!

Huntington Home Weighted Blanket – $29.99
Weight blankets are the perfect gift idea because they give that constant feeling of security and love. This 15 lb weighted blanket comes in two designs, plaid or buffalo check. The cover is also machine washable, too.
Keep in mind that this gift is for an adult as the weight of the blanket should be about 10% of their body weight – there are kid-friendly 8lb blankets available this week as well!

Huntington Home Cool Mist Ultrasonic Aroma Diffuser – $19.99
Who wouldn't want a new diffuser for their home? Coming in the choices of Obsidian (Gray), Moonstone (White), or Gold  Sparkle AND with eight LED colors and two mist modes, this can be used in a wide variety of homes and room sizes.

Heart to Tail Cat Tunnel and House – $8.99
Don't forget about your furry friends this holiday season! This cat tunnel is sturdy and has a pop-up design that makes installation a breeze. And when you're done with it, just fold it flat for next year. So many fun colors and designs that are certain to attract your kitty right away.
With themes such as Christmas Caroling, Sweater Purrty, Rock Band or Mewnicorn, you literally can't pass this up.

Specially Selected Cheese Pairing Spread Set – $6.99
Food gift sets are always a hit. And when that gift set comes neatly packaged with options such as Fig and Honey, Pear and Cinnamon, Cherry and Rosemary, or Apricot and Cumin, you better grab a couple to hand out to family and friends.
Stonemill Everything Bagel Seasoning Assorted varieties – $1.95
Just when you thought that Everything Bagel Seasoning couldn't get any better, they upped their game in time for even more holiday joy. Grab a few of these because they're seasonal and may not ever be back!
Stock your cabinets with the flavors of Jalapeno, Pink Salt, or Asiago Cheese and use them for literally EVERYTHING, as the name suggests.
These also make super fun stocking stuffers, too!

Sundae Shoppe Snowflake Cones – $3.49
As if we need an excuse for more desserts and treats this time of year and these Snowflake Cones are proving our point. These Raspberry and Cream flavored ice cream cones with raspberry sauce and sugar sprinkles just might be the closest thing you'll ever feel to having sugar plum fairies dancing in your head.
Each box holds 4 cones and is perfect for winter fun.
Be sure to follow Aisle of Shame on Instagram for more Aldi Finds!