There are two ways to buy a car battery from Walmart–you can either visit a Walmart Auto Care Center in person and have an associate help you, or you can shop on Walmart.com and use their automated assistance tools.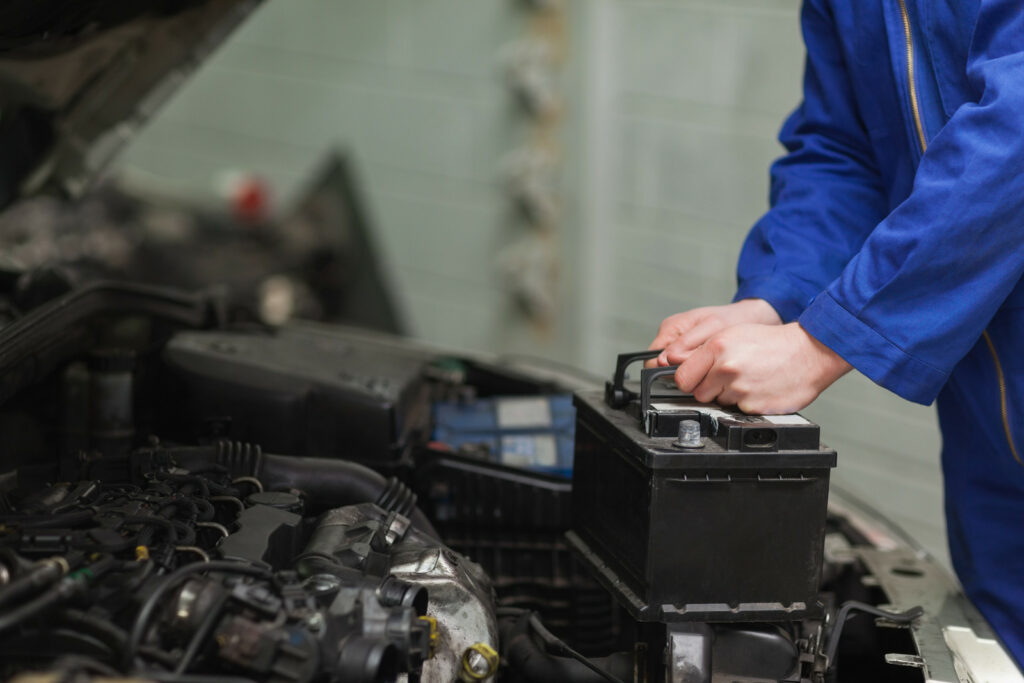 On Walmart.com, you can shop for a car battery suited to your vehicle by entering your car's information into the form provided.
This is what you should see when you visit the site…
Simply enter the correct information for your vehicle, then click "View results." Then, the website will show you all of the available EverStart batteries that can power your car or truck.
Keep in mind that Walmart only sells one brand of car battery–EverStart.
EverStart batteries are manufactured by a company called Johnson Controls exclusively for Walmart. Johnson Controls also manufactures car batteries for Sears, Toyota, and BMW, but these batteries are sold under different brand names.
To learn more about EverStart car batteries, check out our detailed post about them from last September.
EverStart Car Battery Prices
Walmart's EverStart car batteries range in price from $59.74 to $149.84.
EverStart also makes a lawnmower battery, which can be found on Walmart.com for just $29.87.
The most expensive types of EverStart batteries are their EverStart Maxx lead acid batteries, while the less expensive options are their EverStart Value lead acid batteries. 
Walmart's car battery prices are somewhat cheaper than what you might find at other retailers, especially if you're in the market for a premium EverStart model.
The basic car batteries available at Walmart are about the same price as what you'll find elsewhere. However, shopping for premium car batteries at other supplies could land you in territory between $200 and $300.
Pick-Up & Delivery
If you're shopping online, the easiest and fastest way to get your battery is to schedule a pickup and installation at a Walmart Auto Care Center. You can do this during the checkout process when you purchase your battery.
If you'd rather have your battery delivered to your home, Walmart offers free two-day shipping for most car battery and accessory purchases. 
Battery & Other Auto Services
As mentioned above, the Walmart Auto Care Center is fully equipped to install your EverStart car battery. There is no charge for installation for batteries purchased at Walmart.
Walmart Auto Care Center employees can also test your battery if you're concerned you might be due for a replacement. They can also assist you in recycling your old car battery once it's ready to be replaced. At this time, you will be refunded your battery core charge which you pay on purchasing your battery. There are no charges associated with battery testing or recycling.
Here is a list of all other battery-related services available at Walmart Auto Care Center along with their pricing information:
Are Walmart Car Batteries Worth It?
Overall, customers seem very satisfied with the quality of Walmart's EverStart batteries.
Here's some input from a few users on Reddit who are all pleased with their experiences:
That said, many people have pointed out that the company that manufactures Walmart's batteries, Johnson Controls, also manufactures a significant portion of the car batteries sold on the US market. They're simply labeled with a wide range of different brand names and sold "exclusively" by different retailers, including Walmart.
By this logic, some might argue that buying a car battery at Walmart is no different than buying one anywhere else. But this Reddit user raises an important point about the potential quality difference of Walmart batteries:
It's also worth noting that despite generally good feedback, EverStart batteries only hold a 3.5 out of 5 star average customer rating on Walmart.com as of January 2023.
Return Policy
Under their standard return policy, Walmart accepts returns, refunds, and exchanges on new car batteries within the first 90 days of purchase. However, your car battery must be unused in order to qualify for a refund.
After 90 days, a customer must have an active warranty to qualify for a replacement battery.
Luckily, all Walmart car batteries come with manufacturer warranties of at least one year (premium EverStart batteries have 2-3 year warranties). This means that after the 90-day return window has passed, you will still be eligible for a replacement until the end of your warranty period.
Learn all about Walmart's car battery return policy in our post here, or check out Walmart's general return policy here.
FAQs
How much does Walmart give for old car batteries?
Nothing. Walmart accepts old car batteries for recycling, but they do not pay for car batteries.
Does Walmart exchange old car batteries?
Yes. If your car battery needs to be changed out, you can take your car to any Walmart Auto Care Center to have your old battery exchanged for a new one. Walmart will take your old car battery for recycling, and you will be charged for the cost of the new battery.
Can you get a free car battery from Walmart?
No. Walmart offers free car battery installation for batteries purchased from Walmart, but they do not give away car batteries for free.
Does Walmart sell portable car battery chargers?
Yes. You can find a selection of portable car battery chargers on Walmart.com.
How do you know when your car needs a new battery?
If your car is consistently having trouble starting after sitting for short periods of time, then there's a pretty good chance you need a new car battery. Be sure to have your vehicle checked by a technician first before you invest in a new battery, though. When a car won't start, there are several different reasons why this might be aside from a dead battery.
Which brand of car battery lasts the longest?
According to several automotive resources online, car batteries from a company called OPTIMA are known for being the longest lasting and most reliable.