Some links in this post may be affiliate links. This means if you click on a link and purchase an item, we may receive a commission at no extra cost to you.
---
This week at Aldi it's all about holiday storage solutions and planning for the New Year. If you're ready to shut the door on 2020 and move on to 2021, hit the Aisle of Shame this week to snag some great finds.
Here's your Aldi must-haves for the week of December 30th (Dec. 27th in stores with a Sunday ad switchover):
Huntington Home Christmas Tree Storage Bag – $24.99
This is your year to properly store your Christmas Tree. This storage bag will keep your tree safe and intact so that it's ready for the holiday season next year.
The Aldi Christmas tree bag holds up to a 9-foot tree and has pockets for light storage as well. (there are even wheels on it so that you can roll it from room to room!)

Additionally, you can pick up other holiday storage solutions at Aldi this week including a wreath storage bag for $6.99, ornament or wrapping storage for $9.99, holiday light reels for $9.99, and latching storage boxes for $6.99.
Crofton 20-Piece Meal Prep Containers – $4.99
Need a bit of reprieve from all the holiday leftovers? These meal prep containers are a great way to store food until you're ready to snack on it again. The great part about these storage containers is that they're awesome for meal prepping and portion control as well.
They're also fine for sticking in the dishwasher and microwave, too! You can choose between single or double compartments as well.
Huntington Home 10-Drawer Rolling Storage Cart – $24.99
Talk about the perfect way to get your room organized in an affordable and easy fashion. This rolling storage cart works perfect for the kitchen, office, craft room, or garage store and has wheels to be able to roll it around the room.

Pembrook Personal Weekly/Monthly Planner – $7.99
Aldi planners are finally here! 2021 is your year to get organized and these planners are the answer to making that happen. With Mauve, Rainbow, Fruits, Polka Dots, Floral, or Geos as your design options, you can easily find one that fits your yearly mood.
The months are tabbed for easy reference and there is even a section for goal planning and notes.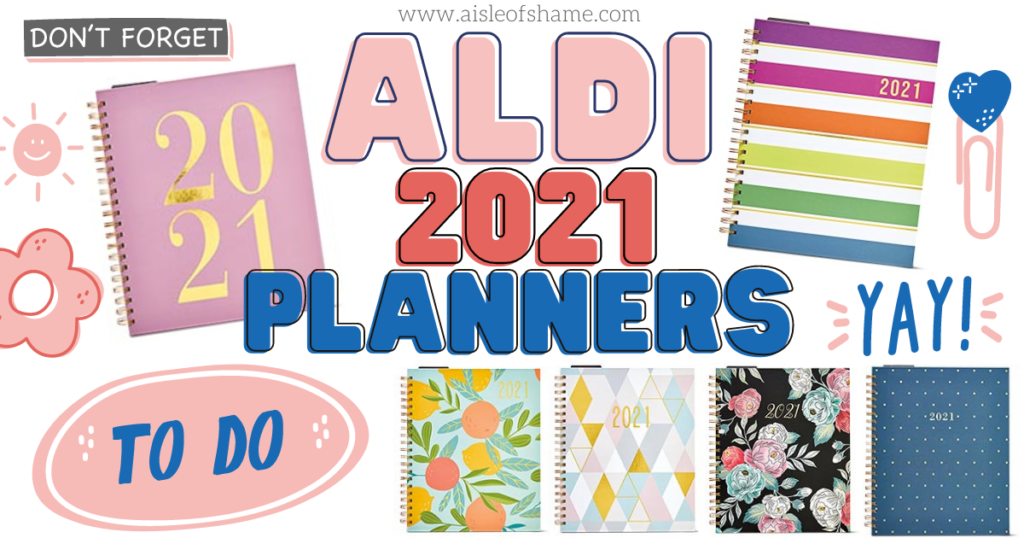 Pembrook Planner Accessories – $3.99
Everyone needs to add a little fun and flair to their calendars, right? These accessories come with stickers, dry erase tabs, and so much more.
Choose from design options such as Brush Strokes Combo Pack, Flower Combo Pack, Rainbow Combo Pack, Brush Strokes Dry Erase, Flower Dry Erase, Rainbow Dry Erase, Brush Strokes Stickers, Flower Stickers, or Rainbow Stickers.
Pembrook 9″ Advanced Thermal Laminator – $18.99
A laminator is truly a gift that keeps on giving. With a short 2-minute warm-up time, you can be laminating all your important school or office documents with ease.
A member of the Aisle of Shame Facebook community is using the Aldi Pembrook laminator to laminate her mom's handwritten recipes to pass down to her niece and nephew.
Huntington Home 24″ x 72″ Utility Runner – $9.99
Looking to add a little bit of color or variety to a section of your home? These utility runners come in multiple designs and are perfect for high-traffic areas. And the best part? You can toss them in your washing machine to clean!
Bremer Bistro French Onion Soup – $3.99
One of Aldi's most popular seasonal food items is Bremer French Onion Soup. We're happy to see that this fan fave is back in time for chilly weather.
Aldi French Onion soup in the freezer section, and if it's something you love as well, make sure to stock up — with it being seasonal, there's no telling how long it will last! Each box comes with 2 soups that are ready to heat and eat.
Elevation Keto Bars Assorted Varieties – $5.99
With the start of a New Year also comes the start of a new diet as well. Why not kickstart your healthy eating with these delicious Keto bars as well?
With flavor varieties of Chocolate Almond Brownie, Salted Caramel Pecan, and Chocolate Coconut Macaroon, staying on track with your new keto lifestyle is going to be a breeze!