It's time to pick up your 2021 Aldi planners!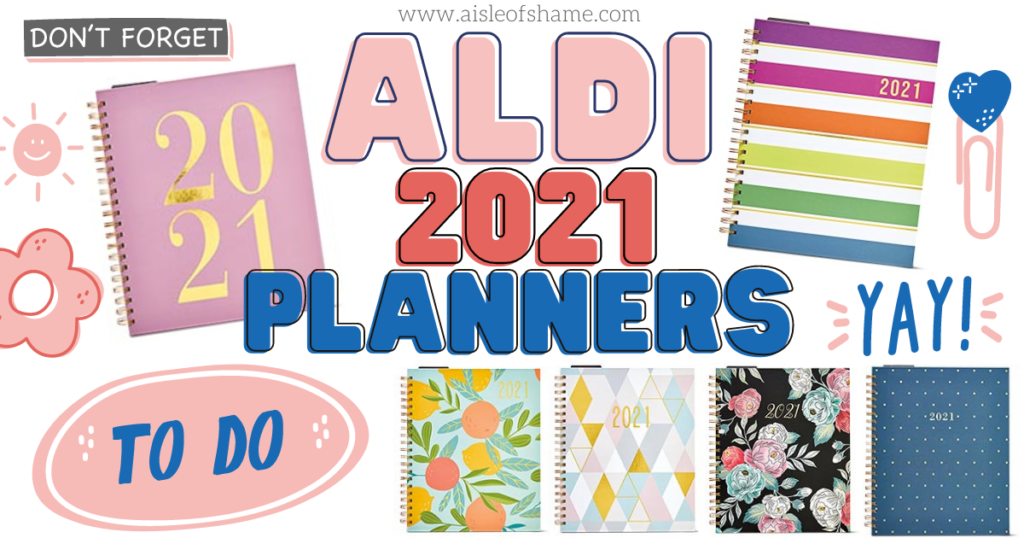 Since the middle of November, we've been getting the question almost daily in our Aldi Aisle of Shame Facebook Group: WHEN are the Aldi planners coming back?
Well, shamers, we have the answer for you: Wednesday, Dec. 30.
That's right, just in the nick of time, Aldi is bringing back their popular weekly/monthly personal planners! These planners will be in the ad starting Wednesday, Dec. 30 (Sunday, Dec. 27 in stores with a Sunday ad switchover).
The Pembrook Personal Weekly/Monthly Planners are priced at just $7.99. They are exceptional quality for that price.
The planners are spiral bound with a hard cover. They measure 9.25″ x 11.25″.
There are six cover choices for this year's calendars: mauve, rainbow, polka dots, geo, floral or fruits.
There is a removable bookmark, tabbed month pages, and goal planning and notes sections.
The Aldi planners also have a folder pocket and sticker sheets!
Which of the designs is your favorite?
If you love planners, you will also want to check out the planner accessories Aldi is selling this year!
For just $3.99, you can get several designs of sticker sheets, dry erase inserts, or combo packs!
Check out these cute kitchen calendars also for sale at Aldi!
It has a page for each week of the year with a spot for your shopping list and notes for each day. These are priced at $4.99,
Check out more Aldi Finds out this week!