Back to school is on the horizon and Aldi is stocking backpacks, lunch bags, and even breakfast favorites to get parents and kids BTS ready!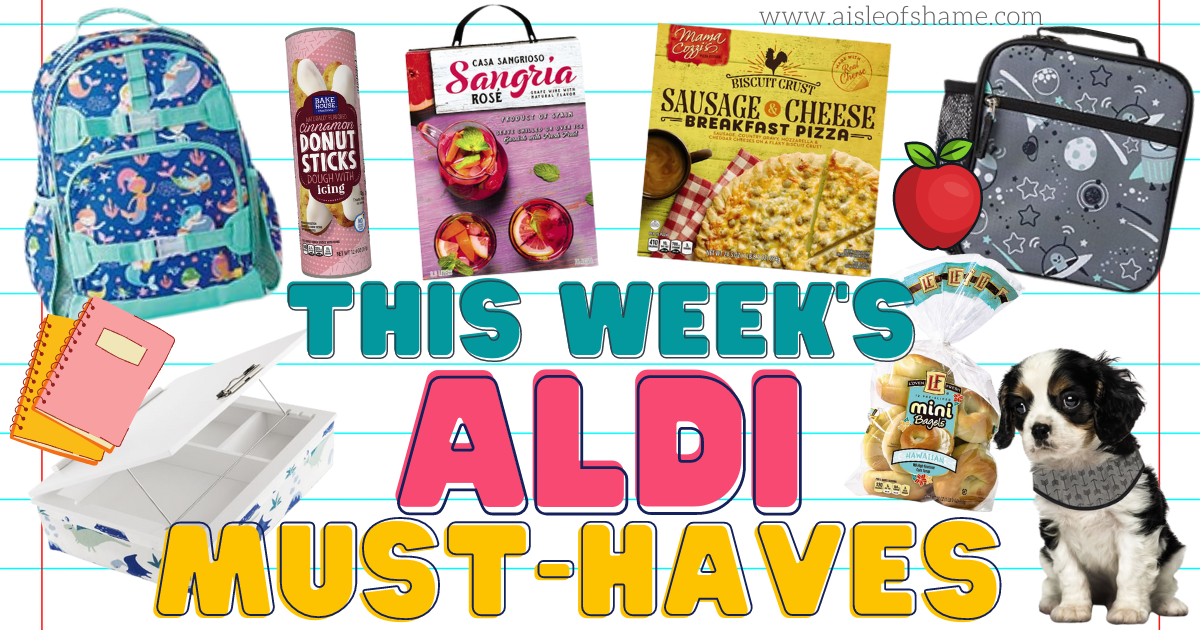 Read on for your Aldi must-haves for the week of August 4th, 2021!
Adventuridge Premium Kids' Backpacks – $14.99
Back to school is right around the corner! Get your kids school-ready with an Adventuridge premium backpack with a large main compartment with a 2-way zipper and interior organizer pocket. Available in Sharks, Outer Space, Sports, Dino Robots, Mermaids, Galaxy Unicorns and Narwhals, Rainbow or Fairy Tale and easily attaches to the coordinating Insulated Lunch Bag (sold separately).
Adventuridge Insulated Lunch Bag – $9.99
The Adventuridge insulated lunch bag matches and attaches to the premium backpacks (above). Each lunch bag is insulated with a molded interior design and features durable fabric with interior mesh and side pockets. Available in Sharks, Outer Space, Sports, Dino Robots, Mermaids, Galaxy Unicorns and Narwhals, Rainbow or Fairy Tale designs.
SOHL Furniture Adjustable Storage Workstation – 29.99
Help keep your kid's homework organized with this functional workstation, complete with interior compartments for storage that can be used with laptops, books and more. Available in Rainbow, Dinosaur, Stripes or Polka Dots designs.
Heart to Tail Portable Travel Pet Playpen – $19.99
The Heart to Tail Portable Travel Pet Playpen is perfect for your pet on the go, making life easier and a whole lot more convenient.
This pet playpen pops up in seconds and folds down quickly and easily for easy storage, travel or even fitting into those small living spaces. Your pet will feel safe and secure with a water-resistant bottom that also acts as a great place for pets during their outdoor adventures! Black with Tan, Red with Tan or Blue Crosshatch.
Heart to Tail Pet Cooling Bandana – $4.99
The easy way to keep your pup cool! No refrigeration is required! This clever bandana goes around their neck providing a chill for the hot dog days of summer. Comes in two sizes: small and large. Small Gray Arrow Bandana, Small Blue Dots Bandana, Large Gray Arrow Bandana or Large Blue Dots Bandana
Small: 17.3″ x 5.12″
Large: 23.6″ x 5.9″
L'oven Fresh Mini Hawaiian Bagels – $2.29

The combo of sweet Hawaiian bread and mini bagels is a match made in heaven! Slather these minis with cream cheese, or use them as a base for your perfectly sized ham and cheese sandwich.
Bake Shop Mini 7UP Cake – 99¢

The Aldi 7-Up cake is a moist, zesty dessert with the flavors of the soda it's named after. These mini cakes are a great way to try this unique treat, and in case you fall in love, full-sized 7-Up cakes can be found with the other baked goods.
Bake House Creations Donut Sticks – $1.49
Cinnamon donut sticks are a return Aldi find that we're glad to see back! Aldi donut sticks are a hybrid breakfast dessert — just pop open the can, bake the dough, and spread with the included icing before serving.
Mama Cozzi's Pizza Kitchen Biscuit Crust Pizza – $3.99

Aldi has two breakfast pizzas for us this week! The classic biscuit crust sausage & cheese AND the new biscuit crust uncured bacon, bacon, pepper & onion...we promise, you can't go wrong with either! 
Season's Choice Hash Brown Sticks – $2.49

Who doesn't love the golden brown crunch of a patty? But sometimes you just need something lighter and more portable. Enter: hashbrown sticks! These shredded potatoes are perfect any time, with or without dipping sauce.
Casa Sangrioso Sangria Rosé Box Wine – See price in store
This fresh, sweet Rosé Sangria boasts flavors of ripe red berries and citrus fruits. Enjoy with appetizers, spicy fare, light salads and mild cheeses. Served chilled with ice or sliced fruit. Available at Aldi locations that sell alcohol.