This Goli Dupe at Aldi will give you your daily dose of Apple Cider Vinegar for less!
Apple Cider Vinegar — that age-old ingredient in many a home remedy — is having a serious modern moment.
While many people take "a shot" of vinegar a day because the prebiotics in it are believed to benefit gut health, let's face it, some of us just can't stomach the taste.
And that's where ACV gummies come into play. Much like other gummy vitamins, they are chewy and taste like a gummy candy or fruit snack. While you may still be able to taste the vinegar slightly, it's masked in a way that literally taking a shot of it couldn't do.
Brand name Apple Cider Vinegar gummies from Goli Nutrition have exploded in popularity the past few years. They are easy to take, and not all that expensive — around $20 for 60 gummies.
But enter our favorite store — Aldi — with a Goli dupe!
These Welby Apple Cider Vinegar Gummies are in stores for the ad week beginning Wednesday, July 14th, 2021.
The Aldi Goli Dupe contains 120 gummies (twice as many as Goli), and they're priced at just $14.99!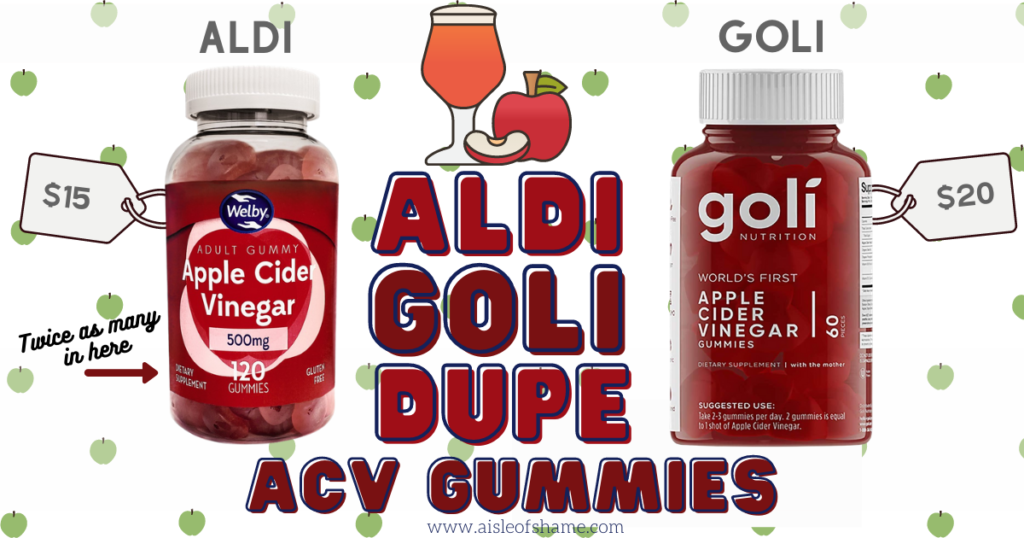 Now, we have not seen a complete ingredient list for this Aldi Find, but we do know that it contains 500 mg of apple cider vinegar per gummy – the same as the name brand Goli version.
Apple Cider Vinegar Gummies Review
To be fair, we did our due diligence and purchased both Goli ACV gummies as well as the Aldi version. The taste is slightly different, but the most contrast was in the stickiness of the gummies— Goli gummies are very wet and sticky, and harder to get out of the bottle.
The Aldi version was dry and more firm. The ingredients show the same amount of apple cider vinegar, so with that considered, we prefer the Aldi apple cider vinegar gummies, especially considering the price for 120 gummies.
Do you take ACV gummies? Would you recommend them? Let us know in our Aldi Aisle of Shame Facebook Group!