Children's 12 Days of Christmas Socks will add more fun (and warmth!) to your holiday season!
Holiday items continue to flood into the Aldi Aisle of Shame, filling all those needs we never knew we had.
Here are several must-haves you'll want to keep your eye out for on your shopping trip this week:
Holiday Succulents
We can't get enough of the tiny succulent pots Aldi has been releasing seasonally, and this new collection for the holidays is another winner. The pots feature "Rae Dunn-style" gold lettering that says "Joy," "Merry," or "Cheer." Each of the different sentiments had a different live mini succulent potted inside. These are selling for $3.99, and we can't think of a better little hostess gift!
Christmas Socks
These 12 Days of Socks sets will provide all the Christmas Socks your littles need this winter! These sets are another great gift idea — as parents ourselves, we will tell you that you can never have enough pairs of socks for those busy little feet. These Christmas socks are available in your choice of three sizes, and there are other characters besides Frozen 2, including Paw Patrol, Toy Story 4, Disney Princess, and Trolls. The boxes contain 3 crew socks, 3 quarter socks, and 3 no-show socks. They are priced at $12.99.
Holiday Ice Cream Bars
These Sundae Shoppe brand ice cream pops are sure to be a big hit with kids this holiday season. They come in adorable Snowman and Reindeer shapes.
Benton's Dipped Cookie Thins
Benton's Cookie Thins have been wildly popular at Aldi since their introduction, and now they come in holiday varieties. These thin, crunchy cookies are available in dark chocolate, dipped in a peppermint white chocolate coating, and in coconut flavor dipped in chocolate. These would be a welcome addition to any party cookie platter!
Benton's Delights
While we're on the topic of cookies, these Benton's Delights are a Girl Scout Cookie dupe from the 1980s!
Holiday Squishmallows
These super-squishy stuffed characters are a huge hit with little ones, and in our house, with teenage girls, too! These new characters include Santa and a reindeer, and they come in a larger size. These stand 12″ tall! The Holiday Squishmallows are priced at $7.99.
Cuvee Mini Bottle 3-packs
Aldi is making lots of news with the giant bottles of Prosecco in stores now, but when you just want a glass, this trio of mini bottles of French sparkling wine is the perfect solution. It's getting us excited for that Countdown to New Year's Sparkling Wine Calendar that Aldi will release next month!
Ugly Sweater Wine Bottle Covers
If you'll be taking wine to an ugly sweater party this holiday season, you'll want to pick up one of these Merry Moments Ugly Sweater Bottle Covers for just $2.99. Some of them even light up!
Aldi is also getting a shipment of ugly sweaters for humans this week. Check them out in the Aldi Ad Preview!
Holiday Kombucha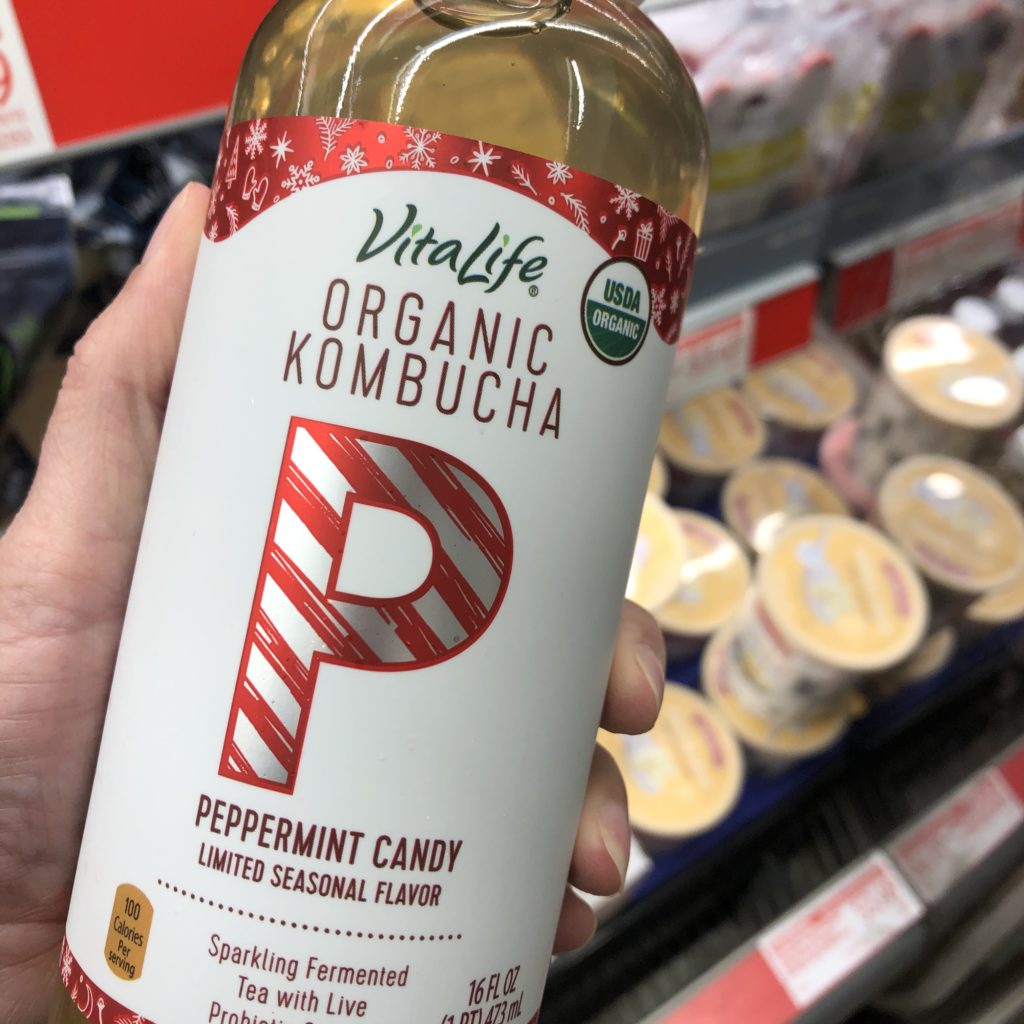 Aldi has several holiday kombucha flavors in store now, including Peppermint Candy and Cranberry Cinnamon. If you're a kombucha lover, you may want to stock up before these unique varieties disappear.
Friendly Farms Cheesecake Fruit Dip
If you're tasked with bringing a fruit tray for Thanksgiving dinner, keep your eye out for this Friendly Farms Cheesecake Flavored Fruit Dip. You'll find it in the refrigerator case with other Aldi Finds. Tasty!
Holiday Throw Pillows
If you love all things farmhouse, these new Aldi holiday throw pillows will be a must-have this week! These pillows are priced at $6.99 each! The collection also includes coordinating fleece throws for $4.99, and accent rugs for $6.99.
Peppermint Pretzel Stars
These Clancy's Dipped Peppermint Pretzel Stars are a tasty and pretty treat! These would be a great addition to a grazing board for a holiday party, or a fun surprise in your kids' lunch boxes this season.
Merry Moments Holiday Gift Bag Sets
These sets of 10 gift bags in a variety of sizes are a steal at just $4.99 — that's cheaper than the dollar stores! There are three different collections with coordinating colors and styles. You'll find everything you need to start wrapping those Aisle of Shame purchases at Aldi now, including heavyweight gift wrap, bows, ribbon, gift boxes and tape.
Are you buying Christmas Socks or other Aldi Finds this week? Join our Aldi Aisle of Shame community on Facebook to discuss your haul!