Have you ever heard someone "caw caw" in Aldi?
If you've been hanging around the Aldi Aisle of Shame Community on Facebook, you have probably seen the videos of Aldi customers shouting, "Caw Caw."
Or maybe you have seen mention of this, and thought, "What in the world are they doing?"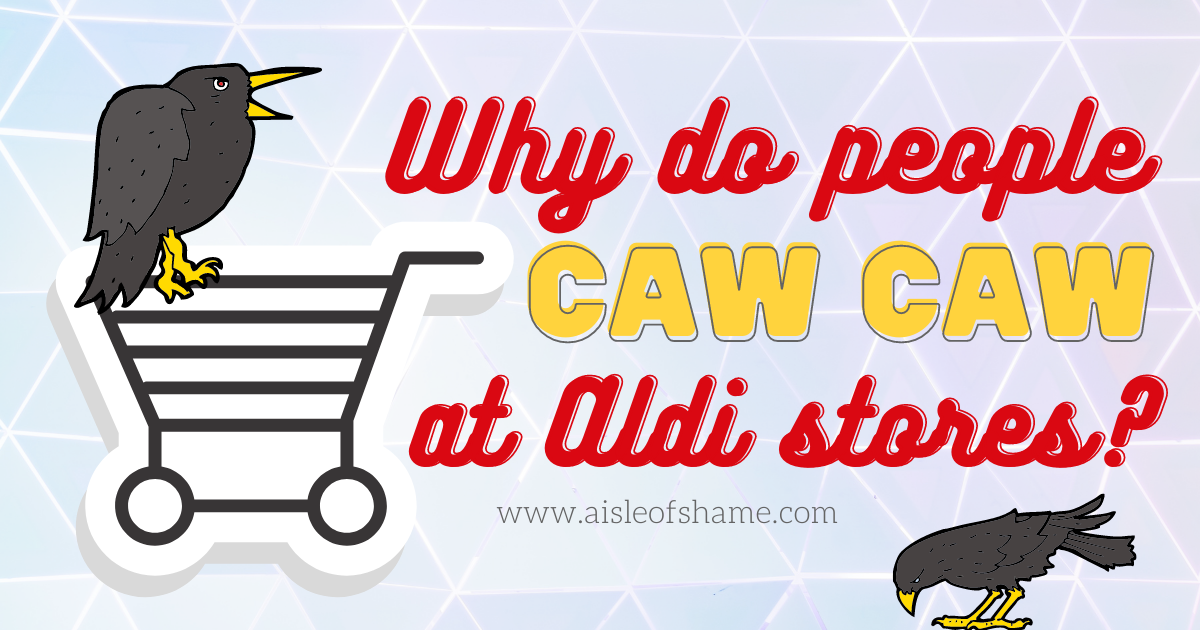 Crows are known for making a call that sounds like "caw caw caw" to find companion birds. Crows will often "caw" several times and then wait in silence, presumably listening for a response.
This well-known bird call has led to people using a similar call when they are hunting for their companions after they have been separated in public places, including stores.
But why do people randomly "Caw Caw" in Aldi?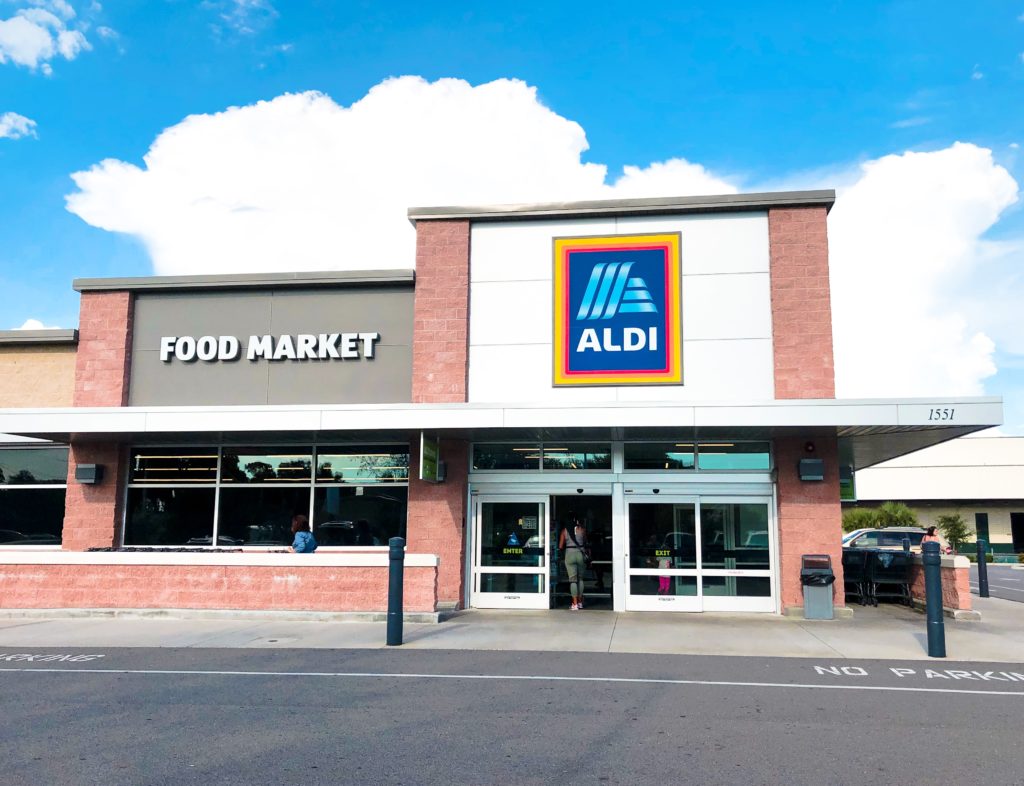 This idea, like many other random ones, was born online. The hundreds of thousands of Aldi fans in our Facebook Group often discuss which particular Aldi stores they shop at, and wonder if they have ever run into anyone else in the group.
There have been many suggestions for ways to identify another member of the Aisle of Shame group IRL (in real life), and the "caw caw" in Aldi seems to have stuck.
As far as who can exactly take credit for this idea, well, it's hard to determine.
The earliest mention we can find of the idea came on Aug. 7, 2020, in a discussion between Tayloranne Block, Carol Escobar Martell, and Martha Childers-Bauers. As you will see, this discussion also included mention of taking video of the "caw caw" in Aldi moment and posting it in the group.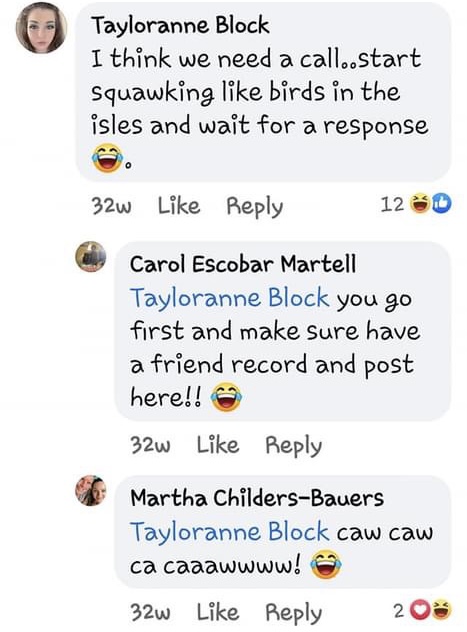 On Jan. 18, 2021, Aisle of Shame group member Stephanie Horton made a similar suggestion.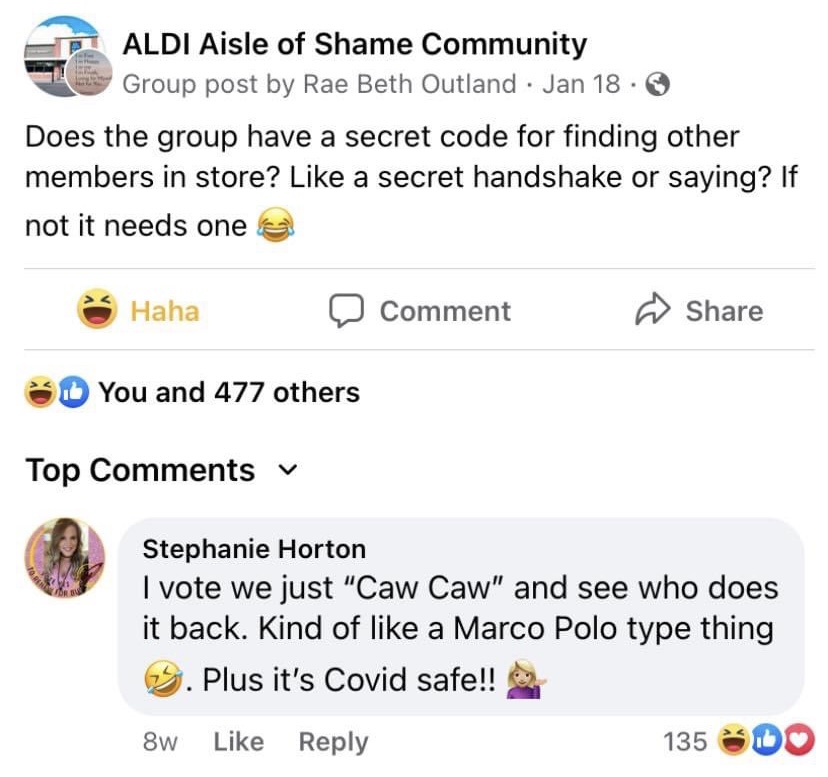 Another Facebook group member, Mina Anderson Gray, got creative and gave the "Caw Caw" call a backstory…
Whoever came up with the idea, it has certainly caught on, and many Aldi fans have found new friends in the Aisle of Shame.
Aldi employees who follow this group, have also put their amusement with the trend on display, creating and posting signs acknowledging the Caw Caw in Aldi aisles.
And this writer just about fainted earlier this week, when she actually heard someone Caw Caw in the aisles at an Aldi local to her.
So, what's a trend without a t-shirt? Nothing, we say! That's why we've made a CAW CAW Aisle of Shame shirt available on Amazon!
How about you? Have you yelled "Caw Caw" in Aldi? If you heard it would you answer the call?