You've got Aldi Shopping Cart questions, and we have answers!
If you aren't familiar with shopping at Aldi, you may have heard something about needing a quarter to shop there, or that you have to rent a cart.
First time at Aldi's & I had to call my sister to show me how to get a cart????

— Na•Ky•Rah✨ (@NaKiraKeonshay) October 4, 2019
Aldi's shopping carts can be a source of great confusion for newbie Aldi shoppers, but once you learn the system, we promise you will grow to appreciate it!
How do Aldi Shopping Carts work?
You will find Aldi shopping carts outside the store in almost all locations, usually under a covered area. When you get up to them, you will realize the carts are chained together.
You will need to slide a quarter into the mechanism mounted on the handle of the cart to eject the chain and "unlock" your cart.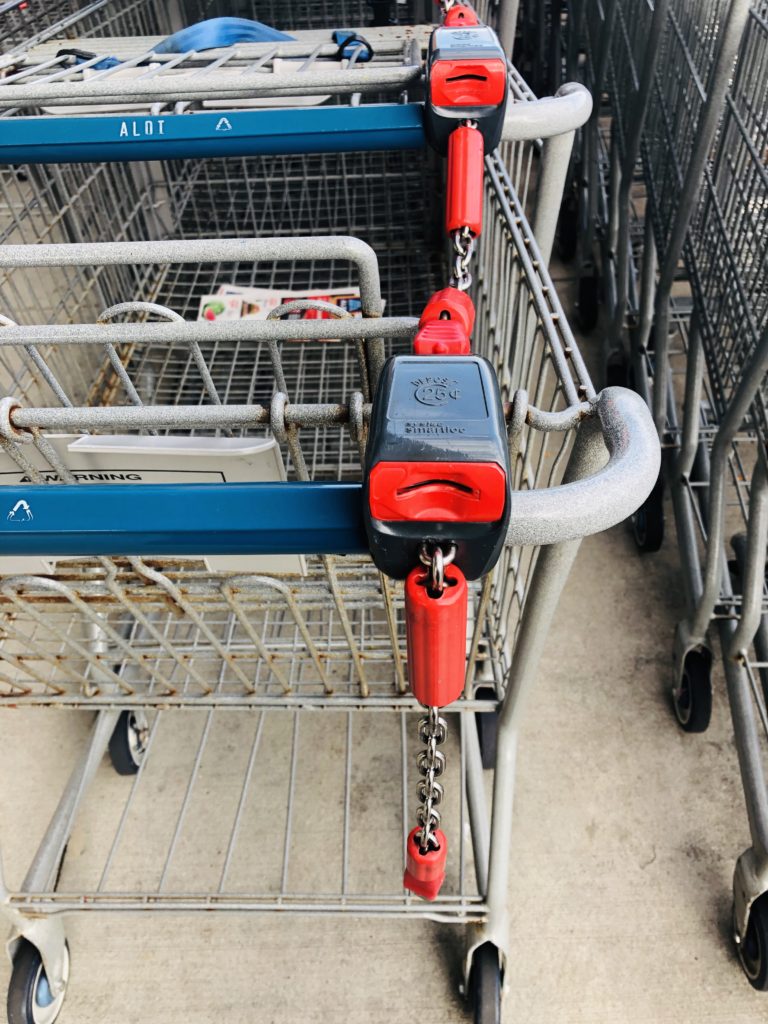 (If you can't remember a quarter when you shop, try picking up an Aldi Quarter Keychain!)
At Aldi. Forgot my quarter for the shopping cart. Please pray for me ????

— pensive clown (@_zizard) October 10, 2019
Now, we often hear people not in the know talk about how you have to "pay" a quarter to use a cart. But that's not exactly how this works. When you check out, you will notice that the cashier puts your items into another cart at the end of the checkout station, and that is the cart you will take out to your vehicle.
But never fear, that cart has a quarter in it, too. When you return the cart to the area you got your cart from, lock it back into the line, and the quarter pops back out for you to keep.
Why does Aldi use this shopping cart system?
Aldi will tell you the Aldi Shopping Cart system saves money. It motivates you to return your cart where it belongs, and that cuts down on the staff needed in the store. Many supermarkets employ people whose primary job is to retrieve shopping carts left in the parking lot.
The quarter system eliminates this need. It's another reason why Aldi is so cheap on groceries!
The Aldi shopping cart system also speaks to an important value in German culture – self reliance.
Aldi Shopping Cart etiquette
As you arrive at Aldi, you may have someone in the parking lot approach you with an empty cart. It seems to be customary to offer that person your quarter you had out to get a cart from the cart corral. It saves you both a few steps and a few seconds.
We also often see carts sitting in the cart corral with quarters already in them. Some Aldi shoppers like to "pay it forward" in this manner. If we take one of these carts, we usually go ahead and leave the quarter for the next person, too.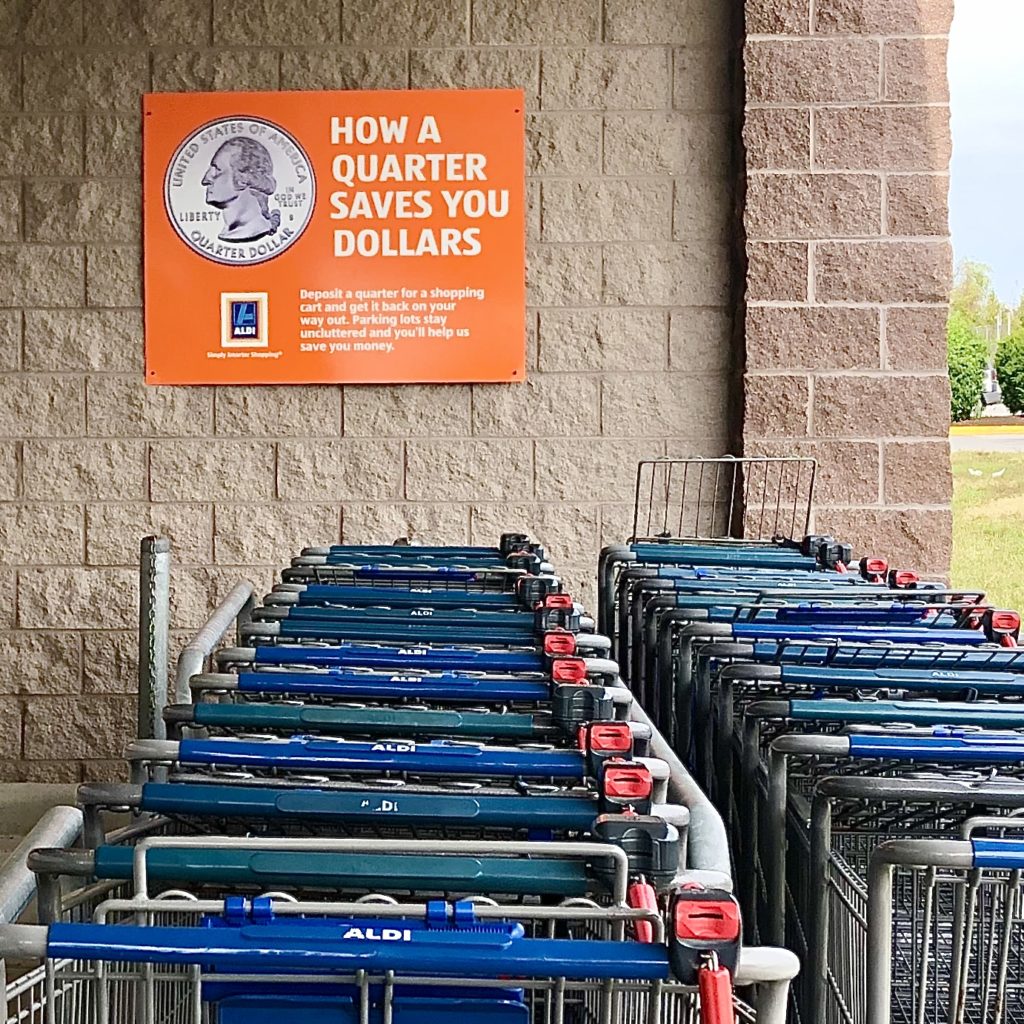 Does Aldi have motorized shopping carts?
This is another question we are asked often. Unfortunately, the answer is "maybe." Some Aldi stores have motorized shopping carts available, and some do not. This is a question you'll have to ask at your local store.