Sticking to a tight budget is really tough these days. So, when you're looking for a grocery store that won't break the bank, Aldi is an excellent option. However, there are some things that you should keep in mind before heading out on your shopping trip.
These seven tips will help you save money and spend less time at the store!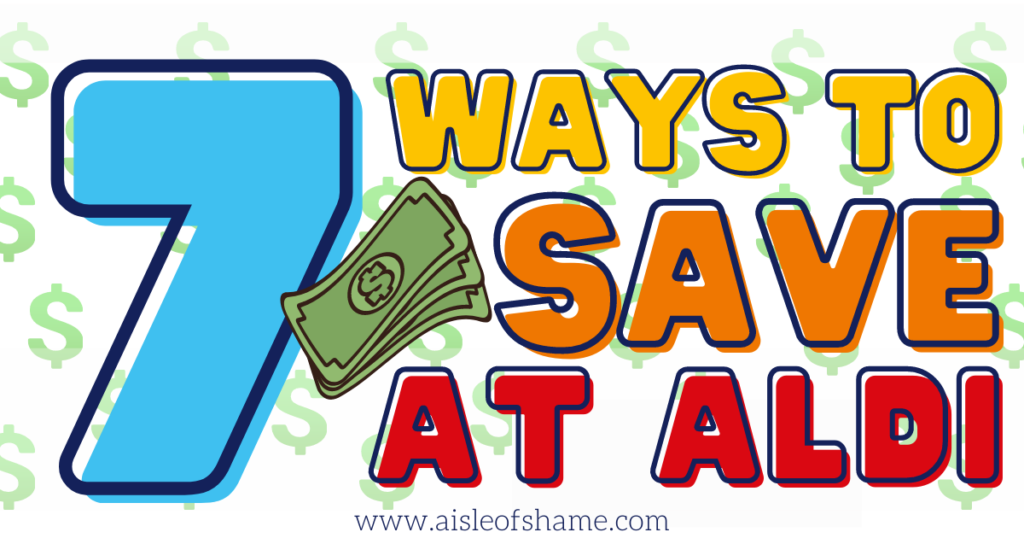 Avoid Impulse Purchases by Planning Ahead
Bring a list of what you need from the store. This will help you stick to your budget and avoid impulse purchases. Remember that if it's not on your list, then don't buy it!
Plan out what meals are for dinner in advance so that when you're at Aldi all you have to do is pick up some ingredients rather than having to shop for everything separately. If cooking isn't an option, plan ahead by stocking up on frozen items like sauces or vegetables. You can also get started with a box of pasta or rice since these two items work well as side dishes for almost any meal.
Shop Near Closing Time
At the moment, Aldi stores in the United States do not have self check-out. This means that you'll have to wait in line and have a cashier scan your items. Aldi keeps staff their staff at a minimum to help save you money. If you need to get in and out, we suggest shopping near opening or closing time. If you're not looking for Aldi Finds, shopping at the end of the day is your best bet as there aren't many people around.
Bring Your Own Bags or Reusable Containers
You can save money on paper bags from Aldi by bringing grocery sacks or other storage totes with you. Some members of our Facebook group keep laundry baskets in the back of their vehicles, and then unload their cart directly into the baskets for easy toting into the house — no bags needed!
Stick to Aldi's Private Brands
Aldi's private brands, like Never Any! and Clancy's, are comparable to name-brand items for a fraction of the price. Some people even say that they taste just as good or better than their more expensive counterparts!
The vast majority of Aldi products are these private labels. When you do see name brands, don't expect them to be cheaper than elsewhere — you will often pay a premium for those products at Aldi.
Of course, there will be some products your family does not like as well as a particular name brand — we all have our own taste preferences. But you will save a lot of money shopping Aldi private label products if you keep an open mind and try a wide variety of them.
Pay Attention to Aldi Sales
While Aldi offers low prices every day, they do put certain items "on sale" each week. These items often have an Aldi Savers shelf tag in store, and they will be advertised in the Aldi Ad.
The weekly deals are especially good on meat and produce at Aldi. You will save more on your weekly grocery bill if you plan your meals around what's on sale.

Look for Aldi Finds Markdowns
Aldi Finds items are in limited supply, so you'll want to grab them while they're available! Aldi gets new Aldi Finds items each week, and while the "Aisle of Shame" often focuses on the general merchandise, there are Aldi Finds foods, too.
Aldi stores often have an endcap and a section of the freezer with these items when there are just a few left — and they are usually marked down to make room for the new food items on the way.
Keep Your Eyes Peeled for Red Stickers
The sticker on perishable items nearing their sell-by date, such as meat and baked goods, usually says how much off of the current price the item is.
Some stickers offer a certain amount of money off — $1, $2, or even $5! Other stickers state that it is 50% off.
Keep in mind that you will need to check the expiration date for these items and decide if they are worth freezing them before taking them home because they will only last one to two days otherwise.
Whether you're just now starting to shop at Aldi, or have been for years, there are always new ways of saving money. We hope these tips will help take your shopping experience from good to great! What are some tricks that you use when grocery shopping? Have any other questions about our favorite grocery store chain? Let us know in the comments below and we'll do our best to answer them!