Holiday baking items are in store at Aldi now, and we highly suggest you get what you need before they are gone!
A major reason that we love Aldi is because it is easy to shop there! The store's footprint is small, and shopping goes quickly.
One thing Aldi does to keep its selection small and easy to shop is to rotate items out of stores on a seasonal basis. We eat soup in the fall and winter, so that's when oyster crackers are available, but you usually won't find them in July. What you will find in July is more choices in barbecue sauce, because that's a time of year when we grill more often.
Aldi Seasonal Items
These seasonal items are usually found stocked on the shelves with other things Aldi regularly carries, rather than with Aldi Finds in the Aisle of Shame. But, they often still sell out and disappear before the season is over.
Why are we telling you this now? Because Aldi is stocking all of the items you'll need for your holiday baking, at prices that can save you a bundle. So, we're urging you to stock up now for those Thanksgiving and Christmas baked goods, just in case they're gone from shelves by mid-November.
Holiday Baking Items at Aldi
Here are 14 items to find in stores now for your holiday baking:
Stonemill Seasonal Baking Spices
Aldi carries this selection of four different spices — nutmeg, cloves, allspice, and a pumpkin pie spice blend — only at this time of year.
Baker's Corner Light Corn Syrup
You'll need this corn syrup for your pecan pies this Thanksgiving, and many holiday bakers also use it in some traditional cookies and candies.
Baker's Corner Melting Wafers
These white and chocolate melting wafers are perfect for coating items such as pretzels, marshmallows, cookies and cake pops. The cousin to melting wafers, almond bark, is also available at Aldi stores now.
Holiday Sprinkles
You can't have a holiday baking session without an assortment of red and green sprinkles, and Aldi consistently has the best prices on this seasonal item. In addition to the variety shown here, you'll often find green and red sanding sugar in Aldi stores.
Baker's Corner Canned Pumpkin
Pumpkin pie, pumpkin bread, pumpkin crunch cake … there's plenty of canned pumpkin for your baking projects at Aldi. You will also find canned pumpkin pie mix in the baking aisle.
Bake House Creations Pie Crusts
If refrigerated pie crust is your thing (and trust me, after many baking fails, refrigerated pie crust is my thing…), you probably already know you can't find it in store year-round. But here's your chance! You can see from the pic that these are selling quickly in my store.
Stonemill Seasonal Extracts
I always stock up on almond extract at this time of year, because I do use it all year and can't find it at Aldi in the summer months. You can also buy peppermint and lemon extracts now.
Specially Selected Dark Chocolate Chunks
These 62% cacao Belgian dark chocolate chunks make amazing cookies, muffins and more! Other seasonal baking chip flavors, such as peanut butter, are also in store now.
Baker's Corner Specialty Cake Mixes
These Baker's Corner Pound Cake and Angel Food Cake mixes are so useful as a base for many baked goods, but they may disappear quickly.
Baker's Corner Cornstarch
Holiday bakers use cornstarch in candy making and for softer cookies and cakes, plus you may also need a bit to thicken that turkey gravy. While this seems like a product you might be able to find at any time of year at Aldi, it is a seasonal selection.
Southern Grove Golden Raisins
A staple in fruit cakes, sweet breads and more, you will only find golden raisins at holiday baking time at Aldi.
Baker's Corner Maraschino Cherries

Using cherries as an ingredient can really bust your baking budget, but Aldi to the rescue!
Baker's Corner Coconut Sweetened Flakes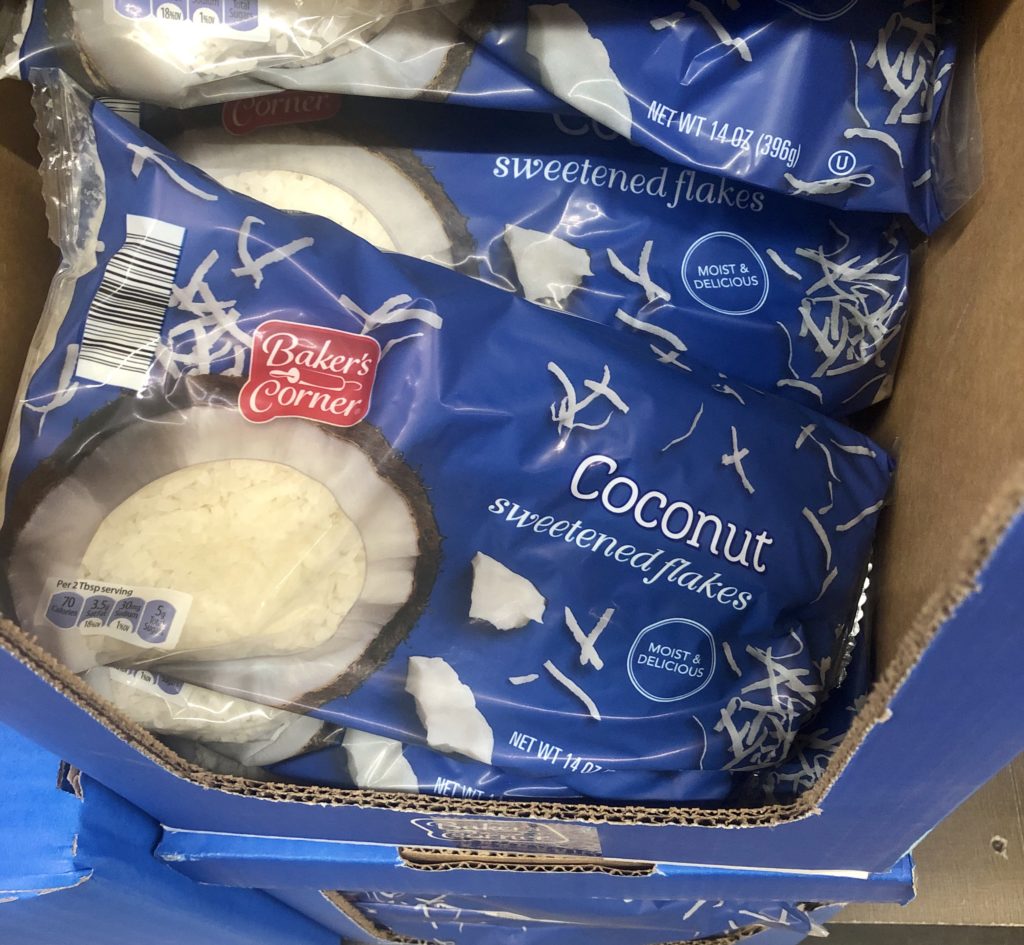 Opinions vary at my house on coconut, but I go all in for the stuff. You won't find it all the time at Aldi, though, so if you like to use it in your recipes, stock up now!
Boulder Utility Pans

We were thrilled to find this 2-pack of Boulder 9×13 foil pans with lids for just $1.99! These pans are so convenient to use when taking a cake, cookies or casserole to a holiday party or potluck. We found these near the aluminum foil and plastic storage bags at our store.
Now that you have all your holiday baking ingredients, how about a new stand mixer? This Aldi stand mixer is a KitchenAid dupe at a huge savings!