The 2019 Aldi Advent Calendars will be released on Nov. 6!
The day has finally, finally arrived. We opened our Aldi Ad Preview this week, and there they were. Those beautiful wonders known as the 2019 Aldi Advent Calendars. The excitement in the air was palpable.
I mean, it was me, sitting here alone in my home at my desk, but, yeah. Palpable.
You see, last year, Aldi did this little thing. They released a wine advent calendar and a cheese advent calendar. And the crowd.went.wild.
Ok, well maybe not that kind of crowd. And maybe not that wild. But, they sold out instantly. There were lines outside many Aldi stores on release day. Some stores only got two. Some stores never got a shipment. Even so, we were lucky enough to get our hands on the wine advent calendar last year.
So we cannot wait for the 2019 edition!
Here's what we know about how to buy these Aldi calendars. This year, there are several advent calendars being released. They include four versions of calendars that are aimed at kids and have small toys in them. The themes are Disney Cars, Mattel Hot Wheels, Disney Toy Story 4, Paw Patrol, and Mattel Barbie.
There is also a very cool Disney Storybook Advent Calendar that includes 24 tiny books — one to read to your child each night. These are awesome ideas!
BUT WE CAN'T CONCERN OURSELVES WITH THEM RIGHT NOW. THERE IS WINE, BEER, CHEESE AND CHOCOLATE TO BE ACQUIRED.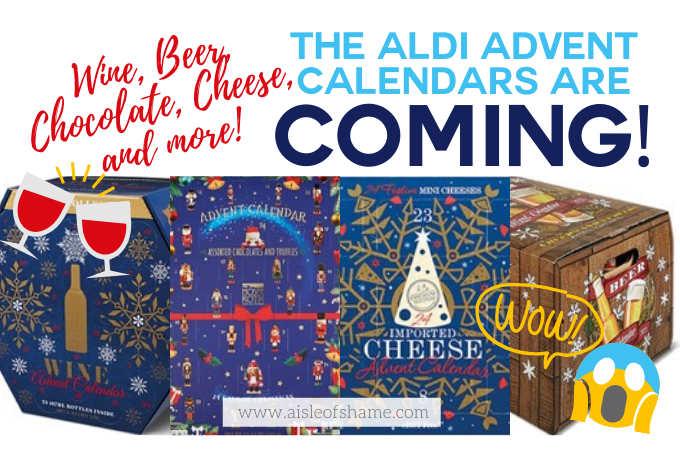 2019 Chocolate Advent Calendars
Aldi has three different chocolate advent calendars this year, at three different price points. We can assume, based on the prices and the brand names attached, that there are basically also three different qualities of the chocolate inside.
The first calendar is the one I grew up receiving each year as a child, and I buy one every year for my child for the nostalgia of it. I will probably do it again this year, too. This basic Choceur Advent Calendar is priced at just $1.39.
Next up is the Choceur Premium Advent Calendar, priced at $4.99. This one weighs in at over half a pound of chocolate, so the 24 chocolate pieces inside are probably 2 to 3 times larger than the basic model.
Finally, there is a Moser Roth 24 Days of Christmas Nutcracker Calendar. This 2019 chocolate advent calendar weighs in at just over 11 ounces, and it's priced at $7.99. Moser Roth premium chocolate is imported from Germany.
2019 Cheese Advent Calendar
This Aldi calendar is filled with 24 pieces of cheese! This item is sold under the Emporium Selection brand. It will be priced at $14.99 for 16.9 oz of cheese — 3 of each of the following selections:
Tomato and Olive Gouda
Aged Cheddar
Mild Cheddar
Gouda
Hot Spicy Gouda
Red Leicester
Herbed Gouda
Edam
2019 Wine Advent Calendar
YES. We need to say more. While you are picking up that cheese advent calendar, you may as well get this uber-popular wine advent calendar one to go with it.
This year, Aldi's wine calendar includes 24 different wines:
1 x Malbec, Argentina, 12.5%
1 x Chardonnay, Argentina, 12.5%
1 x Shiraz, Australia, 13.5%
1 x Red Blend, Australia, 13.5%
1 x Chardonnay, Australia, 12.5%
1 x Merlot, Chile, 12.5%
1 x Cabernet Sauvignon, Chile, 12.5%
1 x Rosé, Chile, 12%
1 x Sauvignon Blanc, Chile, 12%
1 x Tempranillo, Spain, 12.5%
1 x Red Blend, Spain, 13.5%
1 x Cava Rosé Brut, Spain, 11.5%
1 x Carignan, France, 12.5%
1 x Merlot Rosé, France, 13%
1 x Colombard, France, 11.5%
1 x Viognier, France, 13%
1 x Red Blend, Italy, 12%
1 x Pinot Grigio, Italy, 12%
1 x Pinot Grigio Blush, Italy, 12%
1 x Prosecco Extra Dry, Italy, 11%
1 x Sauvignon Blanc, New Zealand, 12.5%
1 x White Zinfandel, U.S.A., 11%
1 x Shiraz, South Africa, 13%
1 x Chenin Blanc, South Africa, 12.5%
We're very excited about this list of wines because last year, there were some repeats in the calendar. Each small bottle is equivalent to one glass of wine. These should be priced at $69.99, but the price may vary slightly based on local and state taxes on alcohol.
You will only find this calendar in Aldi stores that sell alcohol, so if your local store does not already stock beer and wine, don't expect to see these calendars.
2019 Beer Advent Calendar
After last year's popular introduction of the wine and cheese calendars, Aldi has added a calendar filled with beer to the lineup!
This beer calendar will contain 24 11.2-ounce bottles of beer. Here are the varieties included:
2 x O'Shea's Irish Stout, 4.5% ABV
1 x O'Shea's Grapefruit India Pale Ale, 5% ABV
1 x O'Shea's Irish Red Ale, 4.3% ABV
1 x O'Shea's Double India Pale Ale, 7.5% ABV
1 x O'Shea's Irish Lager, 4.4% ABV
2 x Wernesgruner Dark Schwarzbier, 4.9% ABV
2 x Wernesgruner German Pilsner, 4.9% ABV
2 x Licher Hefeweizen, 5.4% ABV
2 x Boot Tread Amber Ale, 5.2% ABV
1 x 1758 Belgian India Pale Ale, 6.5% ABV
2 x Broegel Bock, 4.4% ABV
2 x Sezoens Dry Hopped Blonde Ale, 6% ABV
2 x Imperium Belgian Lager, 5% ABV
2 x Kinroo Belgian White Ale, 5% ABV
2 x Bacher Lager, 5% ABV
The beer advent calendar will sell for $49.99, but like the wine one, the price could vary some based on taxes.
Also, like the wine calendar, you, unfortunately, won't find this in stores that don't already sell beer and wine.
How to buy Aldi advent calendars
Now, let's talk about how you are going to get your hands on these 2019 Aldi advent calendars.
We know that many Aldi Finds that are advertised to be available starting on Wednesdays actually begin making their way to your store shelves a day or two before the advertised date. You may find the toy advent calendars and the chocolate ones out in stores early.
But we do NOT expect this to happen with the wine, beer and cheese calendars. Aldi is saying they will not be released until Nov. 6. What you should expect on Nov. 6 is a line when the store opens.
Last year — the very first year Aldi did these calendars — there were lines of people outside many Aldi stores, and the stores sold out in seconds because each store only received a handful of wine and cheese calendars.
While we do expect there to be more calendars available at each store this year, we still suggest that you try to be there before your store opens– we suggest around 8 am for the 9 am store opening when tickets will be distributed.
Don't Forget!
There is also a Countdown to New Year's Sparkling Wine Calendar coming to Aldi this year! Its release date is set for Dec. 4!