This Poo-Pourri Dupe are an Aldi Find for the week of July 7!
Poo-Pourri burst onto the scene several years ago, offering an alternative to the bathroom air freshener. It is a spray made with natural ingredients that promises to cover those, um, unpleasant smells that some of you may leave behind in the bathroom.
OK, not some of you. All of you. Ahem. All of us. As the popular children's book tells us, "Everybody poops."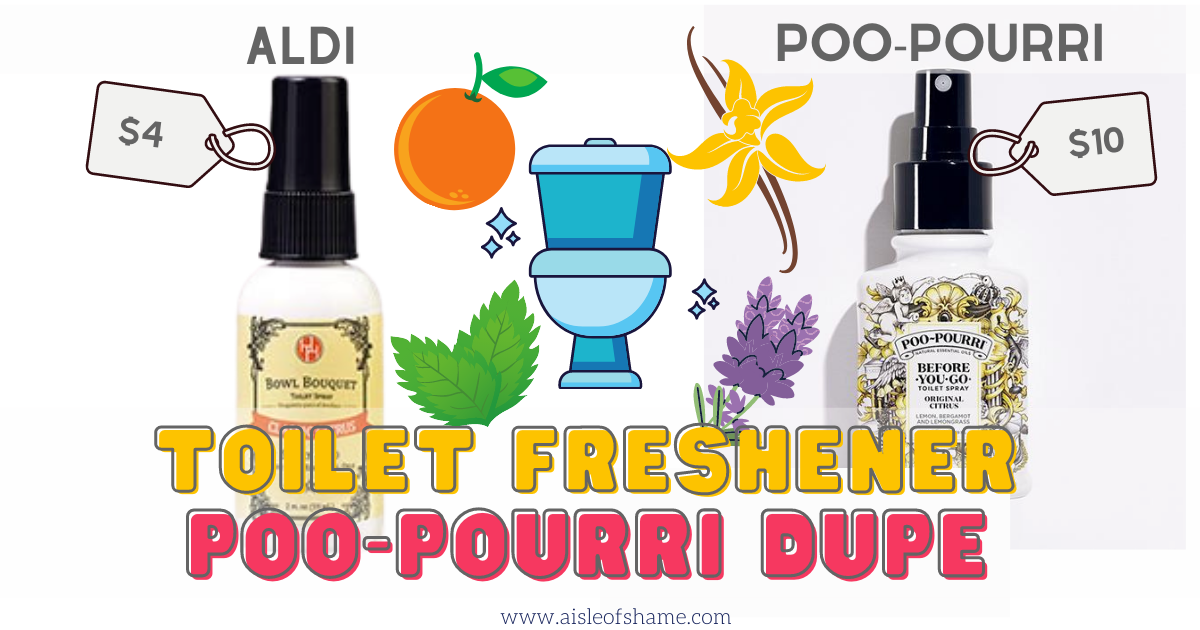 The only problem with Poo-Pourri is that you pay up to $10 for a small bottle. The 2-ounce bottle is supposed to last you 100 uses.
Enter Aldi, with a Poo-Pourri dupe!
That's right, Aldi is selling its very own version, called Huntington Home Bowl Bouquet! And it's priced at just $3.99!
The Bowl Bouquet comes in 2-ounce spray bottles, just like Poo-Pourri. It is made with essential oils and is available in three scents:
Classic Citrus
Lavender Vanilla
Vanilla Mint
Unlike a traditional spray air freshener, you use the Huntington Home Bowl Bouquet by spraying it on the surface of the water in the toilet bowl before you go.
We purchased the Bowl Bouquet when it was in store way back in 2019, and, in our opinion, it was just as effective as the name-brand product.
We have already stocked up a couple of bottles of this Poo-Pourri dupe this year!
Follow Aisle of Shame on Instagram for more Aldi Finds!