When you purchase a new car battery from Walmart, you might see a mysterious $10 "merchandising fee" on your receipt. Sometimes, this "core charge" is even hidden within the tax amount you're charged, so you might not even notice it.
Nevertheless, for every car battery sold, Walmart charges a small "core charge" which can be refunded if and when you return the battery for recycling at any Walmart location.
You can think of Walmart's battery core charge as a deposit on all car battery purchases. This "deposit" is fully refundable and can be returned to you if and when you return your old car battery.
In reality, the core charge is a recycling fee legally required for the sale of car batteries. These recycling fees and deposit refund programs help encourage people to properly dispose of old car batteries by returning them to retailers or manufacturers who can dispose of them for you.
So, why is it called a "core charge?" Simple! The word "core" refers to the iron core found inside all car batteries. The fee you pay is a deposit on this iron core (a recyclable material), and when your car battery no longer works, you're expected to return it to the manufacturer for recycling.
Retailers who sell car batteries are legally required to charge a $5 minimum battery core charge to encourage battery recycling. Hence, the Walmart battery core charge.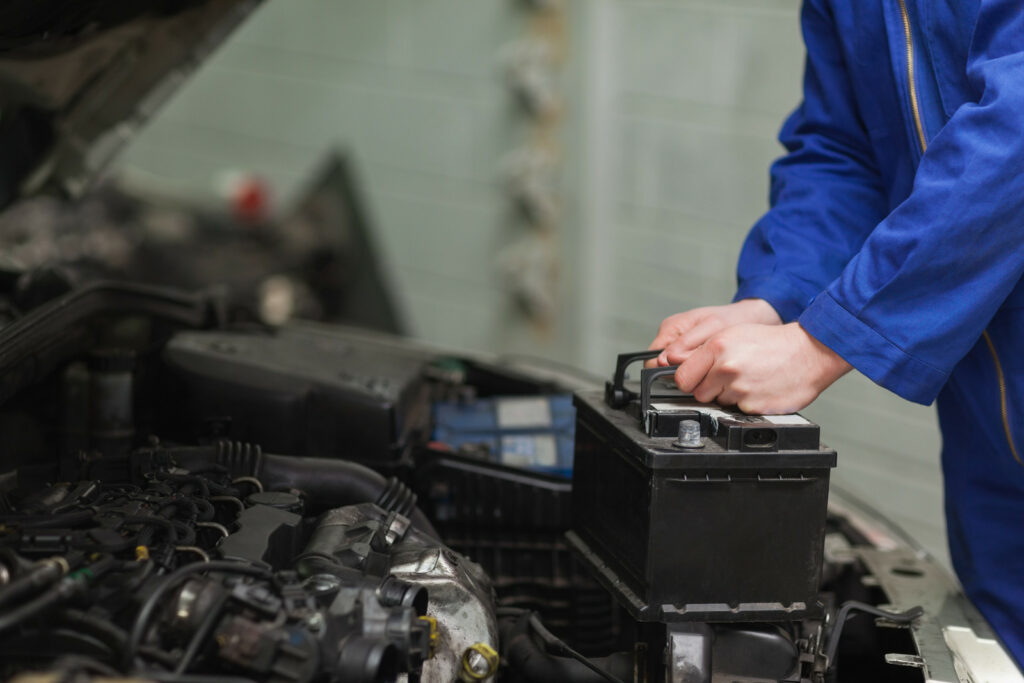 How Does The Battery Core Charge Work At Walmart?
The whole idea of a battery core charge might sound a little confusing at first, but the way it works is actually pretty simple.
When you purchase a car battery at Walmart, you will automatically be charged a battery core charge (approximately $5-$10). This charge will show up on your receipt either as a "merchandising fee" or as part of your tax. This fee is a deposit that can be refunded to you if and when you return your car battery after it has failed.
All you have to do is save your receipt throughout the lifespan of your car battery, then return to any Walmart location with your receipt and your old battery when you're ready to recycle the battery and claim your refund.
Can You Get A Battery Core Charge Refund From Walmart?
The Walmart battery core charge is designed to function like a deposit, meaning that you're intended to claim it as a refund eventually.
In order to claim a refund on your battery core charge, you will need:
Your original purchase receipt

Your old battery (the one you purchased and paid the deposit on)
You will not be eligible for a refund on your deposit if:
You cannot present your original purchase receipt

You do not return your battery to Walmart

You attempt to return a battery that was not purchased at Walmart
How To Get A Refund On The Walmart Battery Core Charge?
To get a refund on your Walmart battery core charge, simply follow these steps:
Bring your dead car battery (purchased at Walmart) and your original purchase receipt to any Walmart location
Let a Walmart employee know that you would like a refund on your deposit (you will need to present both your receipt and your battery)
If you would like to purchase a new car battery, you can do so at the same time and make an appointment to have it installed at the Walmart Auto Care Center (if you purchase a new battery, your refunded core charge can go toward the price of your new battery)
FAQs
Can you return an unused Walmart car battery?
Yes. If you purchased your car battery at Walmart within the last 90 days, you can return it to any Walmart location by presenting your original purchase receipt.
Can you return an old car battery at Walmart?
Yes. Although you cannot receive a refund on the full cost of the battery after 90 days, you can return an old car battery to Walmart and receive a refund on the core charge.
Does Walmart give cash back for old car batteries?
No. You cannot get a refund on the cost of a car battery after it has been used. However, you might be able to receive the refund for your core charge in cash.
Can you take any type of old battery to Walmart for recycling?
Yes. Most Walmart locations accept household batteries, car batteries, cell phone batteries, and more for recycling.