We now know some of the designs for Aldi Reversible Holiday Signs this year!
The inexpensive seasonal decor is one of our favorite things about shopping at Aldi. And when that home decor can do double duty?
Well, you get twice as much for your money!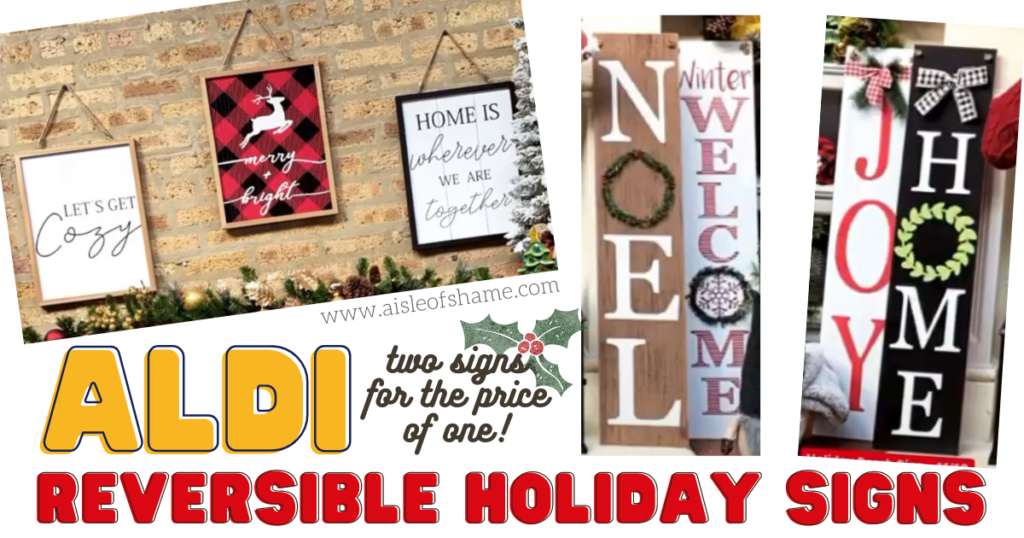 Aldi has given us a glimpse of some of the reversible signs available for the holiday, and we now know the release dates, too!
Aldi Reversible Porch Signs – $12.99
We love the 3-D bows and wreaths on these vertical porch signs! It looks like some of them will have a side designed to work after the holiday, too. The release date for this sign is Nov. 18 (Nov. 15 in stores with a Sunday ad switchover).
It's important to note that these porch signs are not waterproof – they're made to be put out in covered porch situations or used inside.
Aldi Reversible Holiday Signs – $7.99
And we are in love with these wall signs, too! Check out that buffalo check! These signs will be released on Nov. 25 (Nov. 22 in stores with a Sunday ad switchover).
Have you seen the Nostalgic Ceramic Christmas Trees and Holiday Quarter Keepers that are on the way? There's one that looks like a can of Vista Bay hard seltzer!
Show us your Aldi holiday decor in our Aldi Aisle of Shame Facebook Group, and follow Aisle of Shame on Instagram for more Aldi Finds!